Situated in the southeastern corner of Zimbabwe, bordering Mozambique, lies a little known piece of paradise called the Gonarezhou National park.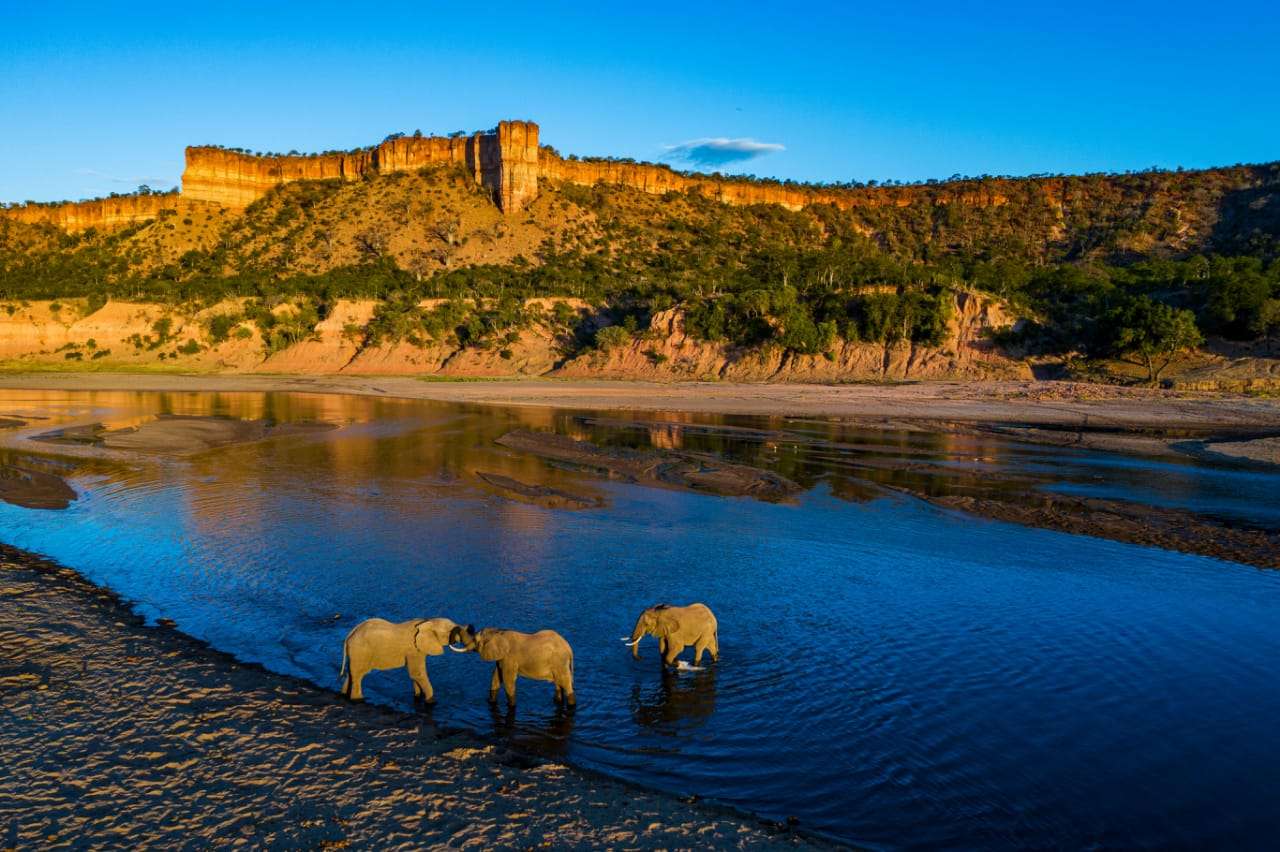 Gonarezhou, roughly translated from the Shona language, means "place of the elephants". Well that's if you want to accept the "popular and roughly" translated version. Talking to Clive Stockil, a conservationist of both national and international acclaim, who was born and bred in the area, my personal take on the word "Gonarezhou" is "Talisman of the elephant".
At 5,053 km2, Gonarezhou is the country's second-largest National Park in Zimbabwe, next to Hwange. Protected somewhat by its remoteness, Gonarezhou is particularly known for its vast herds of elephants. It has a wide variety of herbivores and all the big cats…Lion, Leopard, and Cheetah. The elusive wild dog and Hyena are also found. Birdlife is prolific and the "Pans" or water holes, are a bird watchers paradise.
What is so special about Gonarezhou? Well for starters, its rugged beauty and terrain, but also its vast size and location away from main tourist routes. This has kept Gonarezhou as unspoiled and pristine a wilderness than you would ever find in Africa, if not the world.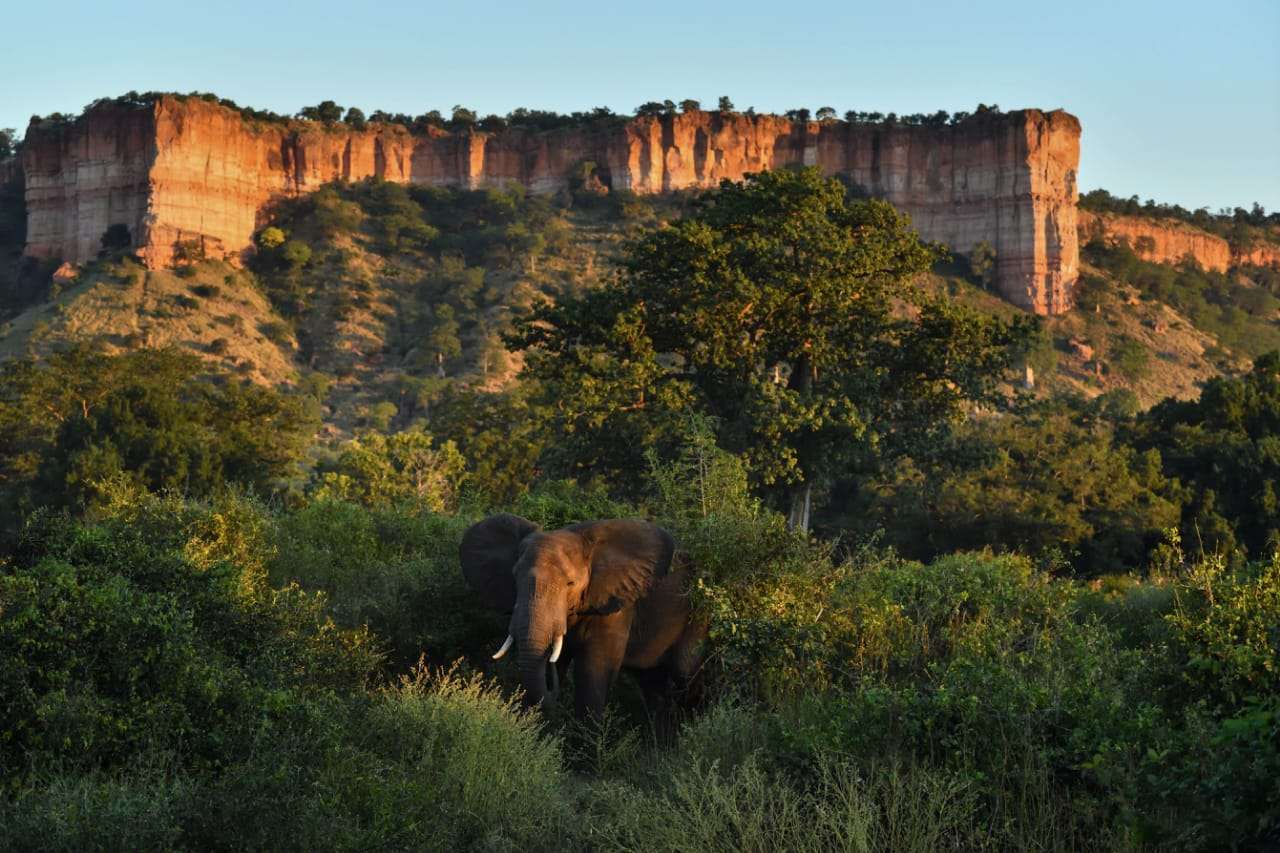 To me, having visited twice already, Gonarezhou is more than just its magnificent wildlife. It's the spectacular landscapes and natural beauty that keeps calling me back. Be it the majestic sandstone Chilojo Cliffs, that form a breathtaking backdrop, the Save and Runde rivers that are the lifeblood of the park, the soothing gurgle of the Chipinda Pools or the awe-inspiring rush of the Chivilila falls… It is a place you can truly find yourself.
There is no better place than the Chilo Gorge Safari Lodge from which to explore the Gonarezhou National park, located as it is, at its doorstep.
Perched on the edge of the gorge with sweeping views of the Save (pronounced Sa-vey) river and the park, it is a very special place. From the main deck area, you can watch something different unfold every day, as the various inhabitants of the bush come down to drink. Baboons, Nyala, Impala, Kudu, Buffalo, Warthog to name a few, are regulars, whilst Leopard and wild dogs have also been seen. Crocodiles and Hippos share the river and elephants are frequently seen drinking or taking a cooling dip. A veritable armchair safari in itself!!
For those preferring all the creature comforts whilst on safari, Chilo Gorge Safari Lodge is unsurpassed. The comfortable and tastefully appointed rooms have spectacular views. Most, overlooking the Save River. Every room has a private deck bringing the bush to you. The food here is excellent and the friendly, attentive staff will ensure your stay is memorable.
There is also a self-catering option for those wanting to be more independent.
For the more intrepid, The "Ivory Trails" safari option offered by Chilo Gorge Safari Lodge is a must. Taking you to lesser-known and traversed parts of the park, "The Ivory Trails" offers a combination of camping/walking and driving safari experience. With comfortable tented accommodation, bush style showers and delicious meals, this is a comfortable and adventurous way of sleeping under the stars and getting up close and personal with the wilds of Africa.
If you are looking for something different, a place that will capture your heart, enrich your soul and uplift your spirit, far away from those over-commercialized and overcrowded parks and lodges, this is the place for you.
It is an experience that is truly on the edge of serenity.
Chilojo Dreaming
Swathed in gold and ochre, a sentinel you stand
A vigil of eternity over this enchanting land
Watching over sweeping plains in famine and feast
As life played out its drama, the actors man and beast
Whoever made this wonder, certainly not mortal man
Has the wind the rain the flooding plain done what e're they can?
Generations have come and gone, the stories you can tell
Lost in the swirling mists of time, what on this land befell
Once atop your craggy cliffs, scenes sublime unfold
Vistas thrill the jaded soul, treasured memories it will hold
Sculptured sand stone framing water skies and trees
Is there anyone on earth who will ever tire of these?
Wherever man imposes, there is always an impact
Despite the destruction, you have stood intact
But we are midst a changing world so rapid in its pace
Will Chilojo and its denizens, manage to win this race?
Spell bound by your beauty I whisper silent prayer
That Chilojo and all it surveys, forever will be there
I will return, I know I will, certain I will find
Chilojo calling, Chilojo dreaming, always on my mind.
AJIT ST JOHN
2019.
Photo credit: Chilo Gorge Safari Lodge