Over the past half-decade, it has been with great joy, that I have read news reports and uploads on social media about our beautiful paradise isle being either the number one destination to visit or at least falling within the top five. What rave reviews our island's hotels and tourist destinations get by some fancy travel magazines. According to these reviews, our island is likened to Shangri-La from the Lost Horizon. Naturally, we should be proud of being identified as the number one destination to travel to, certainly a great achievement.
It is completely another story when the citizens of this paradise Island wish to travel to parts of the rest of the world to check why they are not hitting this high status our little island has been granted.

Your first contact with the Travel Agent and subsequent visit to the country Embassy leaves you in a state of shock. The personal information that the visa application form requests are astounding and you begin to wonder whether there will be a question regarding your daily bowel movements somewhere down the line. The supporting documents that have to be attached to the form are something else: ownership of property, proof of employment, salary slips, confirmation of funds in bank accounts, income tax returns, copies of previous passports and visas, invitation from sponsor, sponsor's bank account, police report re-sponsor are the more common documents required. What is most amazing is that when a repeat visa is sought all of these documents have to be produced once again. Makes you wonder about the paperless society we citizens of the world are urged to move towards.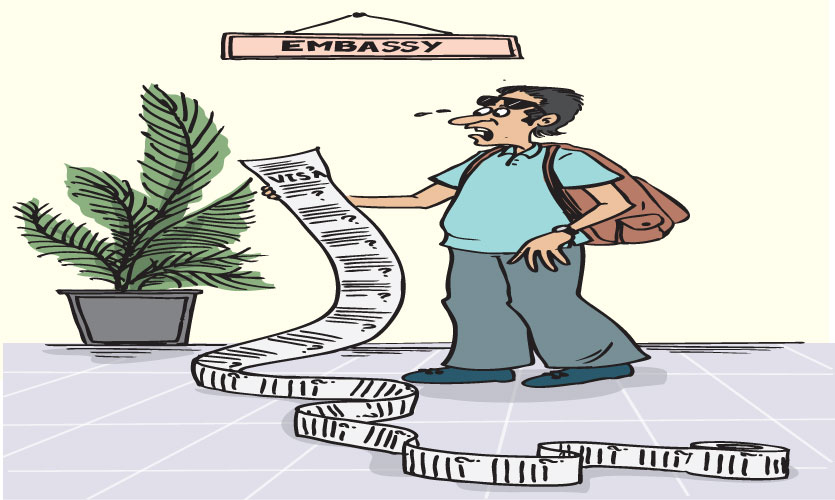 After all the drama, in most instances, the visa is issued. The next drama begins once you arrive at your destination and are standing in the queue to be cleared by Immigration to enter the country. This is if you have not been harassed on the aircraft with requests to show your visa etc. Firstly, what you observe when in the queue is that all those carrying, for example, an American or British passport, are allowed through with a quick glance and a stamp on their passports. Many times, the story for the rest of us is different. They look at the person suspiciously and the chances of being subjected to prolonged questioning at the counter or even being removed to a room for questioning are high. At this stage, if you are Sri Lankan, no purpose is served by pointing out to the official that we are citizens of the number one travel destination. It is made quite clear to you that you are not welcome in their part of the world.
Many return to Sri Lanka with this story and the conclusion is that we have done this to ourselves, with people overstaying their visit visas, traveling on forged documents, being employed illegally etc. To me, what comes to the fore is that if we have all these fabulous things to offer to world travelers, it is obvious that the beneficiaries are only the owners and higher management in the industry. Staff in the lower echelons are either under-remunerated or over-worked that they are all trying to escape this number one destination in the world to look for greener pastures elsewhere.
Travel certainly has become quite a hassle and unpleasant, especially when one has to go through the torture of obtaining a visa and the subsequent mistreatment at overseas immigration counters.