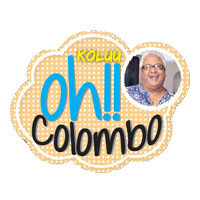 Oh! Colombo
It was another evening at Trixie's for high tea, where you are assured of a wonderful spread, all prepared by her in her very hygienic kitchen, and a relaxed evening with great conversation. The invitees though few, are those with whom you can let your hair down. Trixie who is now fully involved in social media and is up to date with all the hilarious goings on. Her conclusion was that all the Colombo types who are fully chocked up with cash are sadly full of crass too. Their ultimate goal in life, it would seem, is an attempt to be all fancy and act as if they were born with a silver spoon in the mouth. However, what they say about themselves on social media likens it more to being born with a rusty spoon in the mouth. They certainly cannot pass off as any form of socialite since they seem unaware of the basic social norms and niceties of life.
It was Trixie who dared me to have a Sinhalese song as my ring tone and said let us hear the reaction from those who call. A dear young friend, who is quite handy in this area, changed my ringtone to Iraj's popular and controversial song, "Mama Sil Bidndagaththe." The fun began soon after. A number of those who called me cut off and dialed again as they thought they had got the wrong number. Once they realized that it was actually me at the other end of the line, some were full of compliments for the song whilst many informed me that it was a goday (rustic) song and were quite infuriated with that fact that I was using it as my ringtone. Surprisingly the majority of the critiques were Sri Lankans and Sinhalese. "Obviously," Trixie giggled "These must be our Eurocentric lot who are posh and look down on Sinhala speaking people, even though they themselves speak English with an accent and are quite ruffled if they are mistaken as another minority community". Strange but true.
One can only have a laugh and not take offense with any negative comments, secure in the knowledge that in order to have a quality life it is best to avoid wishy washy people, especially those who are Eurocentric. This certainly leads to a trouble free and peaceful life.