Your Community is a series that hopes to bring recognition and business to the amazing entrepreneurs living in villages from far-flung regions of our country, to appreciate the wealth of talent and sheer resilience of spirit that exists among our people.
If corporates are struggling in these Covid-19 times, imagine how much more difficult it is for these small businesses who may have no recourse to the day-to-day conveniences that corporates enjoy - internet, ease of transport, online banking, and digital visibility for their products.
'Your Community' hopes to give some inspirational women entrepreneurs this all too important break – whether it's an order from an individual, a shop, an overseas client, or just the satisfaction and comfort of knowing they are not forgotten. That someone in the heart of the city can now hear their voice and link with them to help expand their reach.
This series features a cohort of 15 women entrepreneurs who were selected to be part of an innovative 15- week business management training programme, to build resilience to their businesses in the Covid-19 environment. The programme was deployed by WCIC with technical and financial assistance from the International Finance Corporation (IFC) —under the IFC-DFAT Women in Work programme.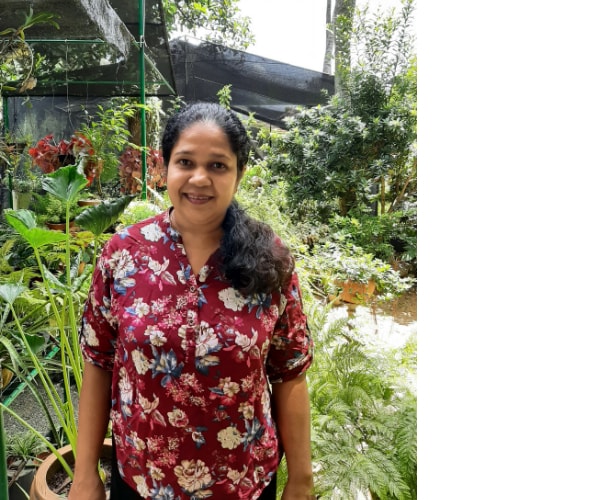 Q How did you start your business?
I love plants. I enjoyed gardening even as a kid. First, it was more of a hobby, and later, for my personal satisfaction. Even with a full-time job and a household to care for, I always ensure to dedicate time for my garden every day.
It was in 2000, that I first started selling plants in my neighbourhood. Years later, in 2013, I set a proper foundation to build a business out of my passion. That was the start of 'Orika Plant Nursery.' My nursery has orchids, gerberas and anthuriums, which proved to be commercially rewarding. At a time when my business was thriving, I faced a hurdle. I developed an allergy due to the chemical fertilizers I was using for the plants. Sadly, based on medical advice, I had to put an end to my business.
But I didn't want to stop. This was also the time when I had the opportunity to be a part of a business management training programme conducted by the Women's Chamber of Industry and Commerce (WCIC). Through the knowledge I gained, I was able to do a market scan. I assessed the needs of the consumers and found that given the fast pace of life, most consumers were interested in plants that required low maintenance. Most people no longer had the time to tend to plants even if they liked it, and some live in apartments where proper garden space was a luxury. This was my cue to dabble with indoor plants.
I have a nursery spanning an acre of land in Kaduwela where I grow indoor plants. Currently, I have almost 150 varieties on offer. Each plant has its own personality, demanding different levels of attention with respect to water, nitrogen and sunlight.
Q Tell us about your marketing tactics?
Orika Plant Nursery is positioned as a business that thrives, while also protecting and contributing to the environment. Understanding the life of a plant and ensuring support throughout its life is a science as well as an art. Over the years, I have acquired practical knowledge in this area to improve my business. Each breed has a different personality. I understand them well so that I can do the best for them and get the best from them. When I speak to a client about a plant, it is from a position of strength and my clients respect that.
Caring for the plant means providing timely nourishment to foster its growth at regular stages of its life cycle. I believe that organic manure is the best ingredient for growth. With the intention of giving my customers a total package, I ventured into producing organic manure in my backyard as well.
When you engage in a business with passion and dedication, new doors open for you. Indoor plants are fast becoming an essential element in interior design. It was when one of my loyal customers requested me to decorate their apartment that my scope expanded. I had to think very differently and explore the challenges this posed. I observed the space, the interiors, the available sunlight and aligned it to a specific budget - creating an end product that made the customer ecstatic. One by one, more inquiries came my way where I also got the opportunity to decorate the IOC office in Colombo and O1 Hotel in 2018. I acquired further knowledge to sharpen my skills and will continue to learn as I move forward.
COVID-19 was a testing time for me. I used my spare time to create and be innovative. By using the marketing knowledge, I acquired through the IFC-WCIC training, I recreated the packaging of the product in a more environmentally friendly yet attractive manner. I switched to the use of clay pots and used paint to create vibrant decorative designs on them. I know that I have been able to create an authentic product after years of experience, and I am confident that I have the competitive edge to cater to a niche market.
Q What are the business challenges that you face?
COVID-19 taught us many lessons and the most important one for me is to look at the big picture and think big with a SMART plan. Previously, business volumes were generated through trade exhibitions and fairs, but with the pandemic, such gatherings came to a halt. This had an impact on my business.
I also realized the value of a structured business plan, with special emphasis on marketing. Today, marketing has evolved, and an active digital presence is important for the longevity of your business. This is what energized me to revisit the social media marketing platforms for Orika Plant Nursery – which will be launched soon.
My forte is bringing life to plants, but I need support in the marketing domain to secure a more long-term business pipeline. I am open to the option of creating strategic partnerships with interior designers, hotels, corporates and exporters in the future. If successful, I will achieve my ambition - to be an exclusive supplier of indoor plants to mega projects in Sri Lanka and the Maldives.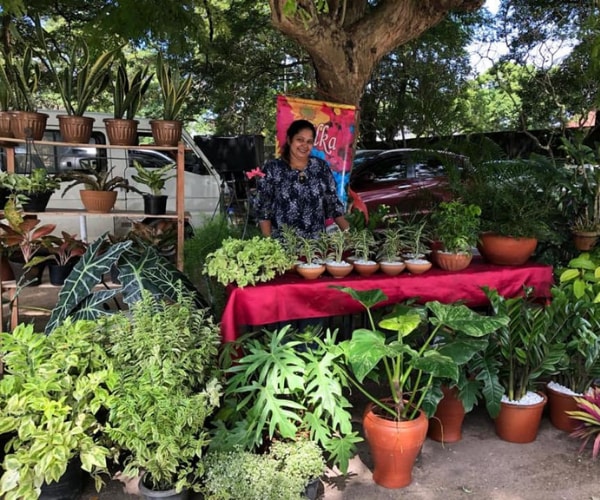 Q How important is it to enhance your knowledge?
Knowledge is vast. Consuming it well and using that to improve what we do is up to us. While I understand plants and their behaviour, it has been clear that business skills are far more complicated than the product itself. I make sure that I constantly scan changing consumer behavioural patterns in order to stay relevant and up to date. Marketing is a critical function for success, but for my business to thrive, it also needs to focus on finance, supply chain and other aspects. I was fortunate to participate in the WCIC-IFC business management training programme where I learnt the fundamentals of financial accounting, bookkeeping, marketing, packaging, supply chain and more. I have been able to use this knowledge not only to further my business, but in my personal life as well.
Q Tell us about your family?
One must be lucky to have a partner who shares one's passion and I am blessed indeed. My husband is my biggest supporter. He is a retired construction worker. My two daughters aged 24 and 19 watch us working at the nursery and smile with pride. They tell me that they are encouraged by watching us work as a team and that our story has taught them that patience, love and the right attitude are ingredients for a successful life.
Q Best advice you can give?
Don't turn away if a door is shut. There will always be another one that will open. Passion and commitment are the foundation of success. Women's Chamber of Industry and Commerce (WCIC) is the premier organization supporting entrepreneurs and professional businesswomen. The membership is open to women who believe they can contribute to society as well as benefit from the many facilities the organization creates.
Text: Anusha David
For more information on 'Orika Plant Nursery,' contact Sriyani Wickramasinghe on email orikaplantnursery@gmail.com.