Your Community is a series that hopes to bring recognition and business to the amazing entrepreneurs of our country, to appreciate the wealth of talent and sheer resilience of spirit that exists among our people. When spoken to, the majority of the SME's indicated that their challenges were similar. They are struggling with access to the market and access to finance. They need guidance and support to overcome such obstacles. "Your Community" addresses the need to create awareness, by sharing their compelling stories so that the potential customers out there can connect with them.
WCIC along with many partner organisations conduct continuous capacity building programmes for SMEs to gain knowledge in all aspects of business development. 'Your Community' provides exposure to inspirational women entrepreneurs by sharing their stories and making the world know how these courageous ladies are forging ahead. We invite you to interact and engage with these entrepreneurs and support local businesses. We feature this week an entrepreneur who has been supported by the WCIC in her journey.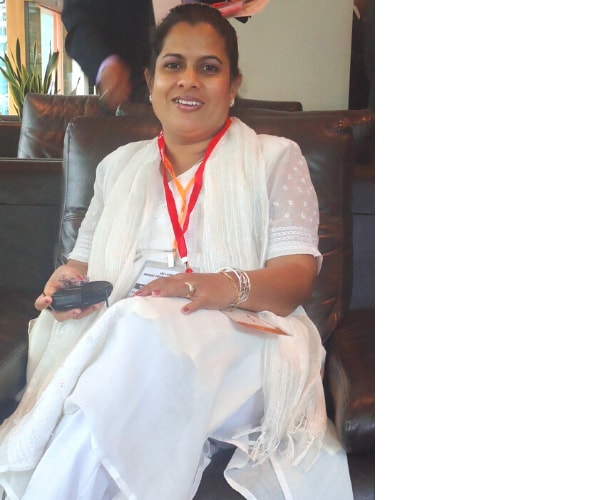 Tell me about yourself?
I am Rupika Perera, creator and owner of Ru Designer Jewellery; a humble woman, dedicated to serving others. I believe if you help without expecting a return you will always be blessed. My life is guided by this principle. I have allowed my life to be moulded by the lessons I have learnt and today I stand here with the experience I have gained. Soon after completing my secondary education, I got married. I never had a desire to be employed and was content being a good housewife and a mother to my daughter. This tranquillity ended one day when I woke up with the burning desire to start something home-based. Though I had everything I felt I needed a challenge to complete my life.
What led you to start Ru Designer Jewellery?
I am fashion conscious and jewellery has been an integral part of my attire, always. My jewellery invariably gets admired by everyone around me. I make it a point to choose exclusive pieces and ensure they are coupled tastefully with what I wear depending on the occasion. My personal challenge was always to accessorise what I wear, to enhance my elegance. I felt that every lady should feel special with unique jewellery. I made up my mind to design and create elegant, unique jewellery for the discerning woman, hence the birth of 'Ru Designer Jewellery'. We manufacture gold, white gold and silver jewellery with or without Ceylon Gem Stones catering to both local and international jewellery lovers.
How did you launch the business?
I had the passion and the ideas but had to align the required resources to commence operations. At the time I didn't have the capital or the technical and management know how. I reached out to my husband with my business idea and he was delighted about the venture and had this to say "Rupi, I am so proud of you, Congratulations. I am a businessman and I started with nothing in hand. I grew my business while learning and making mistakes but with the determination to expand. A true entrepreneur will take his/her first steps alone and then seek support. You take your first step alone and I will support you".
It took me a little time to digest this piece of advice, but I set out with an open mind, energised with the challenge to succeed. I had only one thought; I needed to prove to myself that I can do it. Without any debate or hesitation, I went to Bank of Ceylon, pawned my pair of bangles for a value of Rs 45,000 with the intention of purchasing two showcases and a few silver chains to get Ru Designer Jewellery up and running.
Now that I had the capital intact, I had to secure market knowledge and technical know-how. I walked tirelessly across all the jewellery shops in Colombo trying to understand designs, technology and pricing. I came to the realisation that my chosen industry was a unique one and acquiring knowledge was going to take a lifetime especially because I had to compete with families who had been in the business for many decades.
I had to secure a team of craftsmen if I was to establish Ru Designer Jewellery as a brand and roped in craftsmen from different parts of the country including Galle, Colombo and Gampaha. The reason for selecting different localities was to embrace the diversity of art, craft and local heritage. This way Ru Designer Jewellery could address the needs of different customers so that they could cater to their particular needs.
Our first designer piece of jewellery was a star-shaped silver necklace for a close friend of mine. I was quick to understand the tastes of my clients and increased my customer base via my social network using my client testimonials. Clients of Ru Designer Jewellery loved the creativity and uniqueness of each piece of jewellery – they considered it one of a kind. Whilst rejoicing in my triumphs, I had an eye on what lay ahead, in order to ensure that my progress would be steady.
How did you grow your business?
The Gem and Jewellery industry is one of the oldest professions/businesses in Sri Lanka dating back to our ancestors in the Rajarata era. I was a new kid on the block, competing with the traditional Gem and Jewellery, family-owned businesses that have engaged in the trade over generations. I had to move fast and up my game plan. I placed greater emphasis on sharpening my technical know-how to compete confidently in the market.
For starters, I acquired a Diploma in Gem and Jewellery certified by the Gem and Jewellery Authority in Sri Lanka. The next step was to create a market presence for my brand Ru Designer Jewellery and gain prominence amongst the Gem and Jewellery business community.
I worked aggressively to achieve that recognition by registering myself as a participant at the "Luster Exhibition" in 2009. Unfortunately, I didn't have the capital to secure a stall but didn't walk away either. I spoke to everyone possible, trying to convince them to provide me an opportunity and finally connected with the former Chairman of the Gem and Jewellery Authority, Ajith Perera.
I couldn't afford a stall but Mr. Perera worked around many options and offered me a spot and termed it the "Manik Pola" at Luster Exhibition. This was my first experience marketing my designer collection to foreign customers. My pulse raced as customers approached my collection. I could see the excitement in their eyes when they looked and tried on my jewellery. I was thrilled and considered this as a quantum leap in my business journey.
This was the start and I felt even more motivated and sourced more opportunities, as I continued to showcase my collections at many exhibitions including events such as Facets Sri Lanka, the International Gem and Jewellery Show, for several consecutive years.
I still felt that there was so much to learn about the industry and valued the business advice given by Mr. Ajith Perera, a veteran in the Gem and Jewellery Industry. Understanding and acknowledging my determination and perseverance along with the quality and vibrancy of my creations, Mr. Perera encouraged me to register Ru Designer Jewellery at the Sri Lanka Export Development Board in 2010. A new beginning connecting me with the International market.
Capitalising on the opportunity, I participated in the 50th International Bangkok Gem Fair in 2012, promoting traditional Sri Lankan culture and heritage through gem-studded Jewellery. Sri Lankan art and craft has always excited the international buyer and with that knowledge, I reached out to Laksala and Lakarcade to market Ru Designer Jewellery.
I don't believe in luck but I believe in working towards success with passion and determination. Take a leaf off my book. I was a homemaker who grew into an entrepreneur within a short space of time. It's not rocket science but you need to have the right attitude and the passion to follow through.
The business may look bleak with the pandemic at the moment, but to me, it's just the beginning of a future with new opportunities to be explored such as adopting technology to further your business.
What is the future of Ru Designer Jewellery?
Women and jewellery are interlinked. Gifting jewellery has always been and will continue to be a tradition in Sri Lankan culture. Jewellery is given as a gift to make it last a lifetime and to be passed on to future generations. Therefore, Ru Designer Jewellery has many opportunities to expand both locally and internationally in the future.
At present we are restricted to one physical store based in Colombo 5. Although online marketing is rampant, the physical experience plays a role in selecting unique jewellery like ours. A physical store where the customer can go through a unique collection is key for my business. Expanding our presence by way of outlets that cater to customers, across tourist hubs such as Colombo, Kandy and Galle is essential.
The outlet initiation drive was to kick start in 2020 but is temporarily on hold given the pandemic and its negative effect on the economy. But I don't consider it the end, but perhaps a good time re-evaluates our strategy. We have to take our jewellery collection to the tourist, not vice versa, which creates the opportunity to link up with hotel chains and boutique hotels across Sri Lanka to open up a display kiosk at their location.
This may seem a far-fetched business proposition, considering the impact of the pandemic on the hospitality industry but I feel it's the right time to secure a long-term relationship. The pandemic has challenged us and as for me, I learnt to think outside the box to overcome challenges.
My ambition is to see my daughter Seduru, take over my business someday and develop Ru Designer Jewellery as a recognized and reputed brand locally and internationally. So, it is my responsibility to set the stage before I make the transfer.
What are the critical success factors of your business?
I have always been a determined person and that definitely has helped me in my journey. I started from scratch with no credits. When I didn't have the capital- I sourced it, when I didn't have the know-how -I acquired it when I didn't have the customer base- I created it. Today, I am confident and more resilient to stand up against any bottleneck.
Flipping through my book of experiences, I believe that my family, friends and business associates have contributed to my success. Don't complain and cry for help, take the first step, fall, fail and try to uplift yourself and people will help you. I am grateful to everyone who has helped me in my journey.
Relationships are the foundation for success in an entrepreneurial life. Relationships you foster can energize what you do. I believe a continuous genuine relationship with a client, serves both well. One such relationship I built was with Gayani De Alwis, a customer of Ru Designer Jewellery back then but today my business mentor. Gayani didn't offer only advice but also introduced me to The Women's Chamber of Industry and Commerce (WCIC)- my family outside the home.
How has WCIC helped you?
We have heard the common phrase "What goes around comes around", but it is unlikely that such a philosophy is practised in business. WCIC, a cohort of Female Entrepreneurs who genuinely express interest in developing fellow entrepreneurs, is possibly the only platform that practices this philosophy.
There are many schools of thought about discrimination and how countries and societies can contribute towards developing females. In my opinion, we females should uplift and support each other without expecting anything in return.
Gayani De Alwis, my mentor and an inspirational female who introduced me to WCIC proved how important it is to help support each other. As a part of the WCIC team, I was exposed to many opportunities to upskill my technical skills on topics such as Management, Marketing and Finance, via programmes sponsored by the International Labour Organization (ILO). Furthermore, I had the opportunity to participate in many events where I gained market exposure. WCIC's family support is endless and I value every positive word and warm smile.
What about support from your family?
My family has always been my priority and in return, my family always encouraged me to achieve greater heights. My husband, Sandalal Perera, a businessman himself set me on the right track from inception. Without his advice I wouldn't have been so focused and determined. I always knew that he will support me and he pushed me to venture out, make mistakes and succeed.
My daughter, Sedaru has always been the apple of my eye. From her younger days, she kept encouraging me and helping me in every possible way. Today she is pursuing a degree in Logistics Management and advises me on several aspects of developing the business including Finance. Her sense of business maturity and engagement in Ru Designer Jewellery makes me feel proud and I know that I have found the perfect successor for Ru Designer Jewellery.
What Is the most rewarding point of your life?
I applaud myself because I was able to balance family and business. I made time for every important event in my family. Sedaru was an All-Island Athlete and never did I miss the opportunity to watch her run, cheering her to the finishing line. I always made sure that I was personally there for Sedaru. When I had the opportunity to participate at the 50Th Bangkok Gem Fair, I made sure that Sedaru came along with me. It was not easy to convince the authorities to grant her a visa but I made it happen. I managed well. It's hard to have an all-inclusive package but I have been blessed to enjoy a happy family as well as a successful business.
What is your best advice to a young female?
Education is your foundation irrespective of your chosen profession. Opportunities will emerge. You can decide to be a homemaker or a career woman and contribute towards the family income; that's your choice. But what is guaranteed is that you will enjoy financial freedom.
Women's Chamber of Industry and Commerce (WCIC) is the premier organization supporting entrepreneurs and professional business women. The membership is open to women who believe they can contribute to society as well as benefit from the many facilities the organization creates.
By Anusha David