'Your Community' is a series that hopes to bring recognition and business to the amazing entrepreneurs living in villages from far-flung regions of our country and appreciate the wealth of talent and sheer resilience of spirit that exists among our people. If corporates are struggling in these Covid-19 times, imagine how much more difficult it is for these small businesses who may have no recourse to the day-to-day conveniences that corporates enjoy - internet, ease of transport, online banking, and digital visibility for their products. 'Your Community' hopes to give some inspirational women entrepreneurs this all too important break – whether it's an order from an individual, a shop, an overseas client, or just the satisfaction and comfort of knowing they are not forgotten. That someone in the heart of the city can now hear their voice and link with them to help expand their reach.
This series features a cohort of 15 women entrepreneurs who were selected to be part of an innovative 15- week business management training programme, designed to build business resilience in the current Covid-19 environment. The programme was deployed by WCIC with technical and financial assistance from the International Finance Corporation (IFC) —under the IFC-DFAT Women in Work programme.
Q TELL ME SOMETHING ABOUT YOURSELF?
I am Pradeepa Fernando, founder of Ama Products. I started Ama Products on International Women's Day in 2017 with the intention of supplementing my family income and also to establish the fact that every homemaker can become a successful entrepreneur. Many homemakers in Sri Lanka hide behind household chores and say time is a constraint. I call this the "excuse mentality". Remember, you have 24 hours in a day. Waiting for the perfect time to realize big dreams is wishful thinking. I believe you should start small and steadily move forward.
Cooking was always my passion, and I read every new recipe that was featured in the weekly supplements like Tharuni, Sirikatha, and regularly watched the Nuga Sevana TV programme. This is how I began experimenting with various dishes.
Ama Products is the output of my passion, and my journey thus far has been a rewarding one. I was awarded the 'Best Start-Up Business Entrepreneur 2017' by the Women's Chamber of Industry & Commerce (WCIC), as well as 'Best Micro Entrepreneur' at the Wanithabimana Provincial competition.
Q TELL US MORE ABOUT YOUR BUSINESS?
In 2017, we launched Ama Products as a food business that specifically focused on dessert making. Our main targets were the local community retailers and households. But with COVID-19, the business climate changed as these items became non-essentials.
I had to change my game plan. We all know that Sri Lankan homes thrive on curries. The taste and quality of the dish reflect the ingredients used, and also the love and care mixed into the process. This is what made me swiftly move to experiment with spices and mixes used for home cooking. Today, we produce a range of basic spices such as chilli and pepper as well as speciality spice mixes such as Maldive fish baddum and kalu pol chilies.
Our products are natural, with no additives or preservatives. Therefore, we offer a shorter shelf life of 5 months, and our spices retain the same goodness from start to end. Currently, we cater to the local community and are dependent on a small client base. They are convinced that our products offer superior quality compared to others in the market. However, the challenge is to expand it beyond the current customer base. This requires scaling up in every sense.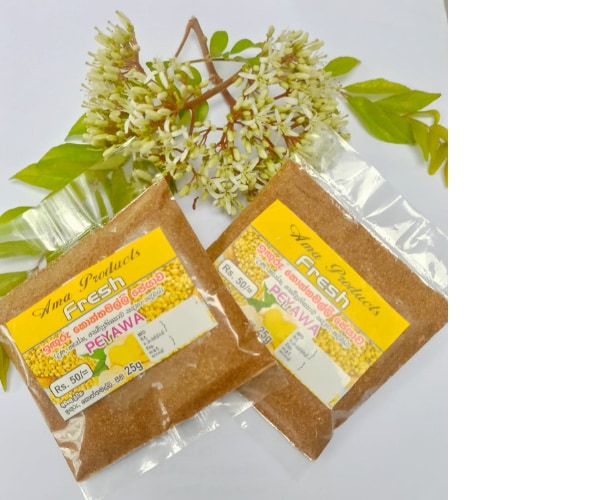 Q TELL US ABOUT THE BUSINESS PROCESS AND THE FUTURE OF YOUR VENTURE?
Ama Products is what it is because of the support given by my family. My husband Indrajith is in charge of sourcing high-quality raw materials. My father Colvin, who is 70 years old, takes great pride in helping me wash and dry the raw materials. I am in charge of processing, and my 24-year old son Kalindu is responsible for packing. We are a small business, but our pledge is to provide ultimate satisfaction with every product we offer. My dream is to set up 'Ama Grinding Mills' in the heart of Panadura. For this, I need to expand my current business by embracing modern technology, enhancing the skill set of the team and exploring new marketing channels.
Q EXPLAIN TO US WHAT THE MAIN CHALLENGES ARE AND HOW YOU HAVE FACED THEM?
I am generally not stalled by challenges; every challenge provides me with a new opportunity. Today, we are a backyard operation. So, we need to look for space that can provide us with the opportunity to expand the business along with modern technology to improve productivity. Financial support is a priority at this junction to achieve our goal. My next challenge will be to conquer the market. My vision is to see Ama Products displayed on the shelves, side by side with other brands in the market. When I participated in the marketing skills session which was part of the IFC WCIC business management training programme, I understood that if I want to compete, I need to further differentiate from a product point of view. For instance, if I am to cater to the busy housewife, I need to be one step ahead; not just providing the spices, but products such as curry pastes as well. If you want to overcome any business challenge you need to invest in a progressive attitude with a thirst to learn and trial out new ideas.
Q HOW DO YOU MANAGE TIME?
I am a daughter, a wife, and a mother of two. I don't necessarily have a way of managing time per se, but I manage myself to get the best out of the time I have. I plan my day well in advance, complete my household chores, and focus on my business. I am successful because my family believes in my vision and they wholeheartedly support me through my journey.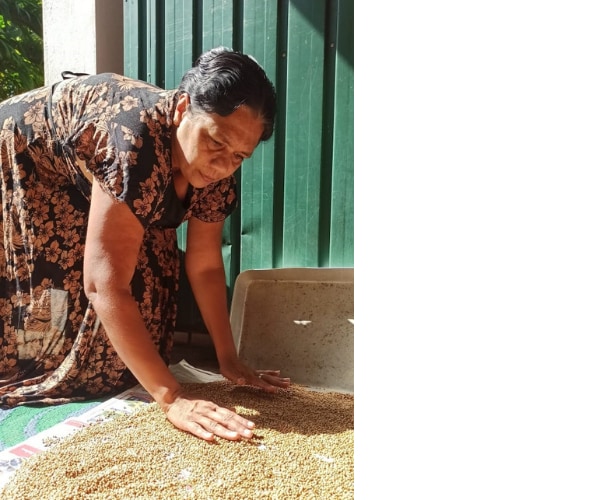 Q BEST ADVICE FOR A FEMALE?
Have the attitude of a lioness. Don't abuse it but use it to develop yourself and your family. Don't depend on others to make you happy. Happiness lies within you. Once you elevate yourself, people will support you. WCIC stepped into my professional life by enrolling me in many conferences, competitions and trade exhibitions even though I am not a registered member. They valued my passion and commitment, for which I am wholeheartedly grateful. Women's Chamber of Industry and Commerce (WCIC) is the premier organization supporting entrepreneurs and professional businesswomen. The membership is open to women who believe they can contribute to society as well as benefit from the many facilities the organization creates.
For more information on 'Ama Products,' contact Pradeepa Fernando on email kalinduf.0924@gmail.com.
By Anusha David