How do our food experts cook and eat? This week, Charith Silva – the man behind the TikTok famous food account 'Wild Cookbook' takes our Q&A. Charith has over 800k followers on TikTok and over 7 million likes on his videos and his YouTube channel is reaching 100k subscribers.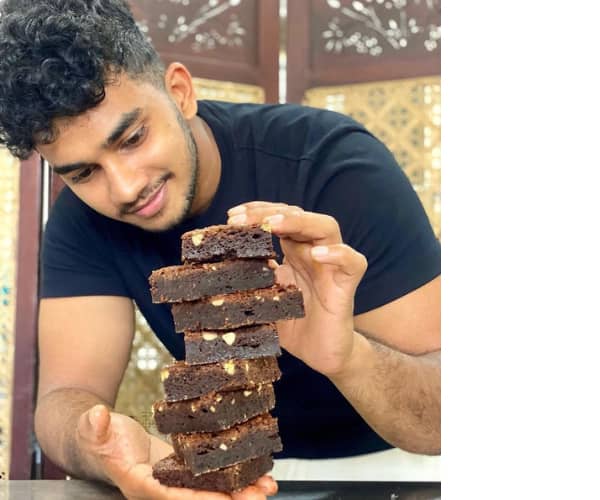 How did you learn to cook?
After I finished school, I got into the culinary field for my higher studies and when I started working in the field, I learnt the art of cooking. I'm also curious about food so I self-explore, test out different recipes and through my experiences, I learn to cook new things day by day.
What inspired the name 'Wild Cookbook'?
Initially, when I started my YouTube channel, I thought I would do the cooking videos close to nature hence the name 'wild' cookbook. But when Covid-19 hit, I couldn't move that concept forward and had to do the videos indoors. But…the title stuck – I really liked it and 'wild' can have so many meanings, you know?
Wild Cookbook is TikTok famous. What started it all?
Covid! We were all stuck at home and I saw that TikTok was a fast-growing social media platform. When I started out, I didn't really see any other Sri Lankan food TikTok accounts at that time so I thought, why not give it a try and see? My first TikTok was back in October 2020 and the account has really grown in just one year!
What was the turning point for Wildcookbook?
TikTok really helped Wild Cookbook take off. I got really good comments and feedback on my videos – more than I ever expected – and I have managed to create an international audience there.
Cooking, filming, editing must be time-consuming. What's your process like when you make short videos for TikTok?
Yes, absolutely it's hard work. There are some recipes that take the whole day when I do it with the filming. I'll admit that all the tasks of preparing, shooting and cleaning are really hard and I'm thankful that I now have several people who help me with the filming and editing part of it. As difficult as it is to cook and film, editing is also so difficult – it takes hours! For TikTok my videos are less than 60 seconds – meaning I have to edit a whole recipe into a 60-second short clip, so yes, the editing part of it is not that easy. I always try to make a dish from scratch and I focus on making sure that all the steps are shown in the video.
Your most popular recipe?
In Sri Lanka, my Lavariya and Watalappam recipes got popular super fast. Internationally, the Chicken Burrito recipe I did blew up. It got around 6 million views.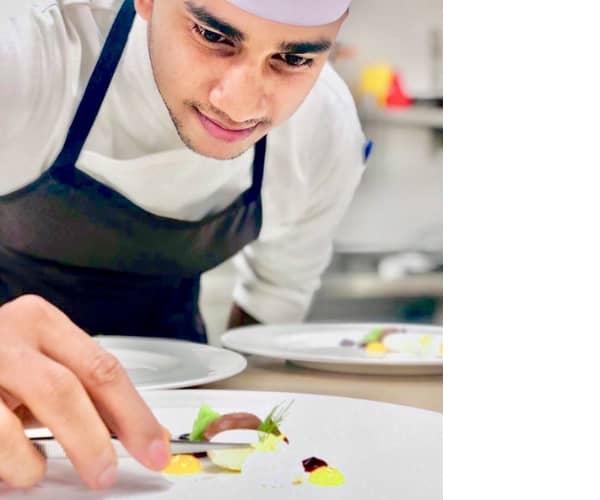 Your favourite childhood meal?
As a kid, I loved the 'Dried Rice Aggala' and 'Imbul Kiribath' my grandmother used to make for us. I have so many sweet memories of those foods.
The most overrated food that's served right now?
Pizza, I guess.
An easy meal you'd make to impress someone?
I'll make mac n cheese. You can't go wrong with a good mac n cheese!
What's the most adventurous food you've eaten?
Mussels. I'm from a town down south so once myself and a few of my friends went to harvest mussels that grow on the rocks by the ocean when we were teenagers. We also cooked the same mussels and it is such a good memory.
Your proudest food invention?
So far, the Octupus kalupol maluwa I made.
Your go-to comfort food?
Coconut sambol and spicy prawn fry with rice. Also cream of chicken soup!
A dish you'd love to relive for the first time?
Profiteroles.
Your favourite leftovers?
Kottu, and also lamb curry.
If you are put on the spot to prepare a dish – savoury or sweet?
I would make a sweet one. Fudgy brownies because who can say no to gooey brownies?
If someone is seeing your videos for the first time and wants to try it out, the recipe you'd recommend them to try for the first time is ________?
Maqlooba