How do our food experts cook and eat? This week, food blogger and YouTuber Minolee of @lankankitchen, takes our Q&A!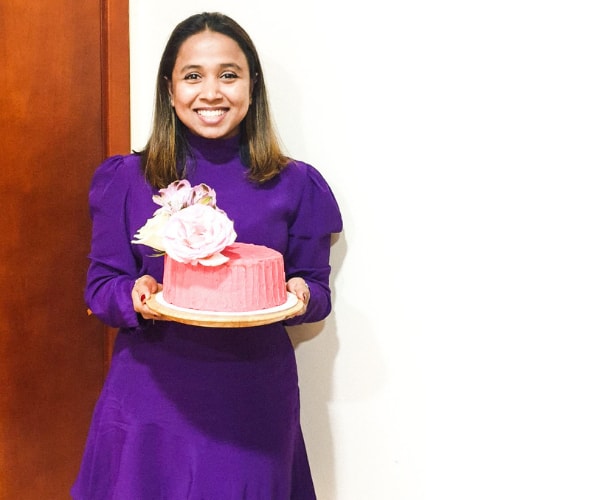 What started the Lankan Kitchen?
When I started cooking, not so long ago, I enjoyed it so much that I wanted to document the journey by taking pictures. I eventually shared these pictures with my family and friends and they turned out as good as the dishes tasted, so that led me to create an Instagram, Facebook page and YouTube channel.
Your first memory of cooking?
Making coconut rotis with my mother back in Sri Lanka. We used to make the thinnest coconut rotis which were so crispy and crunchy and in different shapes like hearts, squares etc. That was fun!
A spice, tool and equipment you can't live without?
Spice - There are so many. But coming from Lanka, I love my spicy tooth, so chillie powder, turmeric and curry powder are my three choices and I almost can't pick one from these three!!
Tool - knives set of course
Equipment - These days, definitely the air fryer, it's new and it helps me make healthy choices.
Your favourite childhood meal?
Sunday was a very special day for me growing up. We always made something special on Sundays, which usually started with Kola Kanda (Herbal porridge) as breakfast followed by a variety of seafood dishes for lunch. This was because my father loved both the choices and he made a point to go to the beach and get the best seafood on Sundays. For us, Sunday was always a family day!
What's the best way to eat Sri Lankan?
By hand! And a plate full of curries. There is just no other way you would enjoy the flavours. You gotta do what you gotta do!!
Top 6 dishes you would serve at a dinner party?
If I am inviting people over, I would definitely go for Sri Lankan specialities because that's what my friends and family would love to eat. As for the top 6 dishes, I would always make my signature yellow rice, cashew curry, tomato salad, devilled prawns, fish cutlets and a chicken/pork curry.
What dish would you eat but never cook?
Anything made with beef. I never cook beef as both me and my husband don't eat it at home. If at all, we would occasionally eat it when we are dining outside if we are in the mood.
It's your last day on earth, where are you?
I would be at this small town Thai restaurant that my husband and I found in Phuket, Thailand and order all of their yummy dishes which we still fancy to date.
What is your fool-proof recipe on the Lankan Kitchen?
I have always received really good comments on my butter cake and ribbon cake recipes so that's fool-proof I guess!
What is the most overrated food that's served right now?
Anything with red-velvet, I just don't understand how it is so famous.
Easiest meal to impress someone?
If I want to impress anyone, I will go with Sri Lankan curries. A good crab curry/ prawn curry is what I would go for.
Your favourite odd food pairing?
I actually have two odd pairings. Watermelon and feta because when you try it in a salad, it is yum. And sesame and chocolate, also super yum!
If you could dis-invent a food, what would it be?
I think it would be fast food….maybe not totally dis-invent it but limit it to some extent.
What's a dish you'd love to re-live for the first time?
Poke! When I tried poke for the first time, I somehow did not like it, but I was bold enough to try it again for the second time and have been loving it ever since. If I can relive having poke for the first time, I would make the perfect choice of components to get the best taste.
What's does the restaurant of your dreams look like?
I'd love to have my own restaurant one day! I have a few versions of what it could be too. One would be in the countryside, serving locally produced fresh Sri Lankan food, liquor, tea and all sorts of things. Another would be in the city; serving specific, limited, Sri Lankan dishes that are my favourite like hoppers and crab etc.
What are your favourite leftovers?
Any leftovers from Sri Lankan party dishes like yellow rice, devilled dishes, curries that tastes even better the next day. And of course, pizza! There's nothing better than reheated pizza!
If you are put on the spot to prepare a dish – savoury or sweet?
It would always have to be savoury. I'd ace savoury over sweet.