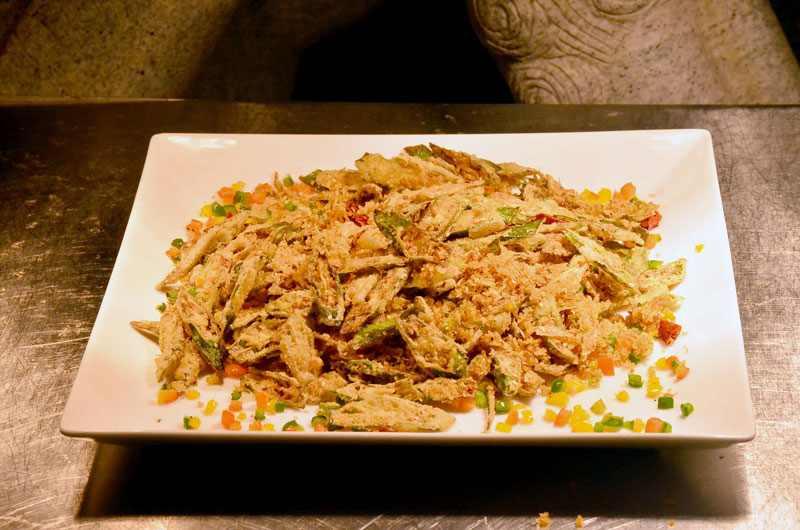 text Panchali Illankoon / PHOTOS Waruna Wanniarachchi
---
While Sri Lanka may have dime a dozen restaurants serving up Chinese fare, very few can truly call themselves authentic; the Golden Dragon at Taj Samudra, Colombo being one of them ever since its inception. Having long established themselves as one of Colombo's best dining venues for authentic Chinese cuisine, the restaurant's reputation for quality and consistency is one of the many reasons it has accrued a throng of loyal diners over the years. Golden Dragon's latest invite to its diners is the dinner buffet served every Tuesday and Wednesday. Promising a roaring feast worthy of a dragon, the dinner buffet offers an all-you-can-eat variety of Chinese delicacies. We were recently invited to try out the buffet and was pleased to see that the Golden Dragon delivered on its promise. The dinner buffet includes an array of dim sum, meats and seafood prepared Sichuan style and dessert.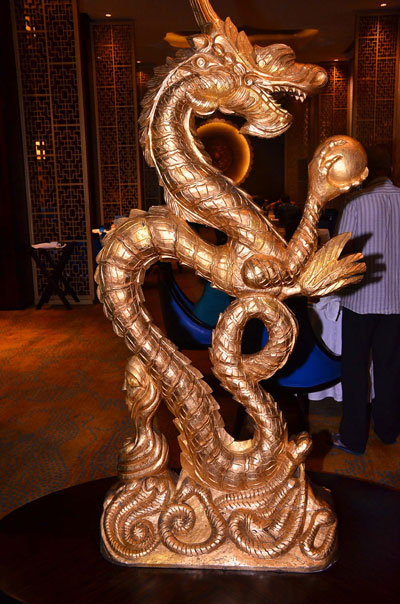 Starter
Starters offered soup prepared two ways; a mild vegetable noodle soup and a seafood jade soup. Our eyes however were immediately drawn to the dim sum corner of the buffet so we opted to begin with a selection of dim sums. We had their Chicken Bao, Prawn and Pork Sui Mai and their Vegetable Dumplings. The Chicken Bao was fluffy and airy and the filling flavourful and juicy. In contrast, the Prawn and Pork Sui Mai is all meat and seafood subtly complemented by Chinese herbs and spices. The Dim Sum corner was an instant hit – not just for us, but clearly for other diners as well considering how quickly the dumplings disappeared after each refill.
Mains
For mains, they had a variety of Sichuan style dishes with noodles and rice. We had their Golden Dragon Signature Chongqing Chicken, Conji Crispy Lamb, Sweet and Sour Fish, Stir Fried Chicken in Black Bean Sauce, Wok Fried Mock Duck in Hoisin Sauce, Hot Butter Cuttlefish, Crispy Okra and Stir-Fried Bok Choy with Mushroom. To start off, we were impressed by the variety of dishes on offer at the buffet. Of course, we insisted that we try them all (suffice to say, it was a very long dinner). From the meats, we had two favourites: The Chongqing Chicken, a Golden Dragon signature, packs in a heaty punch because of the dried red chillie and Sichuan peppers and the Conji Crispy Lamb - shredded lamb that's fried and tossed in a dry tangy chillie sauce. The mock duck was definitely an interesting dish; the fibrous consistency of the mock duck is not unlike tofu but when prepared Sichuan style, tossed in a wok with spice, sauce and flavour, the mock duck almost had us fooled passing itself off as chicken.
As always, the Hot Butter Cuttlefish was a treat and we were thrilled to see it in the buffet. HBC may not be considered an authentic Chinese dish, but as Sri Lankans, it's difficult to think of a Chinese dining experience without it. We also loved the Crispy Fried Okra and the Sweet and Sour Fish.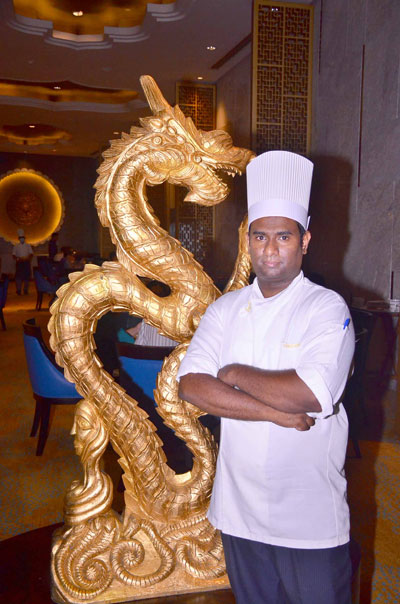 For dessert
Dessert was a humble selection: freshly cut fruits, fruit mousse, warm chocolate pudding, jelly and custard and watalappan. After the damage we did to the buffet, we opted to eat a few fruits and a bit of the mango mousse for balance. We wished they offered a bit more variety for dessert but given that many (like us) would be too full to even contemplate desserts after the starters and the mains, we weren't too cut up about it.
Overall
We love a good Chinese feast and we truly enjoyed our dinner at the Golden Dragon. The dinner buffet offers a good variety of dishes and holds up the standards the Golden Dragon is reputed for. We also think it's a value-for-money buffet, given that an a la carte meal would cost us the same, if not more, in this economy.
*. The Golden Dragon Dinner Buffet is served every Tuesday and Wednesday, 7.30-10.30pm at the Golden Dragon. The buffet is Rs. 5,300/- net per person and Rs. 3,000/- nett per child.