Veteran jewellery designer Sarath Ariyawansa is prepping for his maiden art exhibition titled 'Thith' (Dots). The main highlight of the exhibition is his artwork created using dots. The artworks which are currently being developed include the Avukana Buddha Statue, the Samadhi statue and various portraits and nature drawings.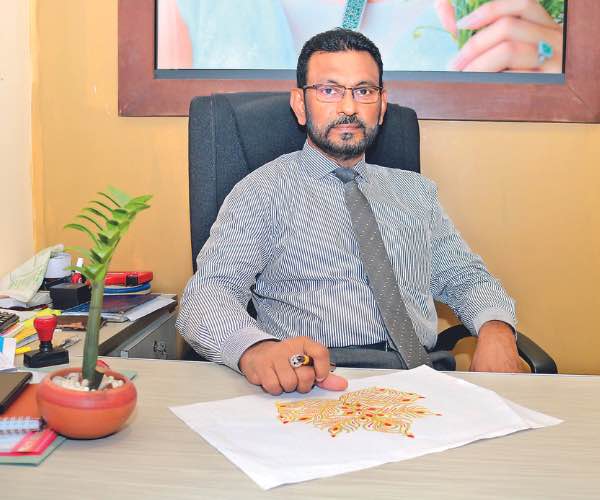 Hailing from Polonnaruwa, Ariyawansa had his primary education at Palugasdamana Maha Vidyalaya and followed the arts stream. "I started Jewellery designing back in 1982," he recalled in an interview with Daily Mirror Life. "Back then there were no professional Jewellery designers. I joined the Gem Corporation after seeing a paper ad. Thereafter, I trained for a year and got my first job placement there. Since then I have been a Jewellery designer. Thereafter I worked overseas and on my return, I joined Swarna Mahal as the Chief Designer and worked there for around 20 years. I then started Sri Lanka's first Jewellery magazine."
While doing Jewellery designs, Ariyawansa developed this concept. "The medium used is the isograph pen which is used for jewellery designs. It gives a 3D effect and is used for shading," he added.
According to Ariyawansa, it takes more than 200 hours to complete one piece. For him, it's a form of relaxation. "Like music, art can be a form of meditation. I draw my artworks in the night listening to pirith." The exhibition comprises his own jewellery designs with articles which will be on display along with the artwork. Ariyawansa claims that this is perhaps the first time an exhibition of this nature is being held in Sri Lanka.
Spanning a career of 40 years, Ariyawansa now inspires the younger generation to take the baton forward. At their in-house workshop, many youngsters are provided with a space to further their careers in Jewellery design. "All my jewellery designs are done manually. We provide the guidelines and the in-house designers develop them on CAD software."
Ariyawansa intends to introduce dot art locally and globally. "There seems to be an interest among local artists to follow this concept. I also do watercolours and oil painting. But many are unable to do dot art because it's time-consuming. But I'm planning to teach this concept to the younger generation after the exhibition is done."
The exhibition is sponsored by Ashadi Jewellers, a leading jewellery shop with the largest factory that supplies designs to over 80 jewellery shops in the country.