Filling a discernible gap in the lack of fun, adrenaline-pumping, adventure-based entertainment in the city of Colombo, Crate Adventures Ltd recently inaugurated "Colombo Dunes" at the Port City, in collaboration with the world's leading All-terrain Vehicle (ATV) manufacturer - Can-Am by BRP - to feature top-in-the-class, high-end ATVs. While the concept is new to Colombo, Crate Adventures first launched their ATV adventure park across a 50-acre natural forest in Gampaha. The event was launched with the attendance of Chief Guest, Youth and Sports Minister Namal Rajapaksa, Tourism Minister Prasanna Ranatunga, and Transport Minister Pavithra Wanniarachchi.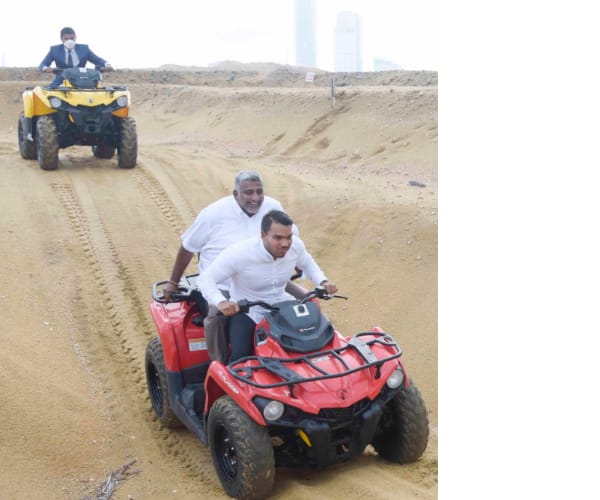 Addressing the gathering at the launch, Ranul Thantilage of Crate Adventures announced that Colombo Dunes was Sri Lanka's and South Asia's first sand dune adventure centre. He also introduced the guests to the offerings available at the Colombo location. Anticipating that the track will fill the void for adventure outlets in Colombo, Thantilage is optimistic that Colombo Dunes will provide a holistic experience for both locals and tourists seeking excitement in the city. He stated that visitors to Colombo Dunes will be privy to the picturesque view of the Colombo skyline, adding that an aerial view of the track that shows the dunes designed to spell out "Port City".
Chief Guest Namal Rajapakse, while thanking Crate Adventures for initiating the project and creating an adventure track in port city reiterated that it was a vision of his father, Prime Minister Mahinda Rajapakse to "position Sri Lanka as a trans-shipment hub and financial city. So as a result, he invited investors to come to Sri Lanka at that time. Port city is an iconic investment and we want to create more opportunities for young entrepreneurs to come and be part of this initiative. We believe that the more you open up, the more opportunities we will create for Sri Lankan youth".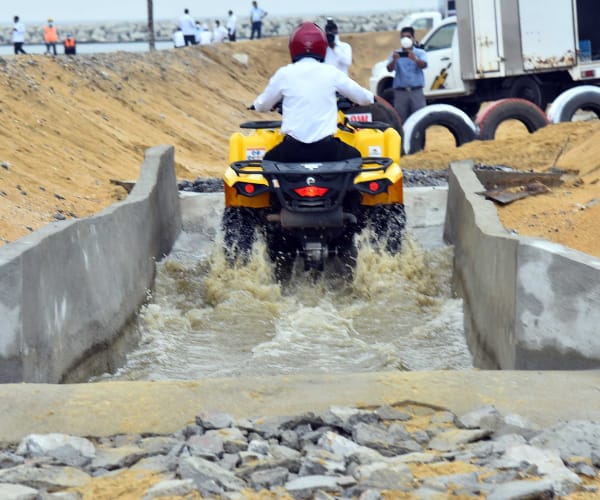 Rajapakse added that "in our history, we have not concentrated on the sporting economy. It has always been supported or sponsored by the Government, but now what we're looking at is creating a billion-dollar industry. At the same time, we're looking for more sporting activities to take place in our country, especially in relation to water sports, hiking, tracking, and now adventure sports. We believe this is a great investment for us as a ministry, to promote more adventure sports and attract people who are interested in adventure sports to Sri Lanka for holidays."
Colombo Dunes includes 3 separate adventure tracks of varying difficulty levels ranging from beginner to expert. While visitors to the adventure centre require no prior experience, they are required to sign a waiver and training will be provided for the uninitiated - particularly on acceleration and brake mechanisms. Having tried riding the ATV through one of the tracks at the launch event, I can confirm that riding one is not a complicated affair. In fact, it's a perfectly fun and safe experience for any adrenaline junkie. If you have been active on social media, you'd also have noticed that you can even ride one while draped in a saree! The tracks feature a plethora of distinct challenges comprising sinuous tracks and sudden, unexpected dips of varying difficulty. If you enjoy a more mellowed sense of adventure, then the purpose-built beach ride for families and senior citizens on Sri Lanka's only artificial beach would be a perfect outlet devoid of any challenges, and in turn, makes for a relaxing, laid-back experience.
Rates for Colombo Dunes range upwards from Rs. 6,900 per person, which includes three rides. For more information and to reserve a slot, visit ww.crateadventure.com
Pics Kithsiri de Mel