What is 'Bossing It'
'Bossing It' is a spotlight on interesting people with interesting stories doing inspirational things, whether professionally or personally. From entrepreneurs to celebrities to public figures, 'Bossing It' aims to highlight the stories of inspirational Sri Lankans across all walks of life to show that anyone can do what they set their minds to as long as they do it "like a boss!"
On first meeting Dillai Joseph, I was struck by how warm and open she was. Welcoming me into her beautiful home, we sat down to get to know each other over cake and coffee.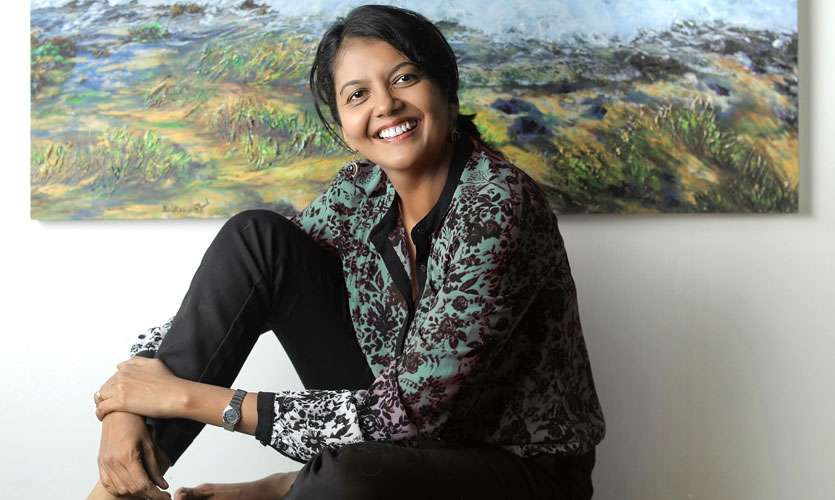 Originally hailing from Moratuwa, Dillai and her sister, grew up in a musically inclined environment. Though both her parent are doctors, her mother was also a singer in her youth, being a part of the musical group, the Winslow 6 (a play on the Jackson 5, Dillai explained). Dillai first pursued art as an alternative to music and found herself enthralled by this form of self-expression.
Setting the stage...
At 19, Dillai met her largest artistic influence, her teacher and mentor Nadine David, who she went on to train under for 12 years. Nadine's teachings centered on technique, giving Dillai the chance to learn a lot of different techniques and methods to help her better express herself in her art. Technique is something Dillai firmly believes in.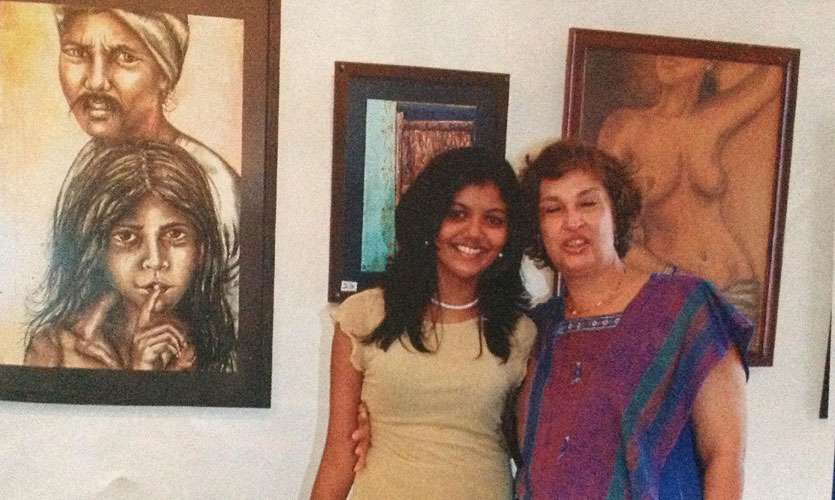 Dillai with Nadine David
Dillai's work with Nadine was a balance of structured learning combined with mentoring and experimentation.
Building a career...
Dillai's love of art led her to pursue a career in the arts; first studying Communication Design at ACBT. However, an extremely practical person, Dillai then studied Marketing at CIM, landing her first job in the advertising industry soon after completing her studies.
The world of advertising excited Dillai. The adrenaline rush and ability to be creative led her to become Creative Director of MINDS and Words advertising.
Eventually, once she had started her own family, Dillai moved on to create 'The Next Big Think', an advertising firm of her own. Founded with one of her friends, Megan Dhakshini, The Next Big Think gave Dillai flexibility and the ability to work at her own pace and authority, allowing her to better focus on her art.
In her 20s, Dillai's focus on her at was limited, because of the focus she put on her career. While still being mentored by Nadine David through her 20s, she only started really discovering herself as an artist in her 30s. This artistic hiatus turned out being beneficial for her art, as with her now established sense of self, she is able to put more of herself in to her art and be truly happy with the outcome.
"You don't really know yourself until your 30s, you're still finding yourself and discovering what works and what doesn't. By the time you've hit your 30s, you've found what makes you comfortable and what inspires you, making you, as a whole more grounded."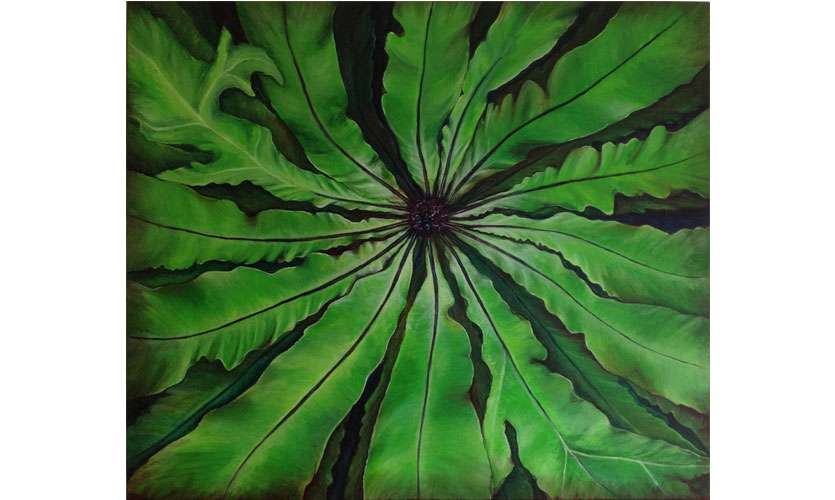 A piece of Dillai's work from her upcoming exhibition Soulscapes that fouces on open-mindedness
As an artist..
One of Dillai's biggest influences is nature. This comes through in many ways, from the open and airy nature of her home, to her natural manner, to her art. Trees in particular play a strong role in Dillai's art. For Dillai, trees evoke stability. They're companions, stable and supportive in their presence, there as an anchor.
Another big influence of Dillai's is people. Her first exhibition was a series of art that portrayed the people of Pettah showing snapshots of the different people of Pettah and their lives.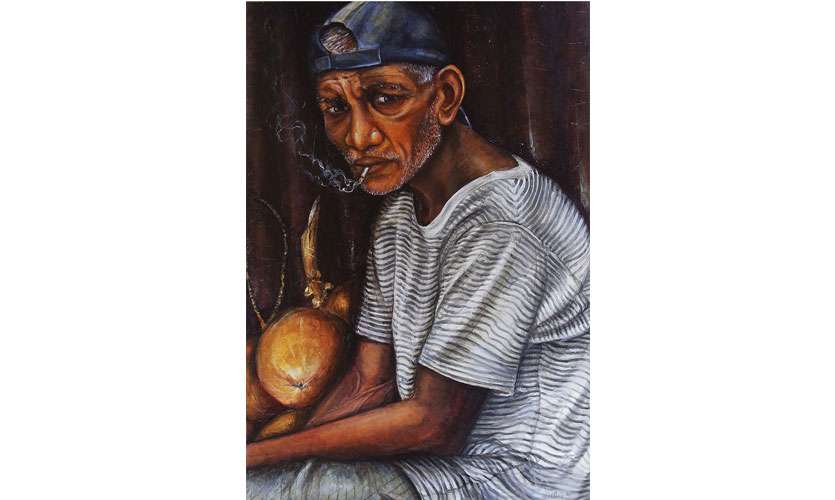 A piece from Dillai's exhibition on Pettah
Dillai believes firmly in the creative process. Each of her pieces is a labour of love that she carefully sees through from initial idea to final product. Each of Dillai's pieces has a clear concept. She thinks about each piece before she starts, plans out how she wants it to look, sketches each component repeatedly until she feels she has captured it properly.
To Dillai, preparation is 70% of the work, and to her, this is how art should be. Even when one looks at the greats like Leonardo Da Vinci, there is so much work that takes place behind-the-scenes, in sketchbooks and notebooks, before the final product is even touched upon.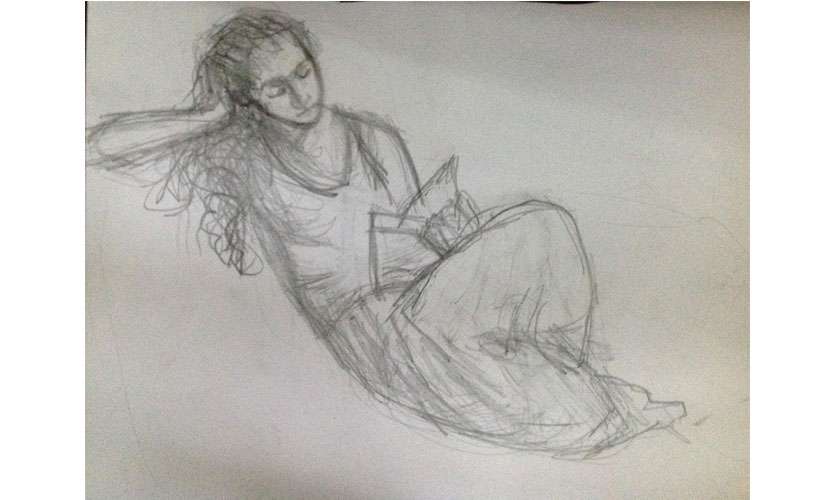 An example of Dillai's conceptual sketching
Soulscapes...
Dillai's upcoming exhibition which opens on the 5th of October at the Lionel Wendt, is a look inside the soul.
With a focus on the feminine spirit, the inspiration behind Soulscapes comes from Dillai's life as well as those of her friends.
Looking at the new-age woman, with her plethora of stresses and to-do lists, Soulscapes looks to depict aspects of the soul that are not normally captured; the softer side of the feminine spirit; the need for peace of mind and reflection.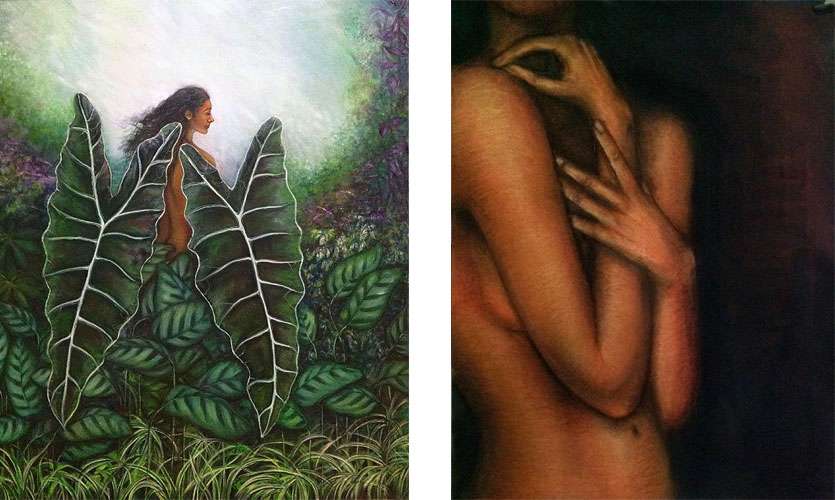 Some of the art to expet at Soulscapes
The human aspect…
As an artist, Dillai feels it is important for her art to have more than just a creative impact. As such, Dillai uses the proceeds of her artwork sales to support various causes, from charities to other young artists looking to make their way in the world.
The sale proceeds of Soulscapes will be donated to ESCAPE, the child protection division of LEADS. ESCAPE (Eradicating Sexual Child Abuse Prostitution and Exploitation), the Child Protection Division of LEADS, was established in 1995 to combat the increasing incidents of cases of child sexual abuse in the country. ESCAPE, together with other agencies working in this field, advocated for and facilitated the inauguration of the National Child Protection Authority (NCPA). Today ESCAPE's work offers a range of services including therapy, counselling, family follow –up, legal aid, awareness and training. Awareness & training programmes are carried out for various stakeholders including parents, teachers, pre-school teachers, students, government officers, social workers and many others. In 2016, LEADS took steps to expand the work of ESCAPE into the Northern Province where there is an urgent and pressing need for work of this nature.
As a mother of 2, Dillai found herself drawn to highlight the work that affected by the work that ESCAPE does, and given recent cuts in funding to NGOs, has resolved to support ESCAPE through Soulscapes.
Dillai's thought on being an artist today.
The biggest piece of advice Dillai has for young artists looking to build themselves is to look around them as much as you have passion build it through technique. Don't use shortcuts.
Fast art, while still being impactful, can often lack the depth of art that has been carefully considered. Today's trends of everything needing to happen at the speed of light often results in the creative process being subject to shortcuts, and it is here that artists need to be most careful.
The world around us is full of inspiration, and with today's technology, we have a much larger world to be inspired by. And while online resources are well and good, nothing can beat sketchbooks. Always go back to basics.
"Art is not only about expressing yourself, it's also about knowing how to express yourself and using the right tools to do so."
Soulscapes by Dillai Joseph will be on display at the Lionel Wendt on the 6th & 7th of October 2018.