This week we were able to have a chat with Senuri Ranatunga. She has taken beautiful photos during her travels, including Sri Lanka and what is special about these photos is that they are full of colour. We want to know as a dedicated travel photographer how she got into all this and her plans for the year 2018.

How did you get into travelling and why?
Senuri - My family travels a whole lot. We went to the U.S when my cousin was getting married in New York and we went to Australia when my other cousin graduated from University. My father loves travelling so since we were kids he would suggest 'let's go here and let's go there! As of recently, we have been busy with work and studies so we make a point to take a vacation as a family when I'm down from the UK for the holidays.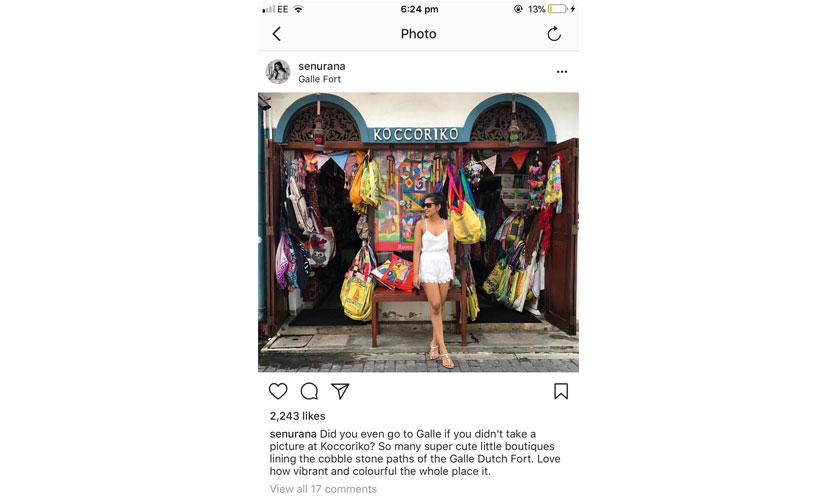 What made you want to Instagram your travels?
Senuri - I used to be creative as a kid, painting and all, but it all started when my family decided to take a long vacation in March 2016. We went to Passikudah, Trincomalee, Galle, and Mirissa and we travelled for a whole month. So I just thought of doing creative photography while on the trip. My parents were like my props and tripods for that vacation. Either I was making them pose or making them take pictures of me! Earlier my mom used to do it when we were kids and we found it annoying and now I'm doing the same!

How do you decide on which countries to go to?
Senuri - Since I'm into food and fashion, I like to go for countries that are known for one of the two. My friends and I are planning to go to Paris next month because of that! We usually look for places where there are things we liked to do. My friends also like nature and hiking so we took a trip to Ella together and stayed at Jungle Resort, and it was amazing. Even in the UK, I travel through food, I go to Manchester and London looking for interesting Japanese, Italian, and Chinese food place dine in. When we organize trips with friends or family, I always make the itinerary for meals and ask friends to fill in the rest.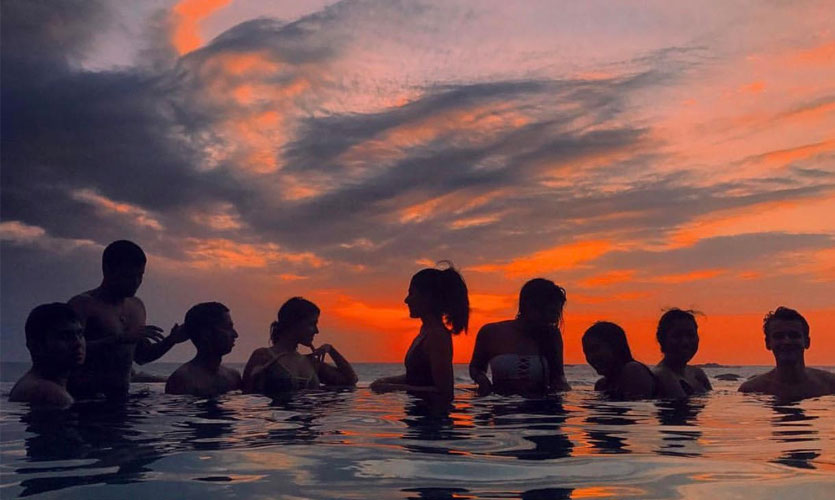 How do you manage your time and expenses as a frequent traveler?
Senuri - When we travel in Sri Lanka with my family, my parents look after me but when I travel with friends, I have to save up from the allowance my parents give me for my expenses in the UK since I'm still studying fulltime.They help me with the amount I'm lacking since I can't save up a lot from my allowance. They want me to travel given I'm living the UK and to take that opportunity to see places rather than being only in Manchester.

What was your favourite place of all the countries you have travelled?
Senuri - Definitely New York because it is still so alive at 2 am in the morning and that is amazing. And also since there are so many different kinds of places to eat. I heard that there are so many places to eat in New York that you can't finish going to all the places in one lifetime!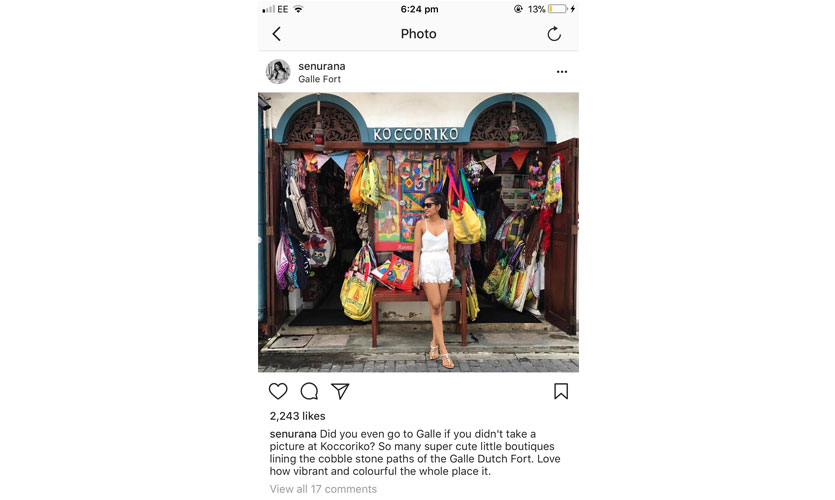 What kind of traveler would you say you are?
Senuri - I Cannot say I'm one type of travel person, I like to travel through food but also like to go to museums and if the country has lots to do with nature, then I would go for that too. Like in Florida the beaches were amazing. I'm definitely not the type to stay in the hotel and also not thinking that I have to see all the attractions as well. We go for what interests us, like when we went to New York, we had a picnic in the Central Park, because sometimes it's important to take time to enjoy.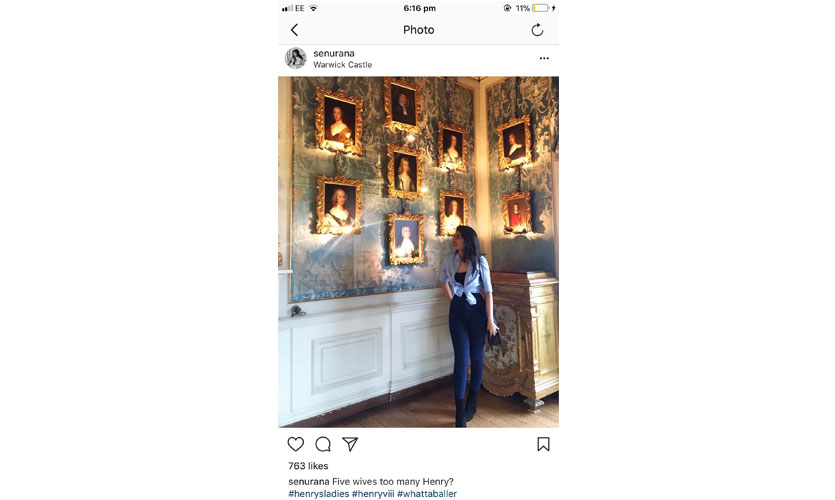 What are your 'must take' items when travelling?
Senuri - I definitely take my camera and my phone to take photos and upload. And always take my sunglasses, Chapstick and Sanitizer.
What are your travel plans for this year?
Senuri - As I said earlier, I'm planning to go to Paris with my friends next month and may be to Europe with my family in August but it's not final yet. And also maybe to Bali in the latter part of the year.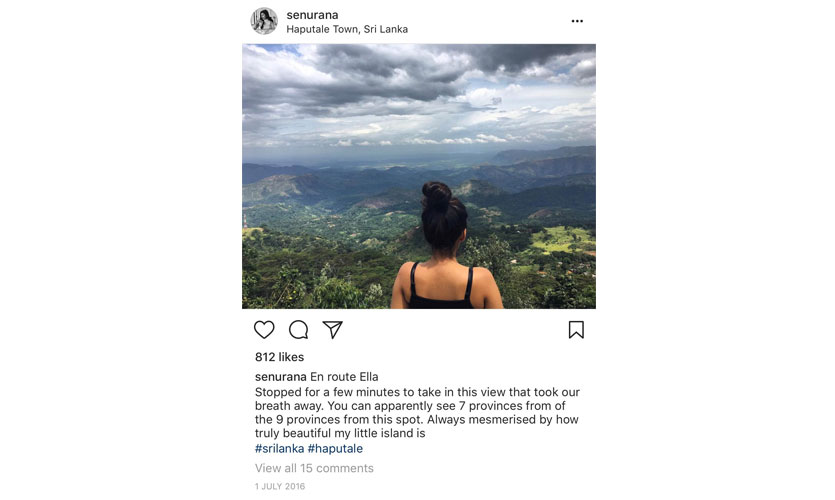 Things you make a point to do in every country you visit?
Senuri - I definitely make it point to try the local food. I used to buy a charm bracelet from every country but I don't do that anymore! We also have made it a tradition to take a proper family picture or pose as a whole crowd at a memorable location in that country. I don't buy souvenirs since I'm particular about how it matches the interiors of my room and also for me its photos that really matter!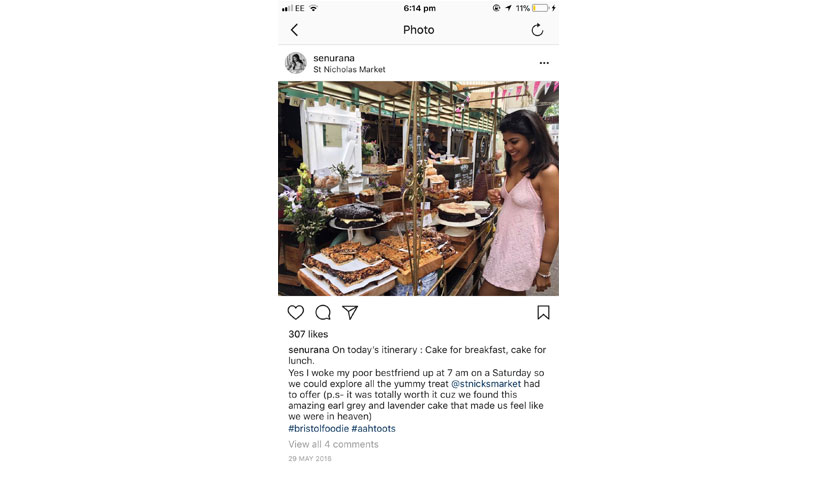 Countries Travelled
Morocco
Thailand
USA
China
Malaysia
Singapore
Israel
Bangkok
AbuDahbi
Qatar
Seychelles
India
Pakistan
Dubai
New Zealand
Australia
UK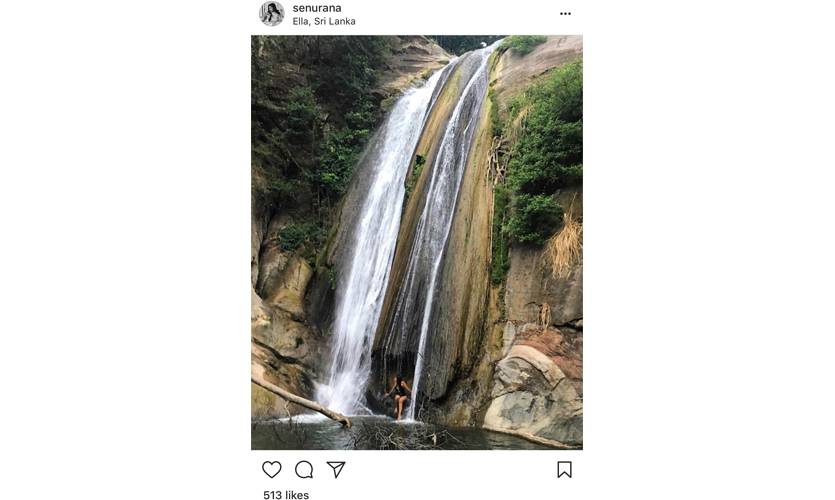 Check out Senuri's adventures on Instagram: http://@Senurana
By: Melanie Senanayake