The second we thought of doing a roundup of all the places that serve healthy food only did we realize we had no idea what really constitutes as 'healthy'. Is it healthy when the food has no oil? Is it healthy if it's just vegetables and fruits? We were on a mission to find out. After a small Google search, we set about to check out all the restaurants claiming to be serving healthy dishes.
As someone whose idea of lunch on a busy day is a bag of Lays, we had a preconceived notion that all healthy food would be bland and boring. But if there's anything we learnt during our roundup, it is that eating healthy is anything but bland and boring!
Even though eating healthy is in trend these days, we were a bit disappointed to find that the options for anyone looking to eat healthy aren't too many, but we still did manage to find some decent spots and try out their healthiest dishes!
Here's a list of our favourite places to score a healthy meal;
1. Milk and Honey Café
Situated in the heart of Colombo down Horton Place, Milk and Honey Café is a cozy little place with a beautiful garden that serves amazing food. Their food was so great that you wouldn't even guess it was considered healthy!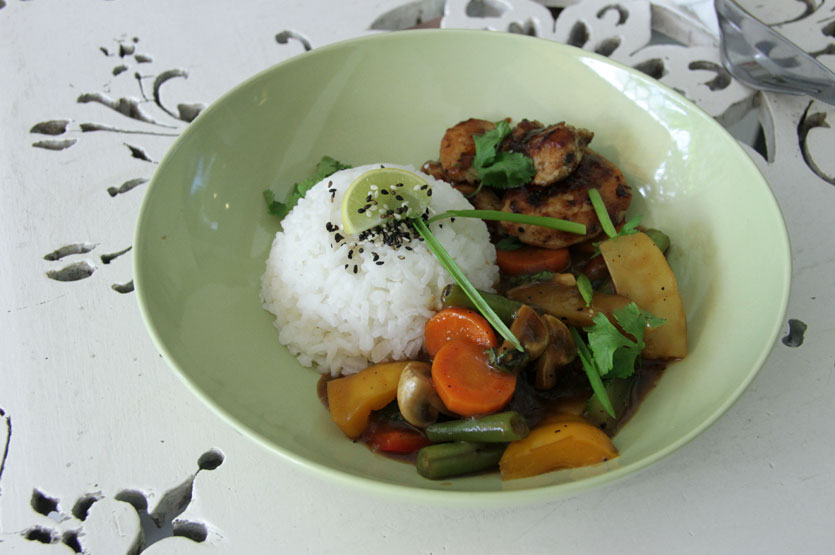 We first tried their Miso Vegetables with Teriyaki Chicken and Sticky Rice. (Rs. 1100) and it was delicious! The vegetables are sautéed without the use of oil but with a beautiful paste and only a little bit of olive oil is used to pan fry the chicken breast. It was well seasoned and tasted great.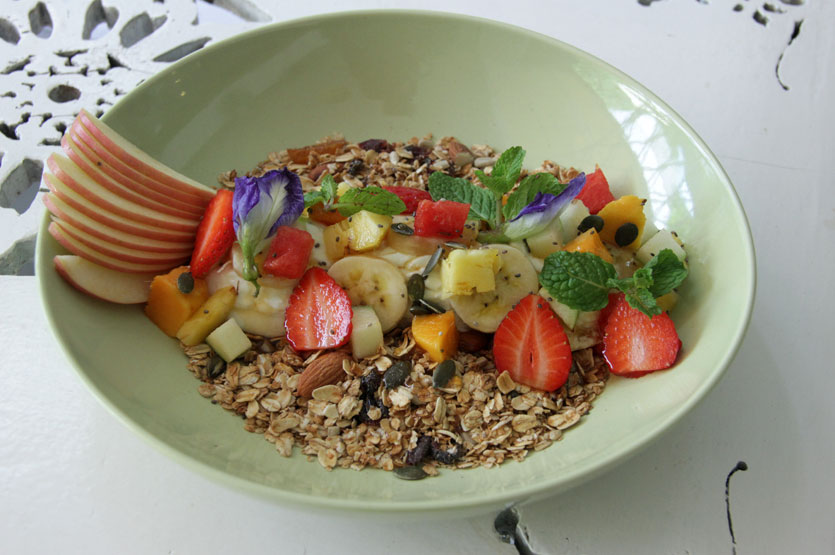 But what we enjoyed most was their Granola with Mixed Fruit, Yoghurt and Honey (Rs. 600) that we ordered off their all day breakfast menu. It was plated beautifully and very pleasing to the eye that we couldn't wait to dig in. The fresh fruit was bright in colour and complemented the granola and yoghurt well. We would go back just to eat that!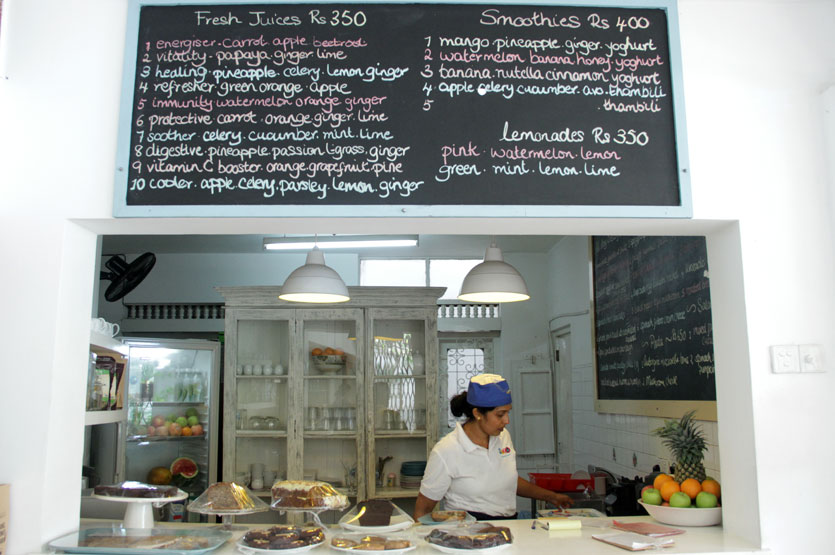 Hours Open: 9:30AM - 6:00PM
Address: 44A, Horton Place, Colombo 07
Phone: (011) 2 696 256 / (011) 5 234 347
Email: milk4kids@gmail.com
Facebook: www.facebook.com/MILK-Honey-Cafe-1073548686019189
Instagram: www.instagram.com/milk_cafe_colombo
2. Life Food Café
This café only serves healthy food and drinks.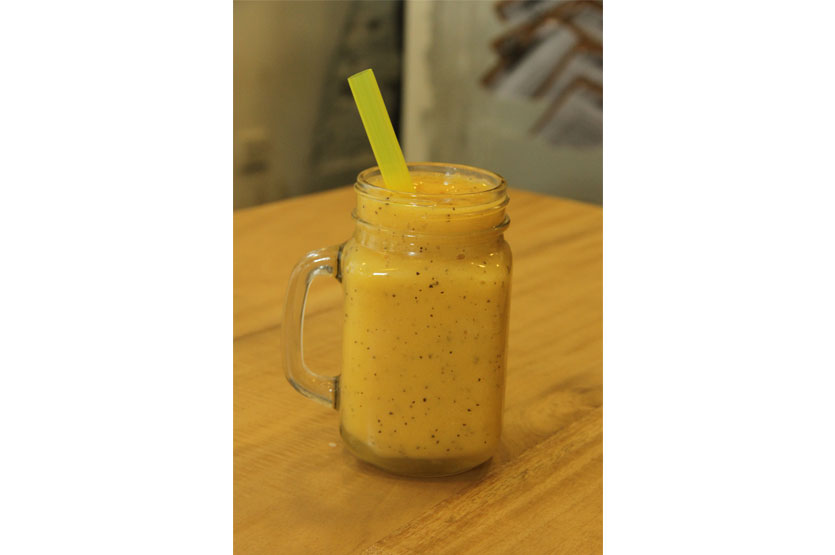 We tried their Mango Booster (Rs. 340) first and their menu describes it as a drink that helps to build the immune system as it is packed full of antioxidants and vitamins. When it was served, we were slightly disappointed as the fruit was beginning to separate from the water. For a drink that didn't have any sugar added to it, it was quite tasty and we particularly enjoyed the hint of ginger that you get with every sip. We also felt that it would have been better if they served it chilled.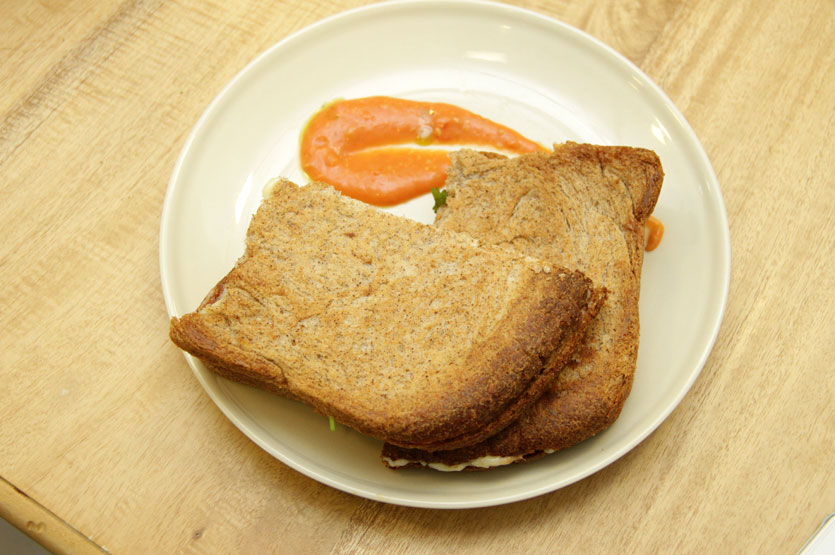 Life Food certainly came back with a bang with their Saigon Special (Rs. 460) sandwich. It is described as a local take on the Vietnamese Banh Mi and has an expertly spiced chicken with homemade mayo, crunchy pickled carrot, fresh coriander and green chillie filling. The bread itself was kurakkan roast paan which was toasted and crunchy.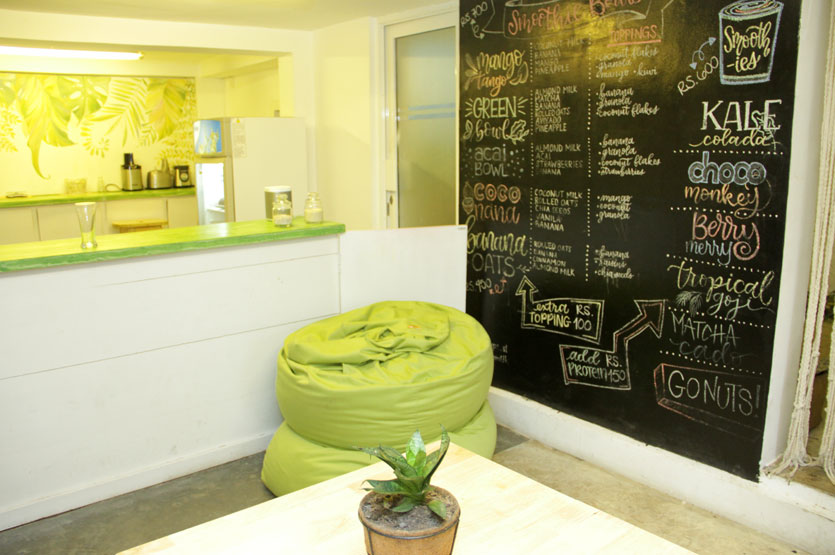 Both the drink and the sandwich were filling and it is definitely worth your money. If you are ever looking to start a healthy diet, Life Food is the place to start, as it will prove you wrong of all the negative assumptions related to healthy eating, which in return will help you rethink how you eat!
Hours Open: 7:30AM - 9:30PM (Monday to Friday), 8:00AM - 9:30PM (Weekends and Poya)
Address: 33 Perahera Mawatha, Colombo 02
Phone: (011) 7 225 433
Facebook: www.facebook.com/LifeFoodSL
Instagram: www.instagram.com/lifefoodsl
3. Calorie Counter
Calorie Counter was definitely a more appealing place to hang out with your friends as it is spacious and the interior is hip and modern.
However, the dish we tried - the Cajun Spiced Grilled Chicken (Rs. 720) was slightly disappointing but it boasted of its low calorie count (284) in comparison to the other options on the menu. We also got to pick our sides. We chose a sweet potato mash (71) and green salad (33). The chicken itself was overcooked and tough to chew on, but the spices used were delicious. The mash was bland and the salad was okay. We found the pumpkin puree to be the tastiest part of the dish. It is definitely worth your money and the service is friendly and commendable. In comparison to all the other places on this list, it is also the place with the most options so that is definitely a plus.
Hours Open: 7:00AM - 10:00PM
Address: 61, Thimbirigasyaya Road, Colombo 05
Phone: (011) 2 580 980
Website: www.caloriecounter.lk
Facebook: www.facebook.com/caloriecounter.duainepeiris
Instagram: www.instagram.com/caloriecounter_colombo
4. Good Life Café
We are surprised that this isn't the go-to place for all the health food enthusiasts out there! They stand out with their Smoothie Bowls, a dish little found elsewhere.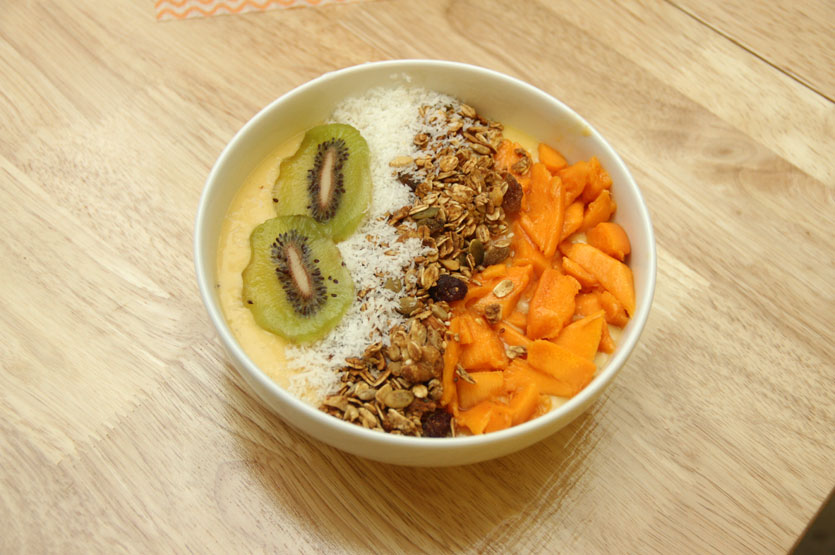 We tried their Mango Tango (Rs. 700) and it was absolutely divine! It was a huge bowl full of a beautiful mix of coconut milk, banana, mango and pineapple topped with more fresh mango, kiwi, coconut flakes and granola. You get full even before you make it halfway through the bowl.
If you are the kind of person who loves to have breakfast for all three meals, this is the place for you! Located down Suleiman Terrace, this quiet and cozy café makes you feel like you're at home the moment you walk in.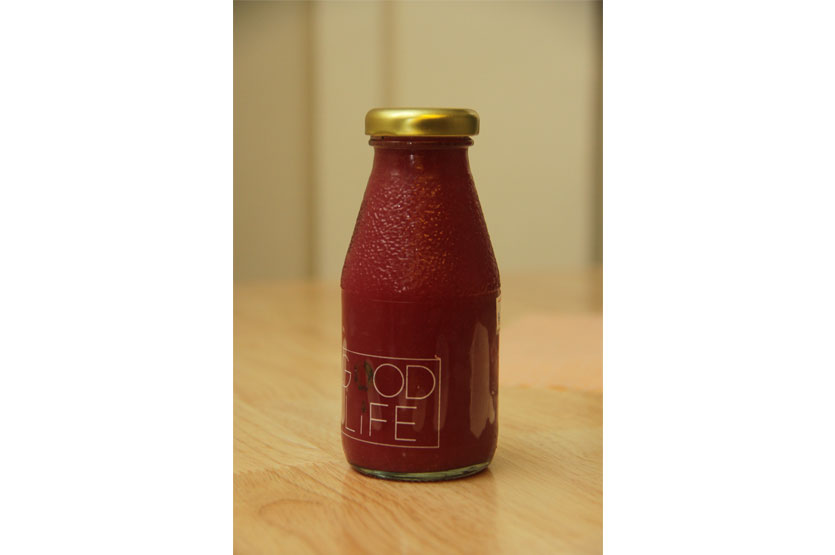 We also tried one of their juice options, the Beetroot, Watermelon and Green Apple (Rs. 350). Served chilled, it was refreshing and you would have never guessed the difference between this juice and a juice with sugar added to it. If you have a sweet tooth and need your cravings to be satisfied without the added guilt, go to Good Life Café and you will forever be grateful to us!
Hours Open: 8:30AM - 8:00PM
Address: 3, Sulaiman Terrace, off Jawatte Road, Colombo 05
Phone: 076 976 7077 / 076 560 8344
Email: goodlifecompanylk@gmail.com
Facebook: www.facebook.com/goodlifecompany.lk
Instagram: www.instagram.com/goodlifecompanylk
5. Eat Right
Eat Right is a restaurant found below the High Octane Fitness gym in Kohuwala and is a place gaining popularity for their tasty but also healthy dishes. Eat Right has a massive menu which offers a range of surprising dishes such as kottu, pizza and burgers making you wonder exactly how these dishes can possibly be 'healthy'. When asked, they told us that Eat Right's goal is to show how any food you want to eat can be made healthy so you can have the best of both worlds.
With that we tried out their Banana Chocolate Smoothie (Rs. 450) and their Grilled Meat - Chicken (Rs. 650).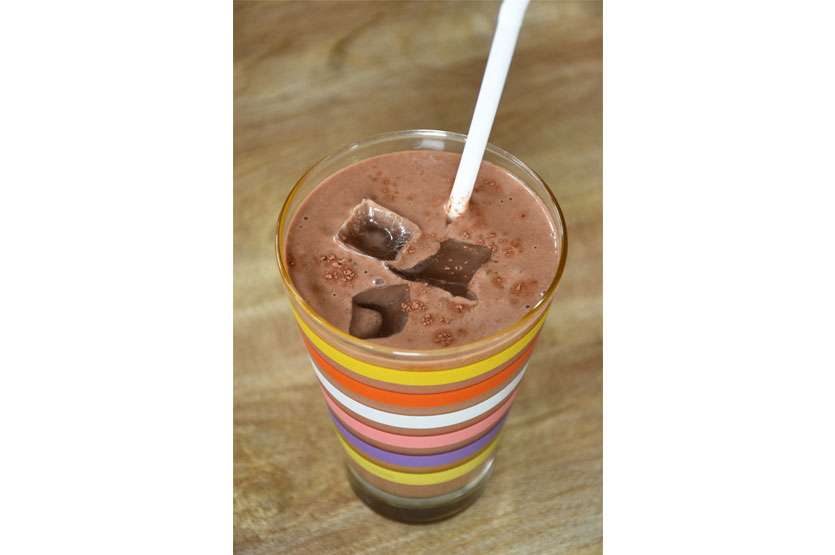 The Banana Chocolate Smoothie is one of the healthiest options off their beverage range tying together with their Blueberry and Banana Smoothie so we decided to see how chocolate and healthy can go hand in hand! The smoothie was mainly banana and milk with a hint of cocoa powder, peanut butter and honey. Eat Right doesn't use sugar in any of their drinks and they don't need to because the ingredients provided all the sweetness you could need.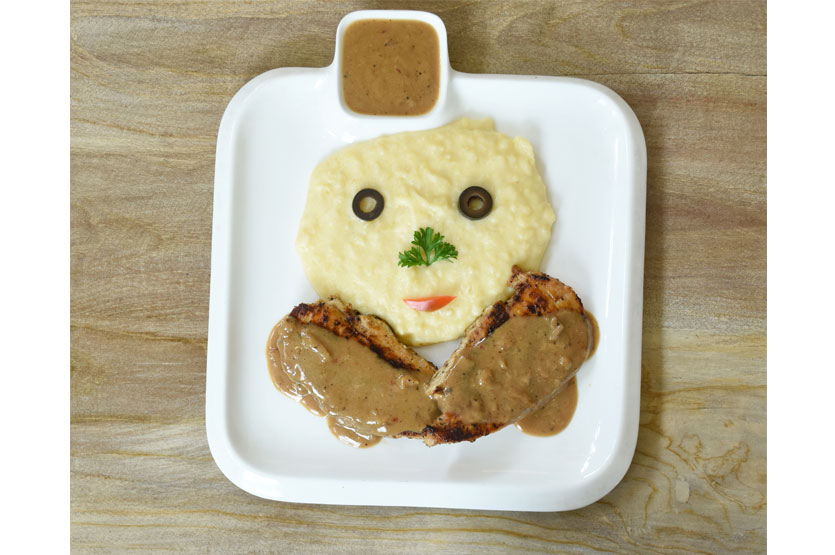 The Grilled Chicken is accompanied by gravy and either potatoes or vegetables. Their chicken is grilled with a minimal amount of oil and yet was quite flavoursome.
Eat Right isn't just about protein, carbs or calorie controlling, but more about giving people the option to eat what they always do in the healthiest way they can! So it's really just getting the best of both worlds at Eat Right for those who want to eat healthy but also don't want to give up the pizzas and kottus.
Hours Open: 8:30AM - 10:00PM
Address: 42, Dutugemunu Street, Kohuwela
Phone: (011) 4 247 247
Email: info@eatright.lk
Website: www.eatright.lk
Facebook: www.facebook.com/eatright.lk
Instagram: www.instagram.com/eat.right.lk
6. Healthy Eats: The Right Count
Healthy Eats is a delivery only option available for anyone interested in controlled meals. They deliver meals tailormade to your health with the right balance of proteins and carbs by controlling the portions and calories for any weight control or weight loss needs.
Their menu offers rice and curry, salads, broths, meats, cereal and dessert. We tried their Rice and Curry (Rs. 350) which offers red, white and yellow rice along with three vegetable curries and a meat of your choice.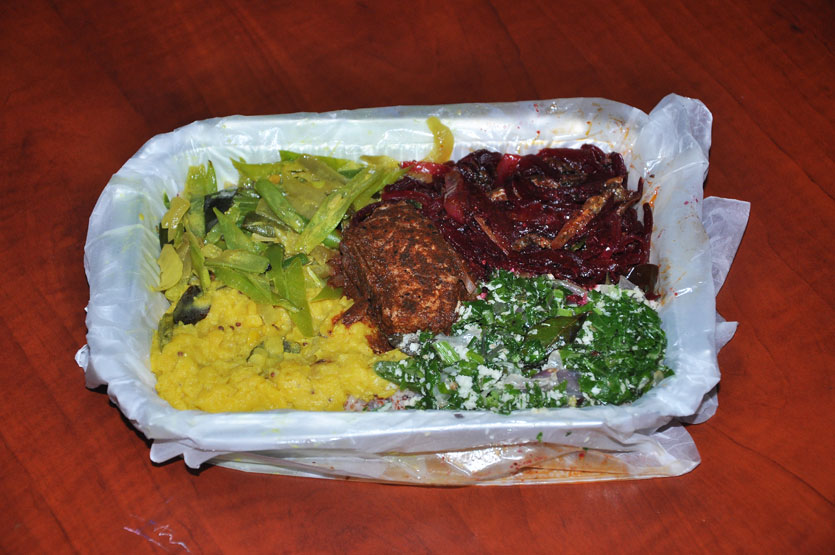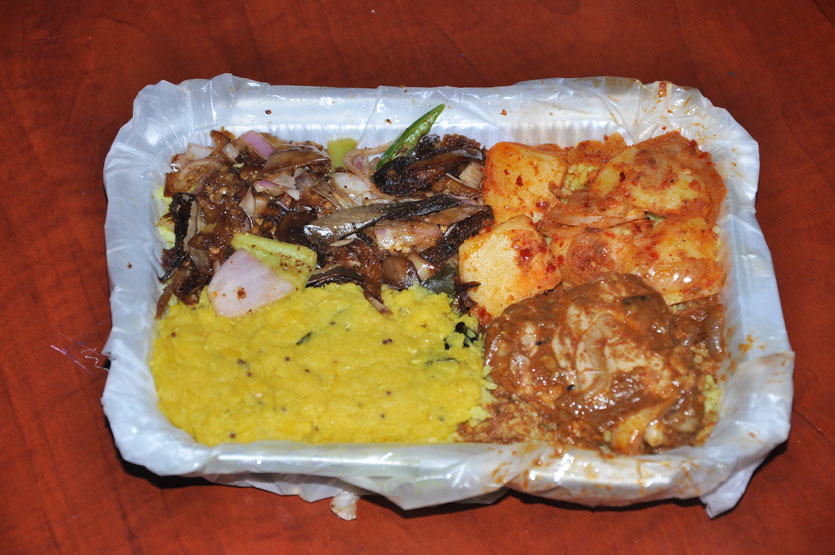 Once more proving that healthy eating can be just as tasty, the rice and curry we had was excellent. I particularly enjoyed the yellow rice which was served with a small quantity of rice and chicken and larger quantities of vegetables as it was well balanced and equally delicious in terms of flavour and spice.
We also tried their Chicken and Prawn Ramen Broth (Rs. 450) and their Lemon Chicken and Salad (Rs. 500) along with their Breakfast Pack (Rs. 300).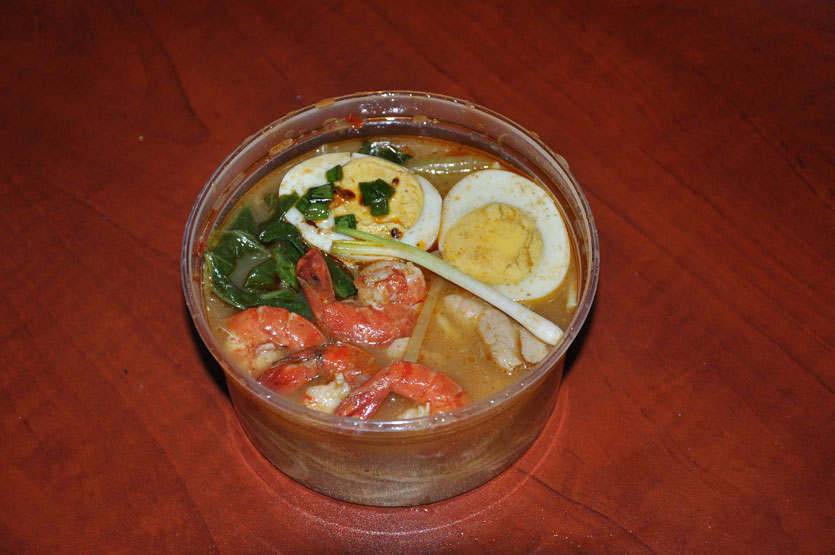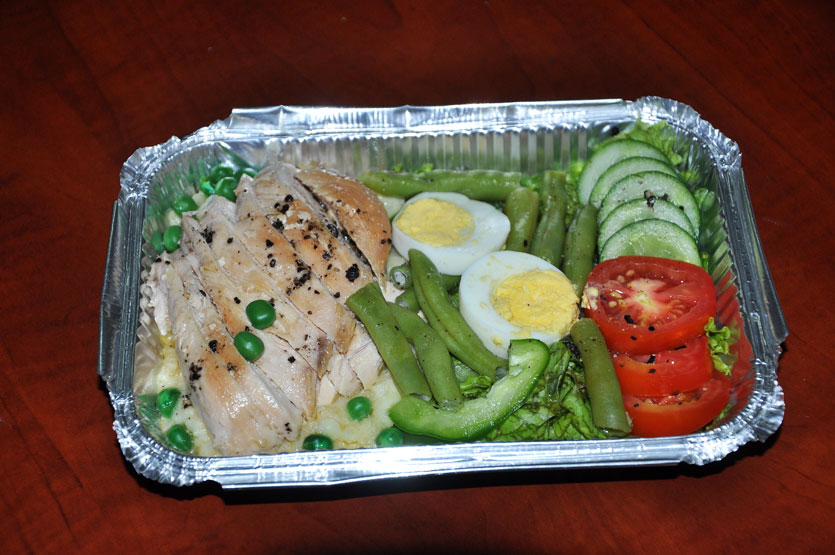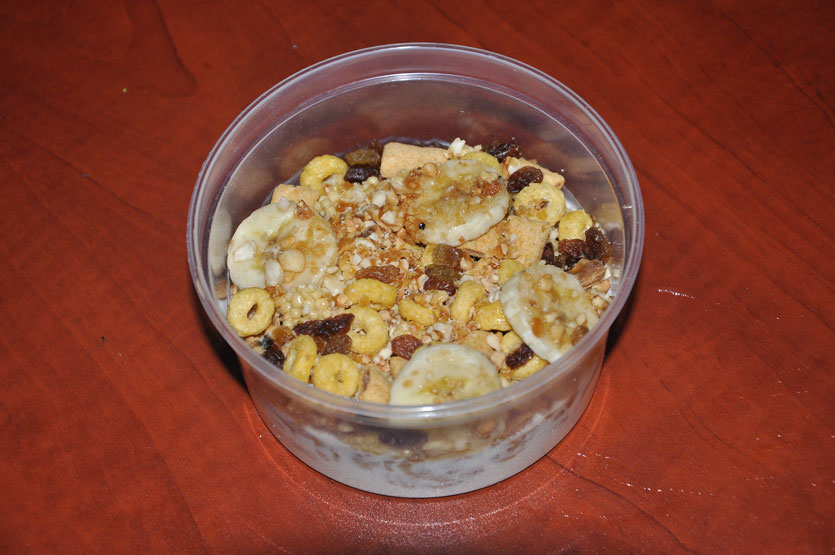 The Chicken and Prawn Ramen Broth was filling, while the Lemon Chicken and Salad was fresh, and the Breakfast Pack consisted of just cereal, yoghurt and banana was a healthy go-to breakfast.
Overall, we really liked Healthy Living and all that they had to offer! It's a convenient healthy food option for anyone looking for a long term clean eating plan. Plus they do free delivery during lunchtime!
Phone: 0775 879 050 / 0777 315 122
Email: danostogo@gmail.com
Facebook: www.facebook.com/healthyeatstherightcount
7. Café Kumbuk
Café Kumbuk located down Horton Place is rumored to have healthy food options, so we dropped by. Their menu at a glance doesn't seem healthy, but having run through their options, it's all in what each dish contains.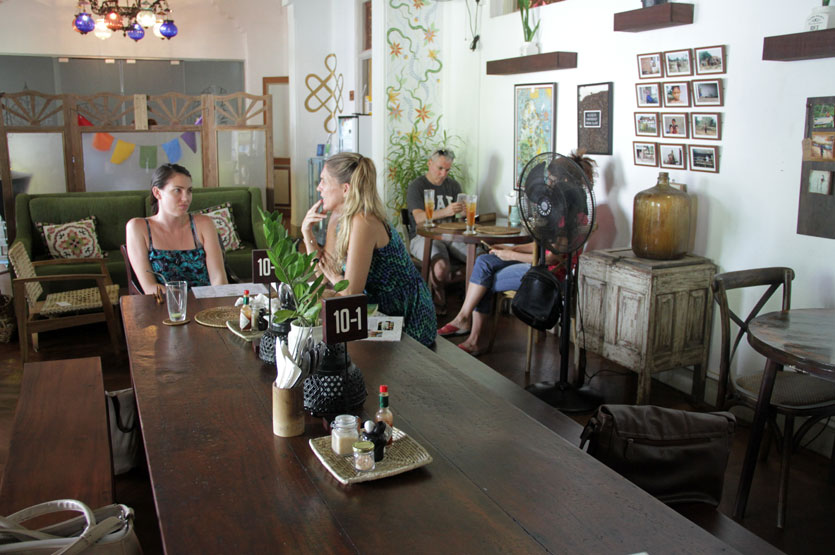 We decided to try their healthiest dishes in terms of low carbs and fat so we chose their Watermelon and Basil Salad at Rs. 600 and their Zucchini Pesto Sandwich at Rs. 650.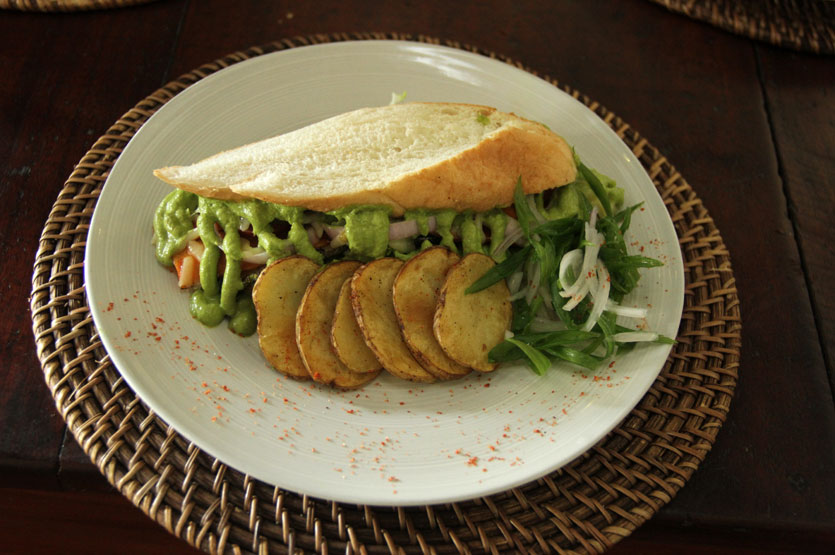 The Zucchini Pesto Sandwich is grilled zucchini and carrots sandwiched together by two thin layers of bread with a light pesto dressing holding it all together.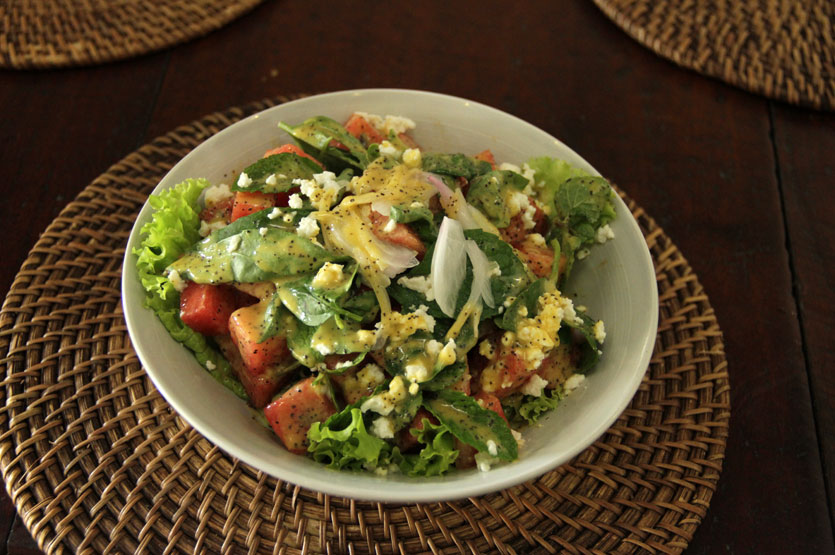 But the star dish for us was the Watermelon and Basil Salad served with a passion fruit dressing. With just the right amount of zest from the passion fruit, this salad is cool and refreshing and more importantly, completely healthy with zero oil and carbs.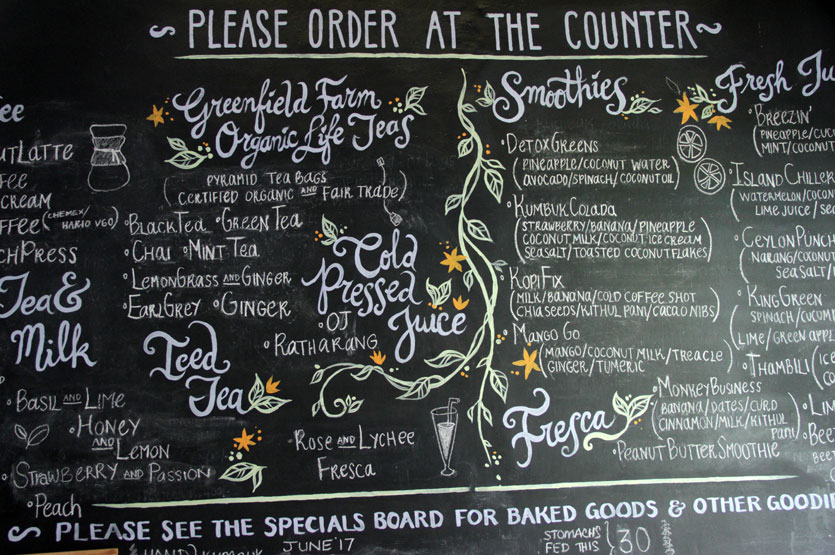 Hours Open: 8:00AM - 5:00PM (but their page on Facebook states that they'll be open for longer hours from next week: Tuesday to Friday from 8:00AM - 8:00PM, on Saturday from 8:00AM - 10:00PM with a special dinner menu, and on Sunday from 8:00AM - 5:00PM)
Address: 60, Horton Place, Colombo 07
Phone: (011) 2 685 310
Email: cafekumbuk@gmail.com
Website: www.cafekumbuk-lk.com
Facebook: www.facebook.com/cafekumbuk
Instagram: www.instagram.com/cafekumbuk
---
TEXT by Panchali Illankoon and Jithendri Gomes
PHOTOGRAPHS by Pradeep Dilrukshana, Waruna Wanniarachchi and Kushan Pathiraja