In this series, we talk to people who turned their passion for food and baking into a business idea amidst lockdown and COVID-19 fears. Some have been in the market for years and others saw the new opportunity and took it! These home businesses are changing the game and have overcome the odds of running a business during quarantine. With new challenges presenting themselves in light of the current economic crisis, we talk to home bakers who are navigating these difficult times and bringing the sweet and savoury to your very own doorstep!

Lourain Melissa Fernando started her baking business over a decade ago, back in 2010 under the moniker 'Sugary Cake Store' before it was rebranded under her name 'Meli's Cakes'. Quitting her full-time job as a procurement assistant at a British firm in 2015 to focus on building her business full time, Melissa adds that it was 'one of the best decisions she's ever made'. Today she runs her business and offers baking and decorating classes.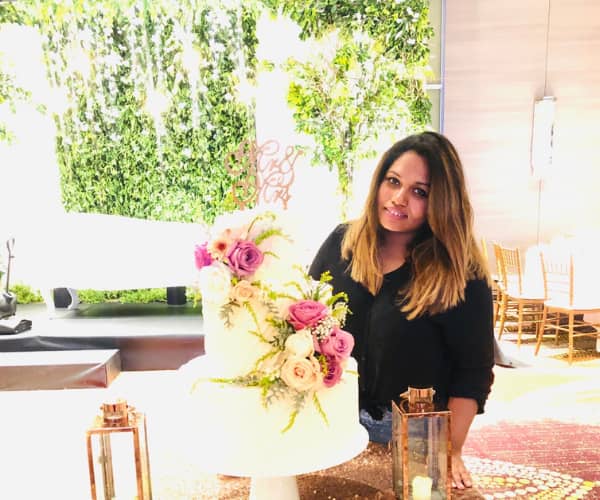 What do you offer?
We bake and decorate on a bespoke basis; Themed Cakes, Cupcakes, Wedding Cakes, mini Cakes, Cookies, Brownies, Cake pops, Cakesicles etc. The Chocolate Cake frosted with Mocha icing and Ganache is the signature cake and the best seller of Meli's cakes. We always get the best feedback from the customers for that! I also conduct several baking and decorating classes, starting from the basics to the Diploma level.
What is your signature style in baking?
Freshly baked, moist, soft, melt-in-mouth cakes. When it comes to baking, I use some old recipes with a modern touch that make my cakes taste very good even without frosting.
What is it like running your operations in times like these?
At the beginning of the pandemic, luckily, I had some stocks to cater to the orders I received. But some supplies like edible prints were not available, so I had to paint freehand, which turned out very well. Also, I did not have any assistance and had to work alone. Now, it is more challenging because most of the ingredients are out of stock and we have to find substitutes and those could be expensive. Everything is expensive due to inflation, so people find it difficult to purchase a customised cake. However, I still have clients who prefer quality products from Meli's Cakes and as a small business owner, I am really grateful for their support.
How are you ensuring the proper hygiene measures are taken in preparation and delivery?
Everything is homemade and is always carefully prepared with a lot of care and proper hygiene. All the utensils are sterilised with boiling water before and after use. I have a separate room for cakes which is regularly sanitised.
What do you enjoy about baking and operating your own home baking business?
I love being creative therefore decorating cakes is like therapy for me. Having my own home business not only gives me financial independence but also allows me to help people in need and create job opportunities, especially for women, who want to start their own baking business.
How can home bakers navigate these difficult times in an economic crisis?
This is the worst economic crisis in the history of the country and I have never experienced this before, so I think the home bakers should take their time to take a step back and plan well, like, doing a lot of research to find diverse locations where they can find ingredients. I will strive to maintain the quality of my products even in these difficult times with the hope that the economic state of the country will improve over time. I am committed to finding good quality ingredients even if it takes more work than before.
What plans for the brand this year?
Well, new flavours and infusions and of course, always using trendy decoration methods.
Any advice to anyone who wants to start their own business?
Baking is increasingly becoming a very popular income source for many, but you will have a loyal clientele if you produce high-quality products. Use good quality ingredients and be creative.
Meli's Cakes is based in Negombo and take orders via Instagram and Facebook (@meliscakes_lk). Delivery can be arranged from Negombo to Colombo within a 30-35km radius.