A small signboard at the beginning of Kassapa Road from Jawatte end directs you to a cosy café with a lot of greenery in its interior. At Life's Good Kitchen, customers can get a close-to-nature experience while dining with some of their uniquely curated dishes.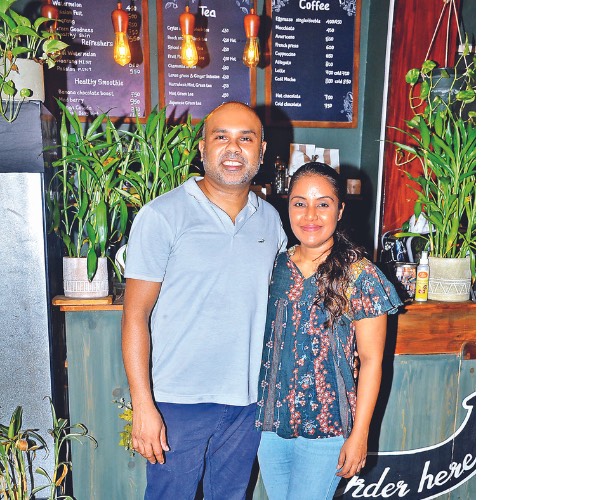 Owned by Shamika and Hiran Ganegoda, two experienced individuals who have been in the hospitality sector for nearly 20 years, the Life's Good Kitchen offers a range of nutritious meals to its customers. "Back in 2016 we left our careers and decided to do something that we love and could earn some money at the same time," said Hiran Ganegoda. "This is why we opened this café. Our meals don't include any artificial flavours or additives and we create our own sauces and dippings in-house."
His spouse Shamika has been employed as a restaurant manager previously and now looks into the service aspect of the operation. "We need to deliver food as well as balance the service. This is what would make our customers happy. We don't have much staff and we are personally involved in the operations. Just as we started our restaurant the pandemic struck and now we are challenged with prevailing crises in the country. But we have regular customers visiting us and we know what they need."
Life's Good Kitchen stands out from the rest of the healthy food cafés in town since they mainly focus on the nutrition aspect. "Healthy food doesn't mean having a couple of carrots, lettuce etc. It's mostly about nutrition. You need proteins, carbs etc. and on the other hand, you need to look into the freshness, the kind of oil used, meat etc. The proper ingredients also count," opined Hiran Ganegoda while adding that this is the reason why he looks into every meal that is being cooked.
However, customers are able to customise their meals depending on their requirements. "If someone says they need a butter chicken wrap without carbs, we can replace flatbread with lettuce. We customise the meals according to their needs. Most of the time we have regular customers and we know their requests. I love to go to the market and handpick vegetables and fruits. It's a different connection. We don't consider this as a business and we don't feel tired because it's our passion. We try to go to small shops and purchase vegetables to empower small-scale vendors. On the other hand, the menu doesn't include french fries. Instead, we have introduced cassava and it's very popular among customers. The operation is more stressful than having French Fries. But it's always not about the money but it's about going for local options which are healthier."
During our visit, we were offered the narang juice and the mango smoothie which are popular beverages on the menu. For meals, we had the Egg Caprese on Avocado Toast and Life's Good Mezze with curd marinated roast chicken which was equally delicious. The menu includes all-day dining options along with breakfast items, salads, soups, main courses, organic rice options, and desserts such as oatmeal brownies to fresh juices, coffee and tea. The prices range from Rs. 900- Rs. 2000.
The ambience at Life's Good Kitchen is one-of-a-kind and for a moment you may forget that you're in Colombo. "We want to stay close to nature and we have plenty of plants around. Every other day we water the plants, add fertiliser, and change plants. People love the ambience here," Shanika further said.
The café has now become popular among those who have opted to cycle to work. "We have a lot of customers who come on bicycles and it's nice to see people burning calories so they can enjoy some carbs and sweets," said Hiran.
Special brunch offers for instance are available at the Life's Good Kitchen during weekends along with seasonal offers. "We are available on Uber as we want to focus on the quality of the meals. We have a scale for each and every portion and our whole menu isn't available on Uber. But we have dishes that could be delivered in an hour's time," Hiran said while inviting the public to come for a meal at the Life's Good Kitchen and have a different experience altogether.
The café is open from 10.00am to 3.00pm and 5.30pm to 9.00pm on weekdays and 9.00am to 3.30pm and 5.30pm to 10.00pm on weekends. Follow Life's Good Kitchen on Facebook and @lifesgoodkitchen on Instagram for updates.
Photos by Waruna Wanniarachchi