How do our food experts cook and eat? This week, the baker behind the famous Nandi's Milk Toffees, Nanditha, takes our Q&A!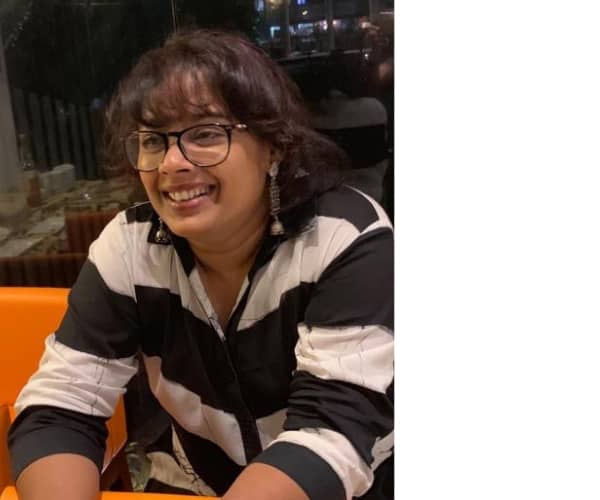 How did Nandi's Milk Toffee come about?
I used to love making milk toffees at home, once in a way I would pack some and take it as a visiting gift to friends and relatives' houses and they are the ones who actually encouraged me to start selling it commercially. I approached ODEL 18 years ago, and we started at Odel Ward Place with a small order of 30 pieces - it sold out in 3 days! We amped up to 50 pieces, then 100 and the rest is history. We now cater to all ODEL outlets, we also supply to Paan Paan, Avirate cafe, ISSO, Kandy Nugegoda, Barefoot and Mas Thibirigasyaya.
You have different variations of your famous milk toffee, which one is your secret favourite?
The Cashew Milk Toffee is the most popular one and people love the Dark Chocolate Milk Toffee for variety but my personal favourite is the one we make during the Christmas and Avurudu season – our Fruit and Nut Milk Toffee. This toffee has so many different flavours. I combine candied peel pumpkin preserve, ginger preserve black currents, sunflower and pumpkin seeds, and cashew into the milk toffee base. Very similar to a Christmas cake or rich cake but with the milk toffee base. The flavours come together so well and it's incredibly festive!
What has been your most challenging order to date?
We once had to supply 1500 pieces at a wedding. The milk toffee was the wedding favour. It was challenging because the milk toffees had to be made two days before the wedding and had to be packed into a cute trinket box. Packing 1500 pieces was not an easy task, but I was so happy to have my family and some friends come over to help me finish the order!
After a long day of work, you relax by ___?
Doing my gardening and watching TV – I love my TV time! Both these activities are the height of relaxation for me. I also play badminton twice a week along with yoga alternatively. That helps keep me fit and relaxed.
You've been building your business for 18 years - what has been your proudest achievement so far?
My proudest achievement was sectioning out my own work space in our house. This is where all the preparation and packing of the milk toffee happen. It's a testament for how big this small business has grown over the years!
What's an easy meal you would make if you wanted to impress someone?
Crab curry! We do crab night so often at home. I would make my signature crab curry with pol sambola, parippu and roast paan. It's always an instant hit with everybody!
Your favourite childhood meal?
I grew up in India so I have such a fondness for Indian food. Growing up in Delhi made all the difference, food was so cheap and we would eat out so often. When I think of my childhood, I immediately think of butter chicken, palak paneer and naan. And oh my, the sweets! I still eat them ever so often. Whenever I crave those Indian sweets, I go to Mithai cafe on Laurie's road to get my sweet rush.
What's something you love to eat but would never attempt to cook?
Japanese! Because sushi and sashimi has to be just right and very often, we don't get the proper ingredients to make it at home. Japanese is far more enjoyable when you go out and eat it!
If it's your last day on earth, what are you eating?
I would be at the Taj Yumi – eating Japanese, of course!
What's the most adventurous food you've eaten?
It has to be on our trip to China. We went with a tour group so all the meals were pre-arranged. The food tasted great and we really enjoyed all the different eating spots, but most of the time we just had no clue what we were eating!
You've travelled a fair bit, which country had the most memorable food?
Vietnam. The food there is so fresh and the variety of greens that they eat is unbelievable. Their crispy crepes filled with different types of mushrooms and greens were to die for. Such a simple dish with just some dipping sauce tasted so good. We still talk about how great that food tasted.
What's your ritual when you are baking?
I actually have a very strict routine. My team and I start at 8.30 in the morning and work till 2pm. If we have a double shift, we break for lunch and start again at 3 and repeat the same process all over again. All the mise en place is done the evening before. We clean the workstations, armour up with hairnets and aprons before anything!
Eat with your eyes or think with your stomach – which one wins?
Always, eat with your eyes! If it looks good, gobble it. If you think with your stomach, you'll probably count the calories and then end up not eating anything at all!
If I wasn't famous for my milk toffees, I would be famous for _____?
My signature crab curry!
What are your favourite leftovers?
Pizza! It always tastes better the next day.
What's the perfect milk toffee?
It has to be soft with lots of cashews and gooey in the centre.
Your favourite movie about food?
Ratatouille. I love that movie and have watched it so many times.
Cook at home or go out?
Now, I prefer to cook at home. With the right ingredients, the food always comes out perfect