How do our food experts cook and eat? This week, the Executive Chef of RIU Sri Lanka, Ahungalla with over 15 years of experience in the hospitality and culinary industry, Chef Kalpa, takes our Q&A!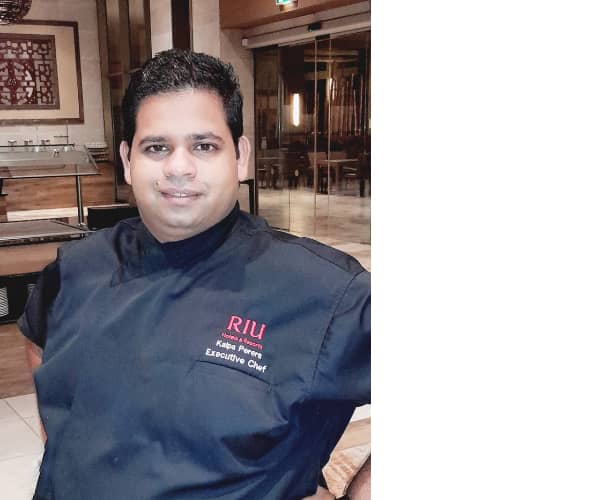 Your favourite odd food pairing? Butter chicken masala with spaghetti is a deadly combination. It has flavours from both worlds. The tangy creamy chicken curry blends very well with the creamy pasta.
What do you love to eat but never cook? I love to eat sweets, especially chocolate-based cakes and desserts. Fortunately, I'm married to my wife Thilini who is a Pastry Chef by profession running her own cake boutique - Cake Walk. So all the heavyweights in the sweet category are handled by the expert! Hence all the sweet preparations at home are done by her and I do all the eating – it's a good balance!
Your favourite childhood meal? Yellow Rice, Black Chicken Curry, Brinjal Moju, Potato Mustard Curry, Fish Cutlet and Mint Sambol. This was our celebratory lunch at home for birthdays and special occasions. If we were hosting friends and relatives, my mom used to make Prawn Curry with Drumstick leaves. And definitely, Crunchy Chocolate Biscuit Pudding would be the Dessert.
The proudest moment in your career? I was the chef of the Table One Restaurant of Shangri-La Hotel which was the trendsetter in the Colombo Buffet Restaurants. Which later became the best Restaurant in Sri Lanka according to Trip Advisor.
If you could open your own restaurant, what does it look like? It has been a childhood dream of having my own restaurant. With time, the dream has diverted to a food court with multinational food offerings. I would name it Perera's Kitchen- a Multi-Cuisine Restaurant in Colombo 13.
On your day off, do the cooking or have someone cook for you? Oh, I definitely do not want to cook as I'm actively involved in cooking while at work.
Your dream dinner-party guests to cook for? A reunion dinner for my Grandmothers. They both were excellent cooks. I would prepare a dessert buffet with all the best desserts around the world as they were sweet fanatics.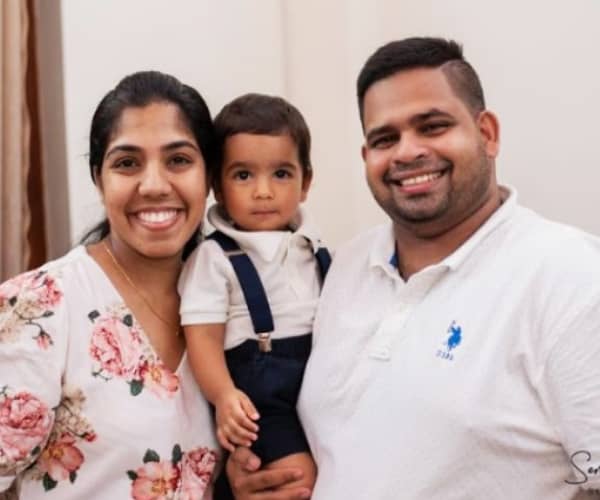 If you could dis-invent a food, what would it be? Mung ata Kiribath. Green Gram Milk rice. I like Kiri bath and Green Gram separately but cooked together - it's kryptonite for me.
What's the most valuable lesson you've learnt as a chef? As a chef, cooking food is not a job - it's a way of showing your love and passion for the food.
A dish you'd love to relive for the first time? Peking Duck from House of Ming of Taj Mahal Hotel, New Delhi. The skin was glassy and crispy, the meat soft and silky that melts in the mouth with a tint of earthy flavours.
If you had to serve only one dish forever – what would it be? I would definitely prepare Lamprais. The Traditional Portuguese delight has a great fan following in Sri Lanka.
What do you love about being a chef?
With the abundance of exclusive food items that you can enjoy and work with. The best part is the opportunity of working in Hotels in different parts of the world. Therefore, experiencing diverse cultures, food and people.
You are entering a cooking competition – which one would it be?
The Holy Grail of culinary competition; the Culinary Olympics.
The most exotic food you've eaten?
While I was working in Constance Lemuria Hotel in Seychelles, Fruit Bat Curry (wawul mas) was a local delicacy that it is cooked like a dry curry. It has a distinct flavour similar to small parent chicken with a strong grassy taste.
Your favourite recipe that has been passed down to you from family?
Love Cake Recipe from my great grandmother Rose Goonasekara. It has come down generations from mother to daughter and from my mother to me with tiny personal touches in the original recipe adding character to the old recipe.
Your most challenging dish to master but also worth the trouble?
Kalu Dodol. Whoever had made it knows the effort you have to put in continuously. you have to cook it for several hours to make it and the worst thing is that it has a hundred ways for it to go wrong but one way to get it right!
Your first memory of cooking?
We used to have a lot of family gatherings at my place when I was growing up, where my mom used to make special delicacies for Christmas and the Avurudu New Year so I was the designated coconut scraper for all occasions!
As a chef, what's something you can't live without in the kitchen?
I need peace of mind, where I can prepare the food the way I want. I don't like it when people are always in your ears.
An underrated ingredient that can change the whole dish?
Lime. It has a unique characteristic of enhancing flavours and correcting any dish that has a bland taste.
Easiest dish to impress someone?
Thai Red Prawn Curry, the Thai curry paste is a foolproof product that can be used to make Thai curry. The curry paste is very easy to use and is packed with flavours that have a great bond with the Sri Lankan cuisine because of the spices and lemongrass. When served with some steaming steamed rice – you are all set to impress.