Taj Samudra Hotel, Colombo announced the opening of their newly revamped speciality restaurant, the 'Crab Factory.' The new restaurant finds its space right next to the hotel's popular speciality restaurant 'Navaratna' and offers private and intimate dining space for guests to relish mouth-watering crabs and fresh seafood catch.
The launch of Crab Factory is under the curation of Taj's newest Executive Chef Sajesh Nair who brings with him 28 years of culinary experience, 17 of which were achieved with Taj hotels worldwide.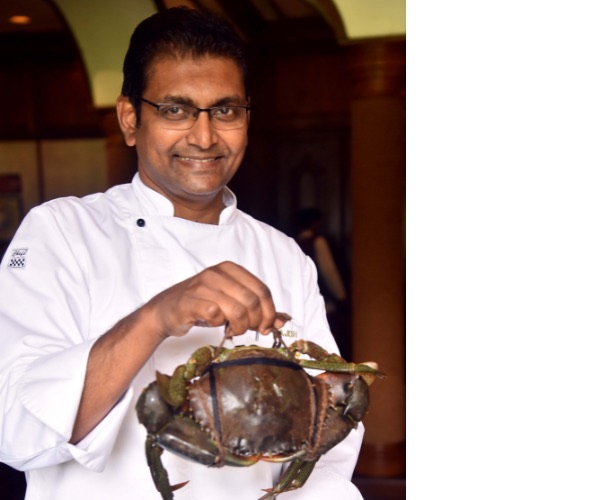 Chef Sajesh's signature style finds its roots in coastal India, coloured by Middle Eastern and Asian flavours, which is reflected in the offerings at the all-new Crab Factory. "It's fantastic to be in Sri Lanka and have the chance to work with good quality, fresh seafood. Sri Lanka has some of the best crabs around and our guests are always asking us for the famous Sri Lankan crabs, so it was only natural that we explored the opportunity to work with them. At Crab Factory – we recognise that the crab is the king and the flavours we offer should simply complement it. While our speciality is crab and seafood, we also took care to introduce a few vegetarian options in the menu for vegetarian diners" shared Chef Sajesh.
Adding to the thought, Director of Food & Beverage, Avishek Mukherjee said, "It's been an amazingly busy year so far in F&B at Taj and we are very excited to open Crab Factory to our guests. International guests who come to Sri Lanka are always on the lookout for local restaurants that can offer good seafood and our local diners will have the opportunity to enjoy seafood in a uniquely different way. I'm sure with time to come, Crab Factory will position itself as a 'must-go-to' restaurant in Sri Lanka."
\Having had the opportunity to sneak a preview of what's on offer at the to-be-opened restaurant, we enjoyed a crab-tastic lunch at Crab Factory. Here are our thoughts on the new menu;
Appetisers
Crab Cocktail & Citrus Salad. Starting off what was a crab feast of a meal was the classic cocktail-hour appetizer with steamed crab meat flakes, iceberg lettuce, avocado, soft egg, olives, and corn topped with creamy mayonnaise-based cocktail dressing. A perfect crab cocktail comes down to nailing a few key points; quality crab meat, the right dressing and importantly (and what often gets overlooked), serving the appetizer chilled. Nailing all these points, the Crab Cocktail was a refreshing opener for our meal. For vegetarian diners, the Citrus Salad with avocado, burrata cheese, walnuts and oranges in balsamic dressing is an equally good option.
Crab Meat & Cheese stuffed Bacon Roll. This was personally our favourite appetizer at the Crab Factory. A modest dish of crab meat mashed together with cream cheese, wrapped in bacon strips and served two ways; oven grilled and plain. The oven-grilled bacon roll offered a crunchy texture that contrasted with the smooth, creamy stuffing that we really loved.
Crab Galouti. The Crab Galouti comprised four crab meat patties, slightly pan-fried for crunch and served with mint chutney and mango salad. The masala, fennel and cumin flavours come through strongly in this dish and would easily be a hit for those who like bold Indian flavours.
Mains
Poised as a seafood restaurant, Crab Factory places Sri Lanka's fantastic range of seafood at the centre of attention with varieties of prawns, lobster, cuttlefish, scallops and more on offer. But the real showstopper? The Crab.
At Crab Factory, you can choose from a range of fresh crabs; sea, mud, soft shell and lagoon crabs, all offered in varying sizes/weights depending on the requirement. You can then choose your preferred choice of preparation customised to your liking - Garlic Butter, Singaporean Chili, Black Pepper Coconut and Sri Lankan Curry as well as some signature styles of preparations, heavily influenced by Indian cuisine that are unique to the restaurant – Kerala curry, Chettinad curry and Tandoori crab. Along with the crab (or any other choice of seafood), you can also choose your condiments [pol sambol, kiri hodi, onion and chili, lunu miris and lime preserve] as well as your carb accompaniments which include roast paan, paratha, steamed rice and fried rice, garlic bread and more.
Crab. We had crab prepared three ways; classic and simple, local and a Crab Factory signature, accompanied by garlic rice, roast paan, pol sambol, kiri hodi and lunu miris. At its core, crab is not difficult to prepare, it simply needs to be tossed in a saucy dressing and it's good to go but very often at the cost of it overpowering the taste of the crab meat. There is a world of difference between crab done averagely and crab that is done good and well, balancing the delicate, salty flavour of the crab meat with the tart, spice and sweetness of its dressing and Crab Factory delivered the latter in a commendable manner.
The Garlic Butter Crab was sinfully delightful – extra garlicky, buttery, savoury and salty. Dipping chunks of tender crab meat into minced garlic and garlic-infused butter was simply addictive. The Sri Lankan Crab Curry with Murunga Leaves was comforting – the crab meat had soaked up much of the spice rub while the spicy, creamy curry was mopped up by our roast paan and pol sambol. We tried the Tandoori Crab for the first time, the crab was marinaded in tandoori and cooked over a charcoal fire in a tandoor. Tandoori Crab is a dry crab style of preparation that retains the flavours of tandoori – spicy, flavourful with a slightly smoky taste. While the crab curries packed a punch, the Baked Crab stayed humble and true to its origins with simple seasoning for the classic taste and style of Baked Crab to come through.
Overall, we had one of the best crab meals we've had in a restaurant at the Crab Factory. The crab was fresh and the chef did justice to the fresh catch with his take on the preparation style.
Moroccan Style Prawns. When we heard of the chef's experience in Middle Eastern cuisine, the Moroccan style prawns grabbed our attention, and it didn't disappoint. Prawns opened butterfly style are layered with a Moroccan salsa made with onion, garlic, middle eastern spices, pickle and lime and baked in the oven and grilled. It was served on a bed of crab meat couscous which is a classic combination for the prawns.
Dessert
Passion fruit & Kithul Cheesecake with Coconut Payassam. Given our heavy meal, dessert was truly pushing our limits, but we couldn't help but help ourselves to something sweet after a heavy savoury meal. While we did think the Passion fruit & Kithul cheesecake could use something more to tie it all together, the tender Coconut Payassam was fantastic! Though unavailable on our visit, we are also keeping our eye on the Rose Petal ice cream on the menu for another day.
Crab Factory opens tomorrow, 19th May 2023. Crab Factory is open daily for lunch (12.30-3pm) and dinner (7.30-10.30pm).
PHOTOS Nisal Baduge