How do our food experts cook and eat? This week, the Executive Chef and the current Executive of culinary operations at Mt. Lavinia Hotel, Chef Saman takes our Q&A!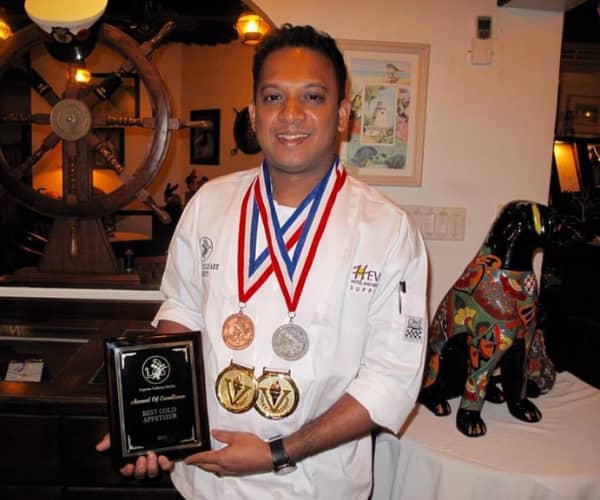 Your first memory of cooking?
I come from a family of 9 children and I'm the youngest so you can imagine the constant hustle and bustle that was a part of my family. Yet, cooking with my mother and watching her cook is still one of my fondest memories of childhood. My first memory of cooking is sitting on a kitchen stool and watching my mother make a polos curry. I loved the way she moved around the kitchen with such elegance and passion and knew I wanted to do just that!!
As a chef, what's something you can't live without in the kitchen?
If my kitchen was a ship, salt and pepper would be the sails! Food needs to be flavoured and salt is the one constant in the seasoning category. Black pepper adds depth and spice to the food elevating it to a whole new level.
An underrated ingredient that can change the whole dish?
Cilantro. It has an enormous significance in traditional Chinese, Mexican and Indian cuisines. It gives rich colour, warmth and a fragrant aroma to recipes. Its bright peppery taste with a delicate citrus explosion gives the dish a phenomenal finish.
Your favourite childhood meal?
I lived in a beautiful village Down South with my parents and eight siblings. We were all home on Sundays and my mother would prepare boiled jackfruit and spicy fish curry with white rice. My elder sister would grate some coconut to go along with it and we'd all enjoy a delicious Sunday breakfast filled with lots of fun stories. I would always count my fingers until Sunday when I was small. It's still my favourite meal!
What do you love about being a chef?
Cooking is my passion and I adore it so much. I love that it gives me a chance to be creative and to lose myself in the rituals of chopping, stirring and tasting. Food makes people happy and there's not a lot of jobs that make people happy every day.
Your most challenging dish to master but worth the trouble?
German pork knuckle! First, we must preheat the oven to 390°F (200°C) and rub the pork knuckles with caraway seeds and salt. Then place the hocks on a rack in a roasting pan and bake for about 90 minutes in the middle of the oven. Then turn the pork hocks after 45 minutes. Also, to crisp up the skin we have to turn on the broiler for the last 5-10 minutes. So as you can see, the cooking process is not simple! But when paired with a full-flavoured beer, this tender, juicy, fall-apart meat with its salty and crunchy skin is definitely worth the trouble!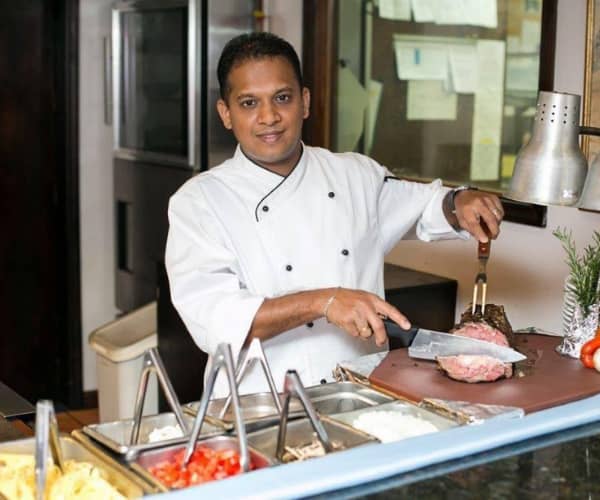 Who would be your dream dinner-party guests to cook for? What would you make?
Celebrity Chef Eric Ripert along with some other chefs all over the world would be my dream dinner party guests. I'd prepare Mediterranean styles of fresh seafood for them.
If you had to serve only one dish forever – what would it be?
I'd place my bets on brown butter garlic fried gnocchi. It's a dish made by tossing tender morsels in a buttery herb sauce. It's quick, easy to love and perfect for busy nights.
What's a dish you'd love to relive for the first time?
I'd love to relive my experience of having chocolate fudge. The rich chocolate and the creamy texture definitely had a heavenly mouthfeel to it.
What meal do you love to eat but never cook?
Butter chicken masala. I love this Indian dish but I think it's hard to cook. If not for my colleagues I would've never gotten to try that dish.
Easiest meal to impress someone?
Impressing someone lies in simplicity and quality more than in the details. Find some fresh seafood and throw in some herbs and fresh vegetables from your garden and voilà! You're done.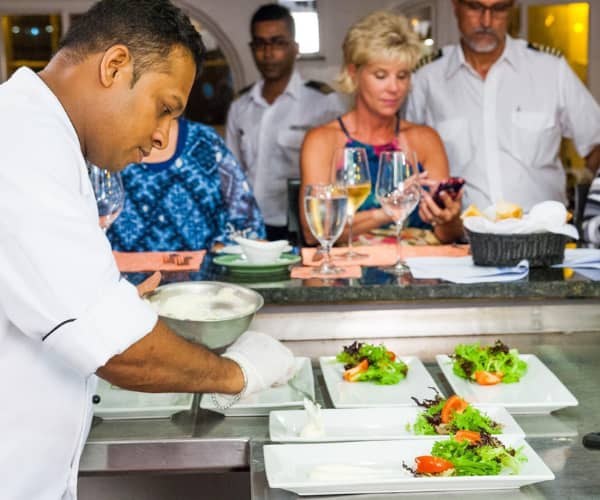 You are entering a cooking competition - which one would it be?
Bocuse d'or. In short, Bocuse d'or is the Olympics of cooking. For many, this is the most prestigious international cooking competition.
What's the most exotic food you've eaten?
Purple blue tacos in Mexico. One of the strangest foods I had in Mexico was the taco with the blue corn tortilla shell. There was only a slight difference taste-wise but its significance was the striking colour.
Your favourite odd food pairing?
Dark chocolate and parmesan cheese. Both dark chocolate and parmesan cheese are sharp, nutty and slightly bitter. Melt them together between sliced bread and you've got yourself a winning sandwich!
Your proudest food invention?
Spiced pumpkin and ricotta cheese ravioli with tangy tomato sauce.
If you could dis-invent a food, what would it be?
Instant noodles. A lot of people might disagree but I think they are quite detrimental to your health in the long run.
If you could open your own restaurant, what would it look like?
My dream restaurant will be a family-style one with a full-service model with seating and dedicated servers with an impressionable service. I'd love to name my restaurant Familiano's. I'd love to serve Italian food with a homely feel to it. I would like to locate it in a family-friendly environment, in peaceful surroundings where people can enjoy their meals.
Your favourite recipe that has been passed down to you from your family?
Traditional fish ambul thiyal. This is a recipe that was passed down over many generations in my family. Now I'm honoured to prepare it for my family and share it with the world.
What's the most valuable lesson you've learnt as a chef?
Failure is the key to success. As a chef, I constantly try out new things and not all of them turn out as expected. So, it's important to get life lessons from these failures and use them as stepping stones for success.