On Fashionably Danu I feature the very famous La Ceyloné shirt brand which changed the island vibe in our country. With the streetwear boom over the past years, the humble "flower power" shirts have also had something of a glow-up. This is a season for shirts which doesn't feel too tight around your neck or even on your body, and considering the fact that we are working from home, it's cool to be in something that is breathable. The all-new La Ceyloné has really taken the flower power shirts to the next level, with clean cuts, amazing stitch and the fabric is just so comfy for our ever-so-confusing weather. Give it a try and now you can just order online. Today I speak to the hard-working man who has kept this brand alive with an amazing vision which you will get to see soon.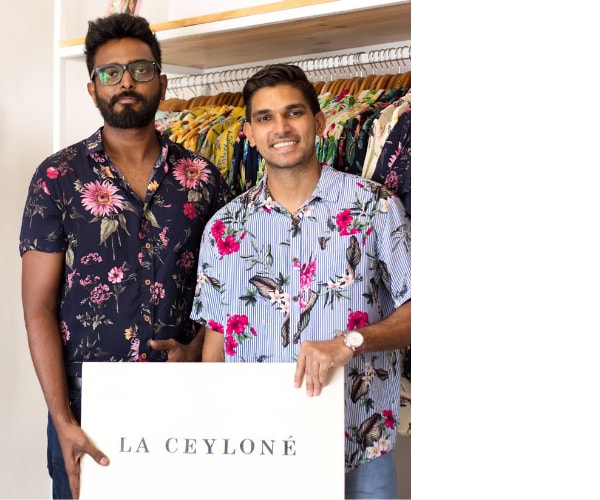 1. What made La Ceyloné take a break in the market? It's the overall lifestyle break with the covid situation. We are still waiting for the main resort campaign to come out with normality! Gradually we are also resuming in other parts of the world. It's a very tricky situation to promote an outgoing resort culture!
2. Floral shirt concept became very common, how do you hope to stand out? The florals need to evolve into more designer signature ranges and we love to focus more on the La Ceyloné story going deep into Sri Lankan roots, that's our common ground, the new personality flavour the world needs to taste. An exciting project in the making!
3. Tell me about the looks you have featured on me today? We want to keep the tropical-floral appetite fresh, so here we have new colours in a smart casual cut for tropical lovers.
4. The cut is what makes a shirt stand out, how did you work on the blocks and would you say this shirt is nice fitted or relaxed? A shirt's technical construction is the key! La Ceyloné personality is always relaxed fitted but extremely fashion conscious so depending on the occasion you can always style it!
5. This collection the designs are very island-inspired and new, how has the process been creating these designs? It's the idea to bring the next step of tropicals, introduce fresh colours and establish the La Ceyloné basic range.
6. What are the other options you hope to add to the label? We are looking at the entire La Ceyloné lifestyle product range - especially for men! Limited editions for women.
7. How has the online market been, especially with a lockdown? It's tough with ethically we want people to stay safe and focus on what's essential for them, but then there's always the La Ceyloné fan base!
8. What's next for the brand? We can't wait to launch our official La Ceyloné resort campaign!
9. What according to you is your favourite part of being In this industry? It's to see people embrace these lifestyles, what once was an idea sketch on a notebook.
10. Will this range be available at any local outlets or only online? This collection will be only available on our website for now - WWW.LACEYLONE.COM
Instagram: la.ceylone
Designer - Razeen Rahim
Photography - You're my Favourite