Colombo Fashion Week 2020 kicked off in the new normal adhering to a plethora of strict conditions. After months of lockdown and a hiatus on social gatherings, Colombo's fashionistas and glitterati were out in full swing to see 14 young designers present their collections. Graduates from various fashion schools in Sri Lanka and overseas had worked tirelessly to create collections which were innovative and fashion-forward. Day one was dedicated solely to emerging designers.
Chamanka Pehesara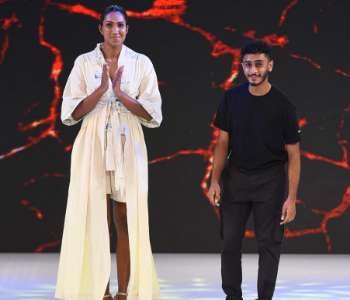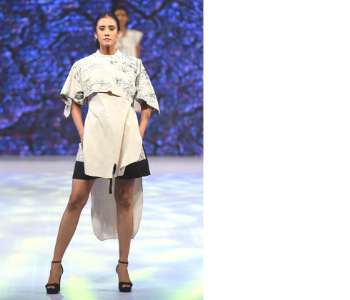 Making his debut at CFW, Chamanka has fused natural fabrics, dyes and printing techniques to create a collection inspired by the cracks that occur during volcanic eruptions and earthquakes. Chamanka has also used layers of raw cotton fabric to create a minimalist aesthetic in line with his brand's vision. The calico fabric has been dyed using a mix of flour and water and dyes to create a monochrome colour palette. The collection had a very oriental feel to it and contained separates with asymmetrical hemlines and lots of tie details.

Hirushi Jayatilake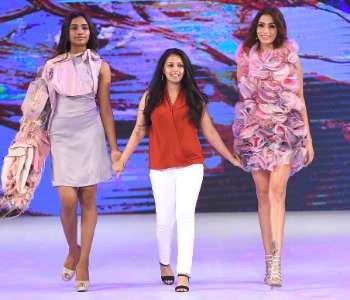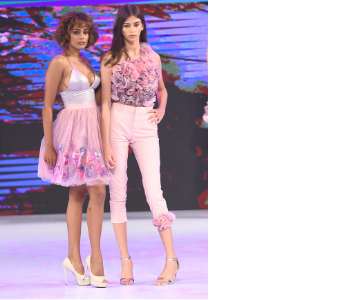 Hirushi Jayathilake is a Sri Lankan designer based in London and Sri Lanka. She specializes in couture and occasion wear, and her luxurious collection consists of impeccable silhouettes, whimsical details and chic separates – all carefully embroidered by hand. Hirushi prides herself in attention to detail, preserving the craftsmanship and techniques of the longstanding textile and embroidery craft. Hirushi's designs have been exhibited by Fashion Crossover London and Not Just A Label, and she has been published in BeauNU Magazine, and Bare Minimum UK. Hirushi supports Sri Lankan manufacturing to promote ethical labour, craftsmanship and sustainable production. Making her debut at Colombo fashion week Hirushi presented a collection inspired by decaying flowers and taxidermy. Using a colour palette of black, magenta and purple the collection of short flirty skirts and sheer tops were embellished with handpainted flowers, machine embroidery and tambour beading.
Harinda Gunawardene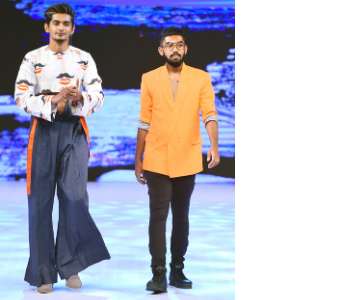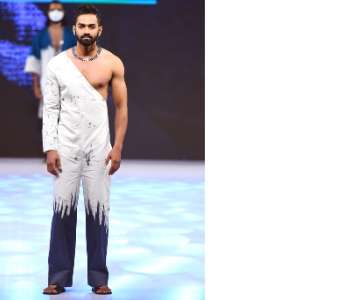 Harinda is a Fashion Design student at the University of Moratuwa. His brand, HARID, focuses on an androgynous aesthetic which plays with structured yet voluminous silhouettes. For his debut at CFW, Harinda has incorporated the local batik craft as well as the signature detail of the brand, which is topstitching. HARID's mission is to push boundaries and encourage authentic expression through fashion. Favouring a colour palette of slate, white, emerald green and orange the collection contained batik and embroidery. Kimono tops with pleated pants enhanced the collection.

Himashi Wijeweera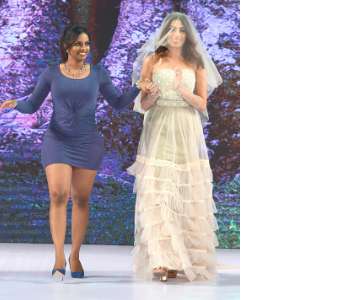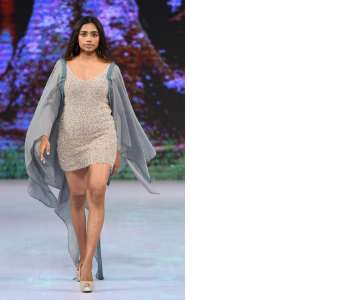 Himashi's designs incorporate romantic yet contemporary detailing, sleek lines and seek to embolden women with confidence and ease. Himashi's core aesthetic lies in her use of traditional handmade Beeralu lace. A celebration of craftsmanship, she works with artisans and craftspeople from the south of Sri Lanka to produce her Beeralu creations. In her collection, Beeralu, as expected, took centre stage. Dull gold and dull pink net and satin fabrics were embellished with beeralu to create kaftans, shift and body con dresses.
Nilusha Maddumage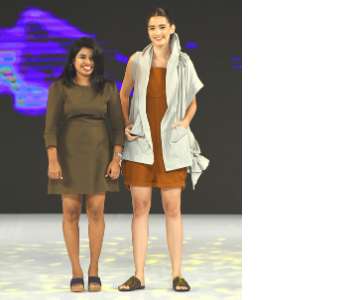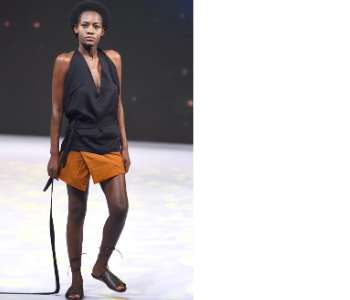 Nilusha is known for her excellent pattern-making skill and ability to manipulate fabric and narrate not just a fashion-forward story but also one of conservation. Her creations are versatile, multi-use, and sustainable, yet stylish statement pieces. Nilusha has a unique talent for stitching squares of fabric together into seasonless, high-fashion clothing with barely any cuts needed. Her process of designing and producing zero-waste fashion involves repeatedly folding and stitching the fabric while carefully arranging geometric shapes to fit as though it were a jigsaw puzzle. Black and grey with pops of brown were her choices of colours. Nilusha's USP is that her creations are all interchangeable and each outfit can be worn in two ways.

Joanne Kulamannage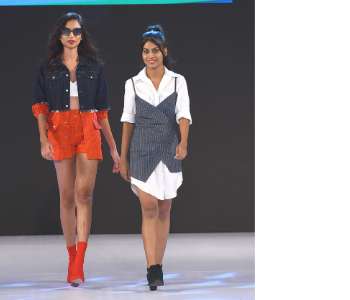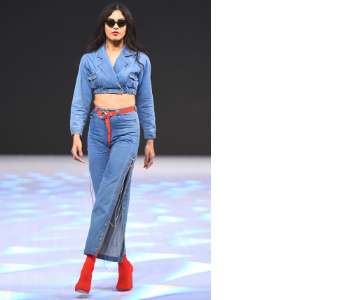 Joanne creates distinctively wearable clothing that inventively blends classic tailoring with an edgy yet understated aesthetic. Making her debut at CFW Joanne presented an edgy collection of denim ensembles which comprised oversized shirts pleated skirts and boiler suits. Inspired by 80s Tokyo street style retro, yellow and touches of red and white were the colours of her choice. Joanne specializes in denim, working with local artisans to manipulate this timeless fabric into contemporary pieces which suit the modern young woman of today.
Udarika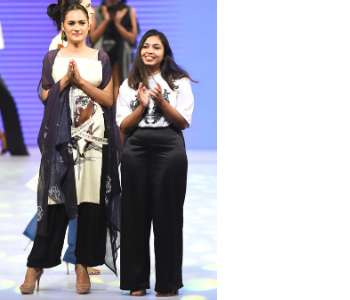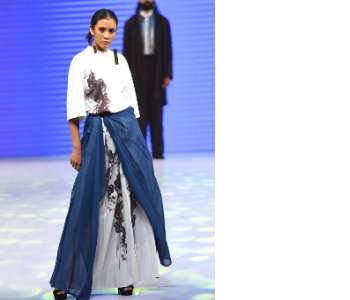 Udarika's depth and perspective are always apparent. A mix of thought-provoking and surrealist, she brings her vision to life through an effortless combination of fashion and art, which highlights her aesthetic and style. Her collections take you on a creative journey which showcases her strong silhouettes and passion for creative art design. This season she presented a collection which featured graphic faces interspersed with prints in caramel tones with accent colours of green and white. Dresses, shorts and oversized wrap skirts added interest.
Thamodha Geegamage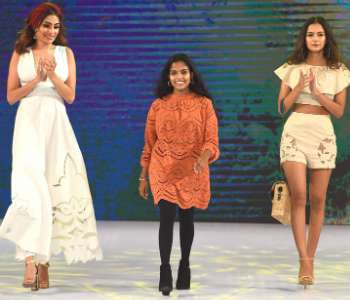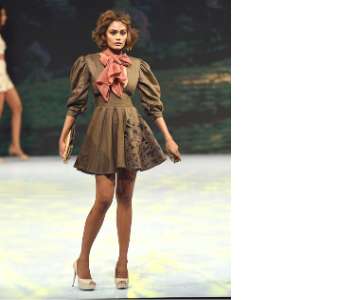 Sustainable fashion is a core principle of Thamoda's brand TAOA. For her debut collection, Thamoda uses Sri Lankan motifs and craft elements. The colours and visual forms are unified with the Broderie Anglaise technique, a remnant of Portuguese and British colonial influence on the island between the 16th to 19th century. The silhouettes are minimal yet modern and play with traditional Sri Lankan clothing while focusing on comfort and ease. She used an earthy colour palette of olives, brown white and sand to create a collection which enhanced the feminine silhouette.
Mikhail Hameed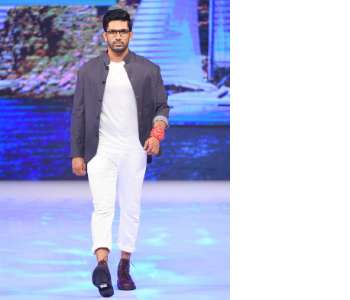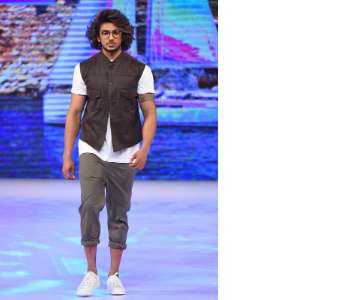 This Fashion Design student currently studying at Ryerson University Toronto, Canada launched his debut collection at the CFW Summer 2020 Emerging Designer showcase. Mikail draws inspiration from East Asia, giving his designs a youthful twist and creating an elegant yet casual look while allowing comfort and style to coexist with minimal effort. Mikail has incorporated refined lines and neutral colours for a chic and elegant look while using natural fabrics such as linen and twill he strives to achieve a conscious effort to reduce the negative impact of fashion on the environment.

Ayesh Wickramarathne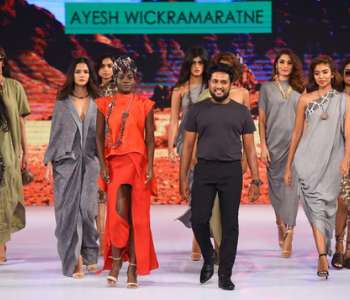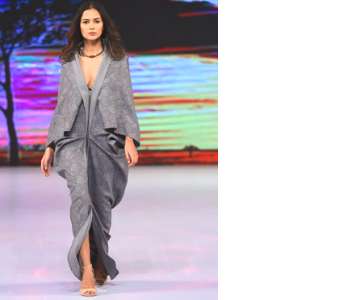 As a designer, Ayesh's strength lies in his silhouettes, creative patternmaking and draping techniques. Ayesh is also passionate about sustainable fashion and continues to experiment with techniques such as natural printing and zero waste design practices, which he incorporates into his collections. Inspired by the Black Panther movie and its cross cultures of Japanese, African tribes, Bohemian has influenced in creating this collection along with the movie colours, silhouettes and feelings. The movie contains a mythical energy names vibranium & the promising trust of sustainability which is the backbone of this collection. He used a colour palette of grey, brown and petrol with a pop of red, to create a collection of clothing which focused heavily on draping.

Divya Jayawickrama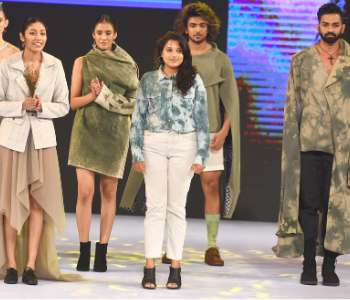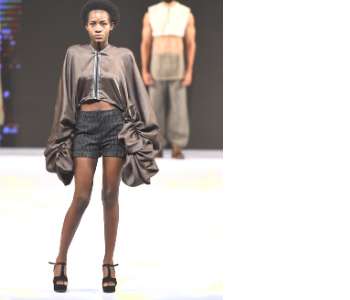 Divya designs with sustainability in mind and uses no waste, reversible and convertible techniques in her collections. Radical patternmaking, textile development, bold manipulations and meticulous research go hand in hand with her ambition and will to create something new and modern. Her clothing brand "MOWCHA", is a unisex brand and made its debut at Colombo Fashion Week Summer 2020. Favouring a grey colour palette with white and shades of taupe her collection comprised oversized jackets high waisted pants and dresses in quirky headgear which had a military edge to it.

Achala Leekoh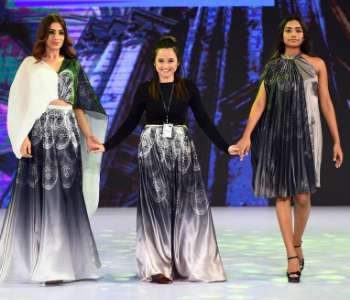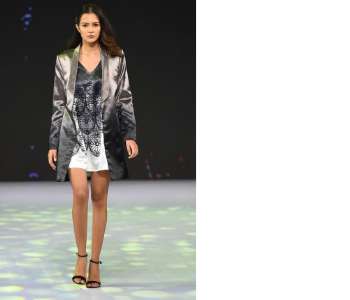 Since inception, Achala's brand Leekoh has promoted the concept of "exclusive prints with a conscience"; she steers away from traditional water-based printing due to its negative impact on the environment and instead uses digitized printing processes which has minimal to no waste residue. She presented a luxe collection using a colour palette of black and white with accent colours of yellow. Frills and pleats featured heavily in this collection which Acahala says was inspired by Gaudi and the Sagrada Familia. The surface prints are mainly rooted in an unfinished cathedral element which is central to the Gaudi's masterpiece and the infamous spiralling stairwell has inspired the even pleating details.
Ranga Senavirathne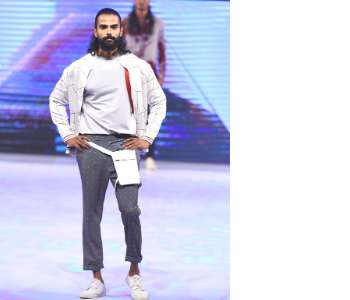 Ranga's strength lies in print development, where he blends edgy, grunge styles and gothic cultural vibes with modern art influences. Ranga's debut collection for CFW's Emerging Designer showcase incorporates a street aesthetic which includes a hint of athletic and casual elements. His brand vision is to create unique menswear with a special focus on prints.
Pics by Kushan Pathiraja