HSBC Colombo Fashion Week continues to showcase the latest emerging talent to the world, by exhibiting the fashion innovators of tomorrow. Day one of HSBC CFW kicked off with eleven emerging designers showcasing their collections at the Shangri-la, Colombo. After having undergone an extensive three-month training and mentoring program with CFW Founder and President, Ajai Vir Singh, CEO, Fazeena Rajabdeen and respected designer Upeksha Deegala, these young designers have created collections that contain elements of Sri Lankan heritage crafts ranging from batik and beeralu to handloom weaving and embroidery. Inspired by a range of causes and elements the designers have put forth a strong point of view through their collections.
Navindri Ranatunga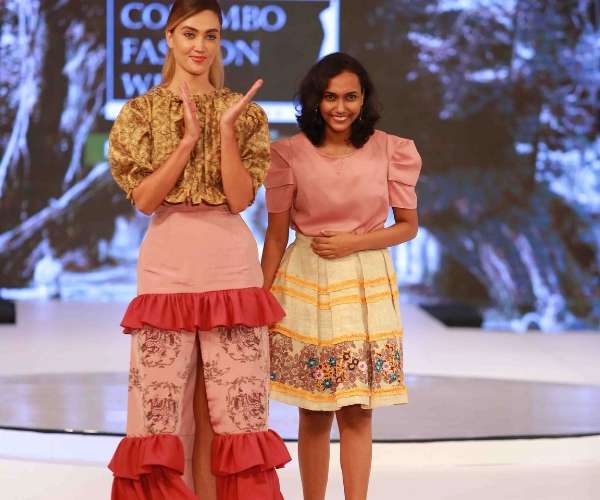 Using a mix of fabrics and prints which gave a varied touch and feel to the collection, the browns and burgundies with accent colours of green and gold complemented the silhouettes Navindri presented. Pleats and a few statement sleeves featured in her collection.

Chamanka Pehesara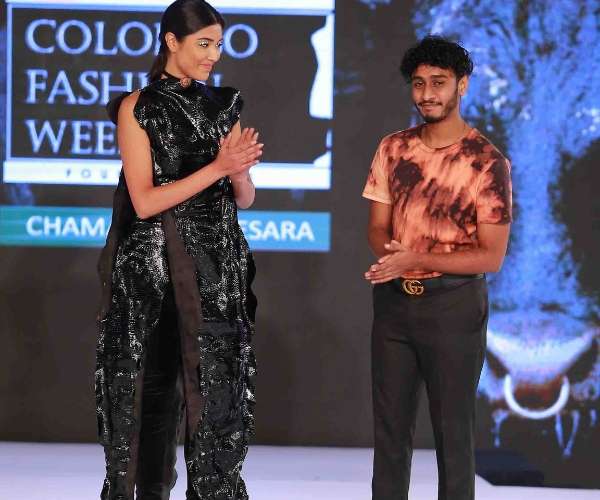 An edgy collection in earthy tones with accent colours of gold also had beautiful embellishments such as gold beading. He mixed separates with dresses and used velvet, faux leather and suede. His stud work and exposed zips lent a punk vibe to his collection.

Nisansala Deegala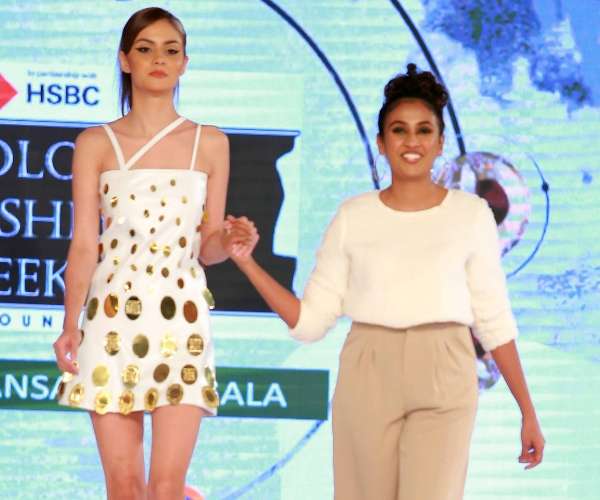 Whites, beiges and ivories formed the colour palette for this collection which had brass embellishments alongside delicate embroidery. The silhouettes flattered the female form and the use of embroidered corsets added interest to the collection.
Nipunika Fernando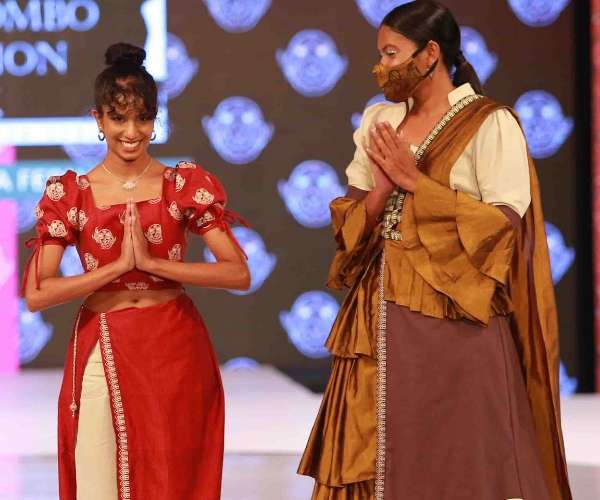 Using the Sanni face as her leitmotif, Nipunika had created a set of cheeky prints in green, purple, gold and latte. She complimented her silhouettes with the interesting use of harnesses.

Kavishna Kuruvitage
Not afraid to use bold colours in her predominantly batik collection Kavishna's collection was outstanding. Her leitmotif of a skull which was sequins and embroidery was reminiscent of Damian Hirst's studded skull. She had created abstract prints in blue, green and black with a pop of pink, making this an extremely wearable collection. She has presented an outstanding batik collection. Abstract art in times of blue-green and black with a lop of pink wearable silhouettes in cotton and silk.
Ishani Rajapaksha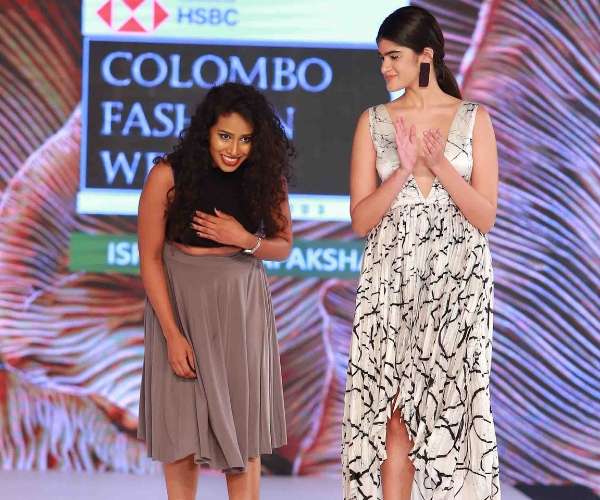 Clever and artistic use of knife pleats characterized this batik collection by Ishani. Using simple lines to create eye-catching silhouettes, her batiks in a range of silks lent a luxe look to this collection.
Hasindu Jayasinghe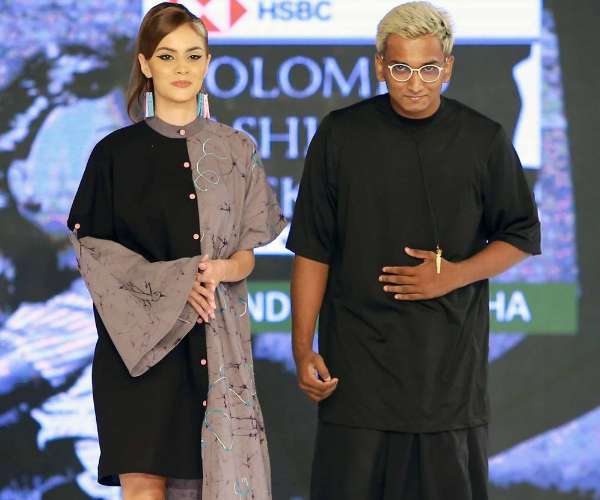 Asymmetrical hemlines dominated this collection which was created using grey and blue in the main. Statement sleeved and clever cutouts were the hallmarks of this collection. Hasindu had used batik and embroidery to reference his inspiration which was based on the harrowing testimony of a child abuse survivor. He used bell sleeves to convey emotion and to highlight the feminine features of his collection.

Divya Jayawickrama
Elevating the status of calico one of the most versatile and utilitarian fabrics, by using block printing techniques Divya created a collection inspired by a pack of playing cards. Monochromatic patterns came together to create interesting prints which were presented as jumpsuits, dresses and oversized trench coats.

Naduni Katuwandeniya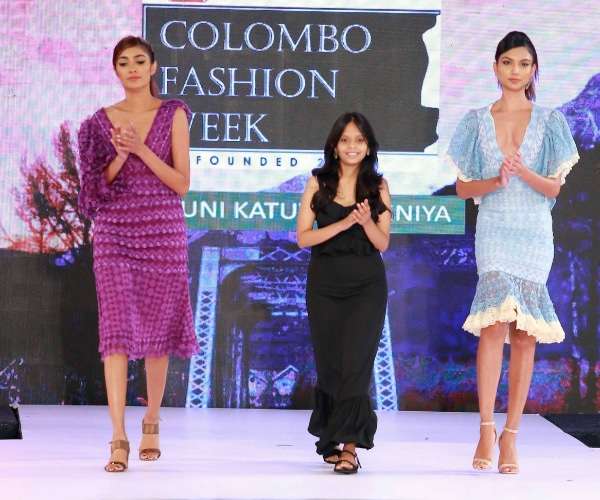 Paying homage to the artisanal craft of beeralu, Naduni showcased a collection in vibrant hues of saffron, lavender-blue and navy. She has fused intricate panels of beeralu panels both vertically and horizontally to create pants dresses skirts and pants. A collection with a boho vibe this collection was fun and flirty.

Akarsh Paranavitharana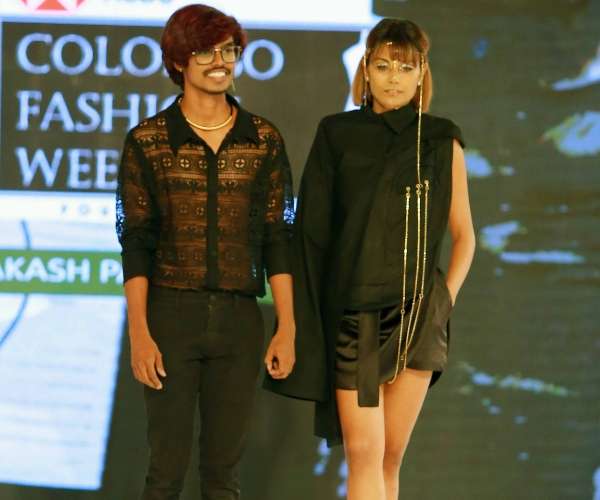 A definite one to watch, Akarsh's collection had a sleek sophistication to it. Working with panels of fabric woven from reeds incorporated with twill he had created a collection that referenced a stylized Japanese aesthetic. Bustiers in woven reeds peeked under beautifully crafted jackets. He had also created a line of accessories that added drama to his looks.

Hashani Fernando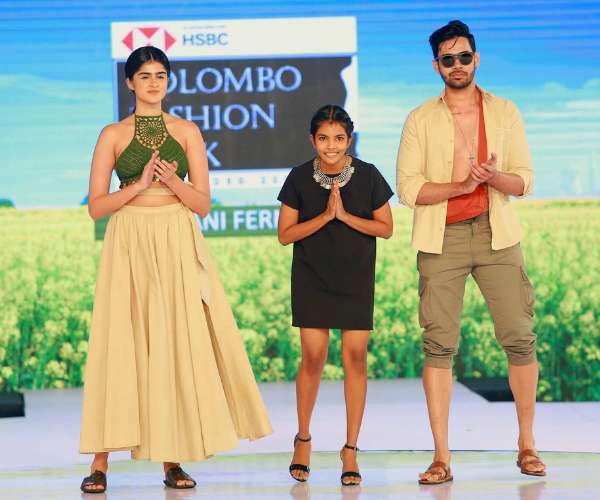 Khaki and tan combined with accent colours of tangerine formed the colour palette for Hashani's collection. Using embroidery and crochet we saw jumpsuits, flirty dresses and sarongs grace the runway.