Self-taught designer Niroshini Perera trained and worked as a marketing professional. However, her true love for fashion persuaded her to take a leap of faith and create her own brand Isle of Design by Niro. Launched in 2019 Niro has continued to create a fashionable clothing line with a modern twist incorporating traditional batik crafts with contemporary designs giving it an interesting new spark.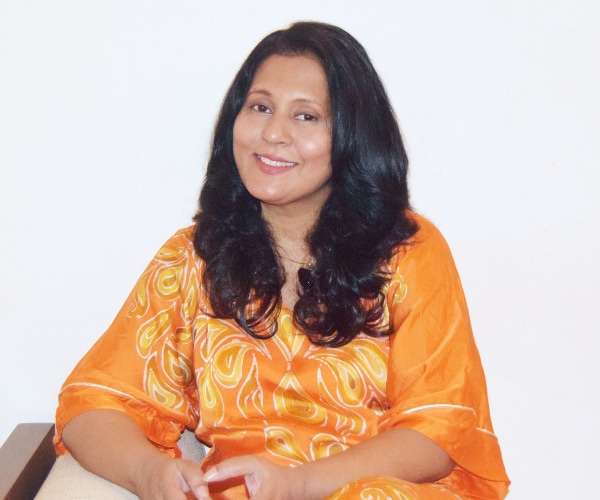 What sparked your interest in fashion design?
I was always interested in art and design and used to paint as a hobby, and I love traditional crafts like batik, beeralu and patchwork.
What made you take fashion more seriously and make a career out of it?
I am a marketing professional, and I had a long career in consumer marketing with an MBA from the Postgraduate Institute of Management. I enjoyed my work very much. But somewhere down the line I wanted a change, wanted a bit more time for my family. This change also gave me more time for my hobby which I was passionate about.
How has work evolved since you began your own label?
I started spending a bit more time on my hobby working on some batik dresses and sarees for a circle of friends, and that's how it all began.
Are there any types of design that you avoid designing?
I have not really thought of it like that. It's more what I like to do. I like working with batik in cotton and silk. I also like working with beeralu lace and patchwork.
Where do you look for creative inspiration?
Creative inspiration is everywhere, but nature has always been a big part of my inspiration.
Describe your latest collection?
It's nature-inspired. It's the sea and the sky. I like to call it "Sky song by the sea".
Who is your muse?
It's people you meet, your friends and of course, mother nature.
What are your sustainability credentials?
I have started on my own only just a year ago, but we are taking baby steps in this direction. We are currently working on a small sustainable production to create our designs. Almost all of the artisans are females. We are also constantly looking at working with sustainable dyes.
What are you fascinated by at the moment and how does it feed into your work?
I am more an artist than a designer. I am always mesmerized by nature and by femininity in all its expressions and hues and truly delight in all articulations and manifestations of beauty. So while I am not a trained designer, it's this you see in my work.
What is the biggest lesson that you have learned since you started your company?
It's a very short time since I started on this journey. I think it is to be happy with what you have done so far. Don't compare yourself with others. Learn from your mistakes and move on… and note the importance of attention to detail no matter how small the project is...
What is your motto?
To work with a sense of passion and integrity.
Which international or local designers are you inspired by?
There are many, Victoria Beckham for her unique style. Audrey Hepburn for her so many different classic looks. Sonali Dharmawardena for her artistic batik, and Jai and Sathya Paul for their vibrant colours and designs.
What role do you think social media plays in fashion today?
Social media brings diversity and innovation to our community. It helps people to engage with brands and trends that are happening around us. Many brands like us are able to market their products via Facebook and Instagram. Social media also helps brand engagement which also brings publicity to the brand. The lockdown was an ideal time period that proved how effectively social media can be used by brands. Not only for brand engagements but also for increased online purchasing as infrastructure improves, cash on delivery etc
What is your favourite part of being a designer?
Making the pictures that pop in my head a reality, and also seeing a happy smile on our customers
How do you want women to feel when wearing your clothes?
She should feel her best and be confident and happy, celebrating her unique style.