Conceived by designer Joanne Stoker before the arrival of Covid-19, NåD, a designer label had to weather the storm before it was officially launched at The Design Collective. Joanne who previously had her own brand in London for several years is a graduate from Northumbria University where she graduated with a degree in Fashion Design. A lover of accessories and footwear Joanne is currently developing prototypes to add to her collection.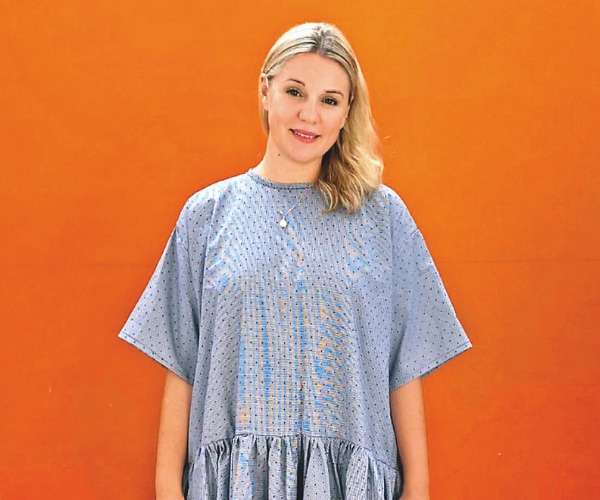 What sparked your interest in fashion design?
My mother has spent her whole life designing and making things, from clothes to furniture. This was a great inspiration, and at only 5 years old before attending school, she taught me how to draw, paint, sew and knit. We spent our days making clothes for my dolls, and she made me the most amazingly cool outfits. I was obsessed with colour from a very young age and loved everything from my clothing to accessories to match. At 16 I studied three A-Levels at school, while also studying a BTEC night class in Fashion Design at college. I then went onto Northumbria University in Newcastle, UK to study BA (Homs) Fashion Design and then to London College of Fashion to study an MA in Footwear Design.
How has your work evolved since you began your own label?
As a designer your style is always evolving, for me, my surroundings are a great inspiration. I have been spending a lot more time in the south by the ocean and those magnificent sunsets with pink, red and burgundy tones, really inspired the colour palette for the new collection I launched at The Design Collective.
Are there any types of clothing that you avoid designing?
I mainly love to design dresses, but I'm open to all styles. I wish I could add jackets to the collections, but we don't have the climate for these in Sri Lanka.
Where do you look for creative inspiration?
I mainly find inspiration from my surroundings, colours are a huge inspiration and Sri Lanka is such a colourful country. I also love to look back at that 60s London style, the shift dress has always been one of my favourite silhouettes.
Describe your latest collection?
The latest collection, I feel, has a little bit of 60s and 70s in the mix, without being too obvious. I've revamped the shift dress, looked at the baby doll style in a modern way, and also added new tie necklines and voluminous hems which have a similar silhouette to the 70s maxi dress. The colours are an ombré of sunset tones with fresh organic white mixed in. I am hoping to add more organic cotton into the collection as time goes on.
What are your sustainability credentials?
In terms of sustainability, this is a big focus as part of the brand. NåD means Grace and it's not just about dressing with grace but to give grace to the environment. When sourcing my fabrics, I have two particular outlets which buy excellent quality cotton fabrics from other premium brands, who are producing in Sri Lanka. I buy what you call dead stock, which is unused fabrics left at the end of production. My main focus is slow fashion and creating uniqueness, therefore I don't need a huge quantity. Then with any leftover pieces from my main garments, I produce no waste dresses which are colour blocked sometime with 4-5 colours to use up the remaining pieces. I also produce my clothing with a small atelier of ladies, rather than a factory as I feel you can really work with them to develop your ideas. It's ethical and I pay fair wages.
What are you fascinated by at the moment and how does it feed into your work?
I am fascinated by the sunrise and sunset in Sri Lanka. I get up very early with my little boy, we watch the sunrise and sunset daily. He also loves the moon and we go for moon night walks and read bedtime stories. The moon over the ocean will play a big part in the next collection from the colour palette to details. I have a lot of great photographs, which I'm hoping to experiment with digital printing onto the cotton fabric. I'm looking forward to seeing how this will look. It's all part of the design process.
What role do you think social media plays in fashion today?
Social media is a great way to get your brand out there globally and target your audience. Instagram plays a huge role in your marketing. It's important to create great photography these days, it allows customers to understand your style and vision as a designer.
How do you want women to feel when wearing your clothes?
My collection is quite voluminous and oversized, made in lightweight cottons, I want a woman to feel free, comfortable and chic.