One of Sri Lanka's finest couture designers, Dimuthu Sahabandu founded his eponymous label in 2010. Studying at both the AOD and the LaSalle College of the Arts in Singapore, Dimuthu has received a good education in textiles and design. Over the years Dimuthu has continued to up the ante with each collection he presents. His ability to manipulate fabric and engineer it into brilliant designs is commendable. He has a brilliant eye for colour, structure and design which help him create stunning designs. His new collection Amira is a work of art.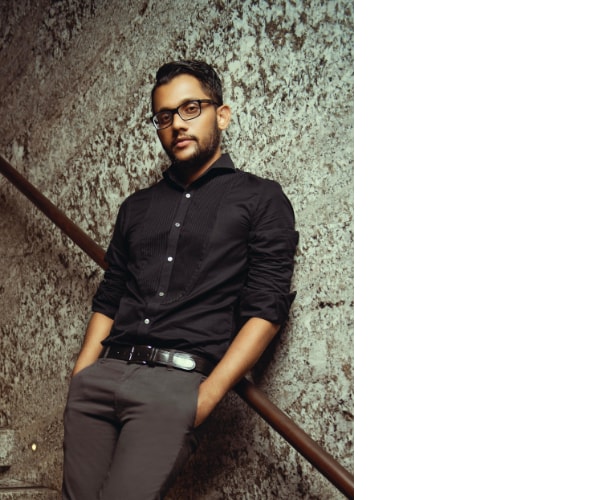 Q

What made you take fashion more seriously and make a career out of it?
I believe being an artist first I was always passionate about the surface detailing in just about anything. While focusing on textiles I felt that education in fashion gives you the freedom to push the boundaries even further. Not stopping at creating the base material only and moving forward into creating a designer product out of the material you create made me take fashion design more seriously and it eventually led to a career path for me.
Q

Are you self taught or did you study fashion design?
I initially studied art under local artist Mr Sumana Dissanayake who opened my eyes to the world of colour, texture and creative freedom. Then under Ms Shyamala Pinto Jayawardena who directed me towards design and taught me the basics of Art and Design. I then got involved with AOD (Academy of Design) in Colombo in 2006 to complete a BTEC Foundation in Art and Design followed by a BTEC Higher National Diploma in Fashion Design. Finally, I flew to Singapore to complete my BA in Fashion and Textile Design at LaSalle College of the Arts in 2008.
Q

How has your work evolved since you began your own label?
I believe it has been a learning curve for me with a healthy combination of trials and errors. When I initially started my label it was more a creative concept waiting to stem out but over the years while creating a business out of it you learn what's practical, what's relevant and what's commercially viable. So I believe the dose of reality that's injected into your system helps you balance your work. A healthy balance between creative and practical.
Q

Are there any types of clothing that you avoid designing?
Lingerie and swimwear. I could never paint on a small canvas.
Q

Where do you look for creative inspiration?
I believe inspiration is something that finds you and not something you can look for. It can be something you read, or the lyrics of a song you hear, a poster you see when you are travelling, any random thing that can suddenly turn into your next big inspiration. This is how it has always been for me in the past 10 years.
Q

Describe your latest collection?
The latest collection is named "Amira" launched at The Design Collective. Amira, translating to "Princess" in Arabic, is inspired by the idea of being fashionable yet conservative. I've always admired ethnic Indian clothing and wanted to create a collection with that essence incorporating our brand's signature surface detailing and embellishments. The collection consists of a line of separates that can be worn together as one look or mixed and matched with other pieces in your wardrobe, prolonging the life and use of our handmade garments.
I try not to be fixed on one muse as that can hinder what you want to create next but to name a few Sheikha Moza bint Nasser and Cate Blanchett for their unique sense of personal style.
Q

What are your sustainability credentials?
All our garments are hand made with minimal impact on our surroundings. We practice slow fashion as opposed to fast fashion which is responsible for tons of waste accumulation. Our brand creating capsule collections of separates constantly encourages customers to choose well, buy less and make their purchases last. To further strengthen this cause we introduced a garment enhancement policy recently where selected items can be brought in after a couple of wears where we break one silhouette down to a couple of separates to prolong the life and use of our garments. All our surface detailing is done manually by local artisans without opting for faster more profitable approaches like machine embellishments, keeping crafts and craftsmen still involved in an ever-evolving newer faster machines replacing human hands.
Q

What are you fascinated by at the moment and how does it feed into your work?
I'm now more interested in a wardrobe that is built to last consisting of pieces with a story that is close to the wearer's heart. Such garments hardly ever end up in a landfill. Each day with each collection I design, I focus on creating pieces built to last, loved and never disposed of.
Q

What is the biggest lesson that you have learned since you started your company?
The biggest lesson for me undoubtedly is that a designer can never make it if he or she is only 100% creative and not practical. Designers need to be ready to learn and adapt fast. Need to be flexible enough to fit themselves into any mould. To be able to listen and process criticism and not let it lead towards self deterioration, all in turn helps you build a brand out of a single creative concept in your mind.
Q

How did you scale your business during COVID-19?
Almost everything we do is handmade and most of our production is based on custom made-to-measure orders so at first, it was difficult to apply the work from home concept to ensure everyone's safety. Over time we managed to stabilize a system where half the team works at the studio while the other half works from home with slots in rotation. There was a drop in custom orders and bridals due to the situation where most functions were either cancelled or postponed so we had to temporarily shift our focus on more wardrobe essentials and separates for retail than custom orders and evening wear which we are currently working on.
One day at a time. One thing at a time.
Q

Which international or local designers are you inspired by?
Locally KT Brown and internationally Madeleine Vionnet, Azzedine Alaia & Rami Kashou
Q

What role do you think social media plays in fashion today?
I think it plays a huge role in advertising as a whole. One platform that's managed to sum up both print and broadcast media onto your palm with just a click. Advertising on print media for fashion has taken more of a back seat lately. It has also managed to change so many old definitions with the rise of "influencer". I believe it has also made the industry more transparent with digital content including the production processes, techniques and even the people who work behind the scene otherwise be less seen or heard.
Q

What is your favourite part about being a designer?
Having the freedom to bring your thoughts into reality and being able to share them with others.
Q

How do you want women to feel when wearing your clothes?
It's important to us that our wearers feel empowered in the clothes they wear. If our pieces have the power to uplift anyone's confidence and their mood when they wear our garments, and if it manages to transform them to the best version of themselves, then we've achieved our goals.