Artist Nirmalavasan will exhibit his work at the Paradise Road Galleries, commencing Thursday 29 April - 2 June 2021, with a Preview on the 29th. Shanth Fernando, together with one of Sri Lanka's foremost Architects C. Anjalendran, have been supporting and fostering artists from Batticaloa and the North of Sri Lanka and were
instrumental in making these exhibitions possible.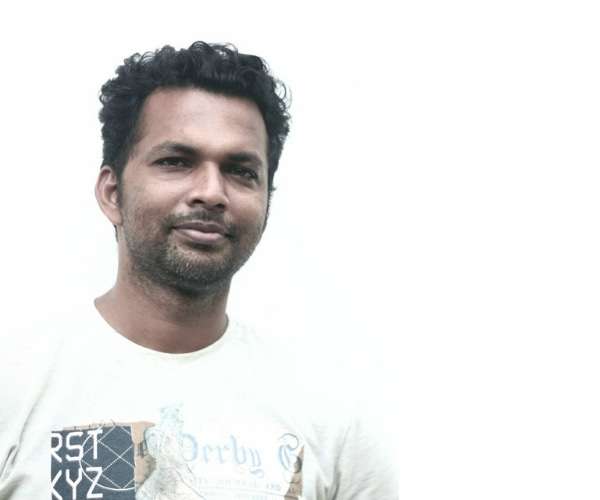 "The Exhibition of Rupaneethan Pakkiarajah which concludes on the 28th of April was a sell-out and Paradise Road Galleries is privileged to host these first Solo Exhibitions of these talented, gifted, sensitive artists and are proud that we have seen many a success story from our choice of artists. Pushpakanthan the brother of Rupaneethan from Batticaloa is now a Fulbright Scholar in the US, while Ali Kazim a Pakistani artist from Lahore had his first solo exhibition at Paradise Road Galleries in 2003 and is now an internationally acclaimed artist who has his work exhibited amongst collections of the Metropolitan Museum in NYC and the Victoria and Albert Museum UK, as well as amongst several important International Collections".
Shanth Fernando pledged to Deshamanya Geoffrey Bawa, when taking over his iconic office space, that he would run it to the credit of the late architect, and feels he has more than succeeded in fulfilling his promise, with the premises being the most visited location for more reasons than art. Nirmalavasan, whose creativity will be on show at the Paradise Road Galleries, was born in 1982 in a small village named, Pankudavely in Batticaloa. "During my childhood, together with my friends, we would spend many happy hours drawing on the sand in front of our homes. An old lady who lived near my home had a book of paintings which she allowed me to go through from time to time and wonder at and I would seize upon every opportunity to look through this wondrous book. As a result of the inspiration, I gained from this book I started to paint and collect paintings. My father too was most supportive and would proudly display my drawings to relatives and friends. When they in turn introduced me to others, they would say this is my sister's son or brother's son and he is an artist! Thus began my career and my passion. It gave me a great deal of satisfaction to be recognized as an artist and spurred me on to achieve my dreams and ambitions.
When Nirmalavasan was doing his advanced level at St Michael's College Batticaloa in 2001, his paintings were
selected for a solo painting exhibition. "A vast number of visitors came for my exhibition and showered blessings on me. Articles on me were published in the newspapers and my exhibition was telecast on national television too. This exhibition triggered many emotions within me and I would devote a great deal of my time daily to my art; I wanted to be another Picasso! The artist Vasuki and dramatist Jeyashangar had many paintings adorning the walls of their homes. Jeyashangar would give me great books of paintings to read and study and I gained much knowledge from them, while the friendship and camaraderie I enjoyed with these great artists induced me to join the "Third Eye", a local knowledge, skills and activist group and take forward painting activism."
In 2003 while at a painting exhibition and training camp jointly held by Theertha and Vibhavi, a desire arose within
Nirmalavasan to experiment with more contemporary painting trends. Chandra Guptha Thenuwara was one of those he remembers fondly, as being amongst the artists who conducted the training camp. In 2004, Nirmalavasan set off to Jaffna for his higher studies and there had the opportunity of meeting several artists of repute. "My friendship with Thamotharampillai Sanaathanan was significant. His home was my centre of learning and I learnt so much there. I learnt to depict the sensibilities and feelings of people, the relationship between myself and colours, the different surfaces and themes through which I could paint and express my feelings and the world
around me. It helped me refresh my mind, refine myself and rid myself of tensions".
Nirmalavasan went on to become a teacher and he grew to love his profession so much so that it is now a calling. "I love to teach and I am happy when I'm teaching. Growing together, alongside children makes me happy, while
shaping the way they think, teaching them to appreciate nature, introducing the idea of gender equality through my
way of teaching; all this is very satisfying to me." Nirmalavasan says his art is related to remembrance, peacemaking, creating awareness that violence is abhorrent, and above all to make art a channel of healing and redemption.
Kamalavasuki, who founded Artists for Nonviolent Living, together with Nirmalavasan who served as co-founder,
has staged eight group art exhibitions since 2017, showcasing the work of artists in the North and the East.
Nirmalavasan himself has been holding solo exhibitions since 2001 and has held over 10 solo exhibitions in the
North and East, with this being his maiden solo exhibition in Colombo. He has also participated in group shows
around Sri Lanka and abroad.
His maiden exhibition in Colombo is titled 'Reminiscence'. "Pankudaveli, a village in Batticaloa along the Eastern
coast of Sri Lanka, is the place of my childhood. It is surrounded by lagoons, forests of mangroves and stretches of
paddy fields. It is filled with happiness and is exquisitely beautiful. My friends and I would draw and paint with
charcoal, kurumpeddy (immature coconut fruits) and maampinchu (baby mangoes / tender green mangoes) on the
walls of our house and on the white sands in our courtyard. Appa would demonstrate his drawings while narrating
stories to us. Through him, we became familiar with biblical stories and these tales became very dear to us. We grew up hearing stories of war, as well as becoming victims ourselves in the war that went on between the liberation fighters, the Sri Lankan Army and the Indian Army (IPKF). Displacements, arrests and killings were regular happenings. The village started to lose its beauty and happiness. We vacated our village but war existed everywhere.
Like a smell, a song, a melody or an event that brings back memories of our past, the usage of words among
Christians such as Good Shepherd, Jonah, Holy Family, the Red Sea, Tabitha, Veronica, Resurrection, Eve, Shiphara Puah, Maximillian Golpe, Babel, Garden of Eden, Noah, Gethsemane, Agony in the Garden, Zacchaeus, Baptism, Exodus, Daniel, Bartholomew, all these terms, names and images have ignited my creativity and thus been transferred and expressed in my paintings." Nirmalavasan says that images of fish and dried fish are integrated into his paintings as symbols of human beings and the creativity and ideology of his current work reflects his childhood memories.
Artist Nirmalavasan will exhibit his work at the Paradise Road Galleries, commencing Thursday 29 April - 2 June 2021, with a Preview on the 29th
By Anusha David