A devoted wife, a doting mom of twins, a business owner and now a published author, Dhineli De Zilwa, inspired by the drawings of her son Devin, penned an educational book, "Tommy and Toto" a lovely story about 2 turtles that has a deep message not just for kids but for adults as well. While purchasing this book helps a worthy cause, Dhineli explains what inspired her to write this book and the cause that you will be supporting by purchasing it.
Q

Tell us a bit about yourself and your family.
My name is Dhineli aka D. Mum to twin boys who recently turned 3. We used to live in Melbourne all our adult life and we moved to Sri Lanka in 2017 when the boys were born just to be closer to family.
Q

What inspired you to write Tommy and Toto?
We had come back from a short holiday in Kosgoda and the boys were wanting to paint. So out came the paints and they were doing their thing. I asked my son Devin what he was painting because suddenly there was a lot of green on paper and I thought he had just ruined his perfectly good painting. He finished up and said look, it's the turtles in the rain at the turtle hospital.
I was in awe! He was only 3 at the time and his abstract painting was just amazing! If he hadn't drawn that painting none of this would have happened. We spoke more about the turtles and what was on his mind because I wanted to use that as inspiration for my book.
Q

What made Galbokka Turtle hatchery stand apart from other turtle conservation centres?
We have visited many hatcheries in Sri Lanka! The boys love turtles. So if we are ever passing one we would stop. But this place was by far the best hatchery we had visited in the last 3 years.
It was clean, there was no entry fee, the staff were friendly, they were passionate, they took their time to explain about the different varieties of turtles, their conservation process, the repercussions of pollution etc. The boys wanted to go back and forth to see the turtles and they were so patient with them and repeated themselves over and over again till the boys understood.
It's an amazing place and if you are looking to get involved in sea turtle conservation or just want to visit it's a place you must visit.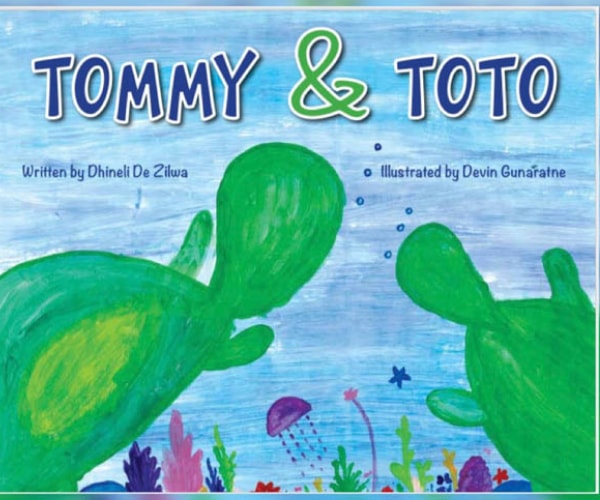 Q

Is this book only for children? What lessons can adults take away from it?
The book is for everyone, yes the story is simple and the illustrations are done by a young child but the message is for everyone. The book talks about the harmful effects of ocean pollution on marine life and sea turtles. Adults are the largest users of polythene and plastic and they are the ones who make the decision to use these pollutants in their everyday life.
These are lessons that adults need to learn and lessons that need to be taught to young children.
Q

Is there a message that you would like to tell potential enthusiasts about the book and about the message you hope to deliver?
The book has an important message about the use of polythene and plastic and the harmful effects of ocean pollution. Please purchase the book! Educate your young children about these repercussions in the form of a lovely story about turtles. With every book sold a contribution is being made to the Galbokka Sea Turtle Hatchery for Sea Turtle Conservation, Rehabilitation and Research. Now is when they need your support the most.