The New Jerusalem - an evening of music to celebrate the 50th Anniversary of the Cathedral of Christ the Living Saviour is presented by the De Lanerolle Brothers with Neranjan De Silva at the Organ and with the choir OKTAVE. It will take place on Friday the 10th of February 2023 at 7 pm at the Cathedral - Bauddhaloka Mawatha.
'All are welcome and invited - invitations have been printed to help with the logistics of making sure each person holding an invite has a seat. Also, the back of the invite has the QR code to download the hymns for the day, and if the invitation is verified at the venue it entails some benefits and offers," said Ishan.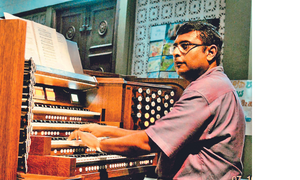 Pictured: Neranjan De Silva
Rohan added that he is delighted to be working with Maestro Neranjan De Silva at the organ and Neranjan's wonderful choir 'OKTAVE.' Neranjan De Silva said that he speaks with his hands and feet and is looking forward to the programme on the 10th. Invitations are available free of charge at the Cathedral office & The Commons Coffee House.
Friday the 10th of February 2023 at 7pm at the Cathedral Bauddhaloka Mawatha