Local artist Dhammika Gunasekera presents a symphony of colour, shape and untethered imagination in his first art exhibition, taking place from 8 to 23 January (including all public holidays) from 10 am - 4.30 pm, at Dienge, 54 Kitulwatte Rd, Colombo 8.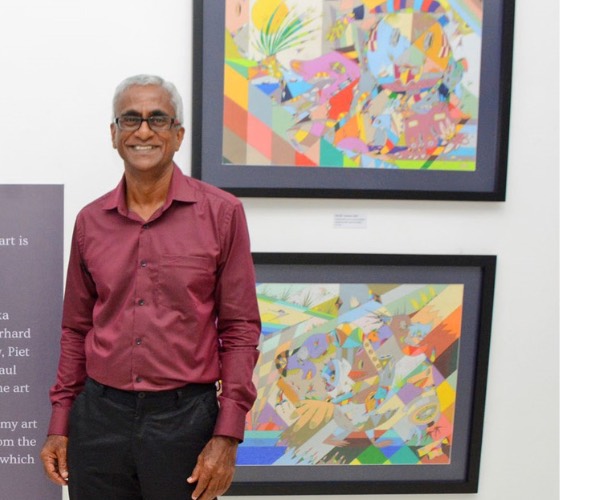 Pictured: Dhammika Gunasekera
Dhammika's passion for creating art began as recently as 2016, initially as a fun pastime, before blossoming into a full-time pursuit. The important influences and moments in Dhammika's life can be seen coursing through the precise pen strokes and vibrant colours. These range from the cartoon-like wonder of comics such as Tintin and Asterix to the tranquil harmonies of Senaka Senanayake. The precision in his art no doubt has origins in his training as a Civil Engineer, while his bold abstract expressions are a subtle nod to Kandinsky, Klee and Picasso.
The more you look at his art, the more meaning you can draw from it, as the bright, colourful structures give way to harmony, surrealism and joy. "The basic principle in my art is to harmonise the colours and shapes" says Dhammika, and this simple yet important concept forms the cornerstone of his art. From rich, vibrant landscapes bursting with life to subtle explorations of shape and colour, Dhammika's distinct yet diverse style can be seen in every piece.
"I am influenced by the writings and theories of Kandinsky and of the art movements of purism and cubism", says Dhammika. "For instance, Kandinsky says that jagged/triangular shapes are the most visually striking, while oval/round shapes are the least striking. Furthermore, he outlines the different visual impacts of the primary colours and placement of shapes on the canvas.
These theories are at the back of my mind while I draw, although it is not something I consciously adhere to." The pieces are visually striking, unusual, and probably unlike any art you have ever seen. To create his art, Dhammika mainly uses lightfast coloured pencils on watercolour paper and draws the outline with either pencil or pigment ink pen. He explains that he prefers this media over brushes, stating, "Since I like to draw neat and detailed art, I find the colour application using colour pencils allows more precise expression. I suppose I find the neat and calming nature of my work to be refreshing as I tend not to be organised in other aspects of my life!" Artistic expression in its purest form, Dhammika creates a surreal dreamscape full of character in his exhibition, with an impressive, diverse collection of pieces to enjoy.