Since debuting their first-ever original theatre production in 2014, Sri Theatre Company has gone on to stage a number of original plays, providing avid theatre-goers in the hill capital the opportunity to experience quality English Theatre. Sri Theatre Company has staged four original theatre productions including ''21st Century Monk', 'Anarchy', 'To be or Knot to be', 'It's all amidst' and are now prepping for their latest - 'Once Upon A Family'.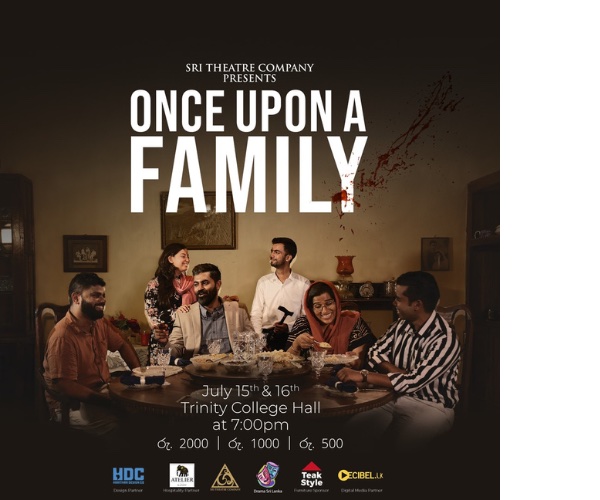 "The play touches upon various social aspects of politics, trade, and protecting family values" Aslam Marikkar, playwright and Director of Once Upon a Family shared. "This is an original play that was conceptualized during the pandemic lockdown. The actors of this play were given the script during the second year of the pandemic and have been gradually working their way to taking part in practices in person".
Speaking of the cast, Marikkar added "we have a founder member of Sri Theatre Company that is Anaz Haniffa who is joined by Fazmina Imamudeen, Tobias Vishvabaratha, Hemal Muscreen, Ashfaq Thowfeek, Tiara Beneragama, and Bhagya Senadhira who are acting key roles, while also featuring newcomers to theatre who are joining in portraying the minor characters". Marikkar hopes that the "bond that is shared among the family, and their integrity being challenged by external events and incidents that unfold throughout the play" will resonate with the audience.
Tell me a little bit about the character you're playing?
How did you prepare for your role? What was the process and the experience like?
What was the most challenging and most fun aspect of playing your character?
If you could play another character from this play, who would it be and why?

Fazmina Imamudeen (Lead female protagonist)
1. A strong woman who cares deeply about her family. Her love for them is fierce, yet that very nature makes her rather vulnerable and helpless at times. That's how I see Inaya. Although God-fearing, she loves her unorthodox husband whom she believes will be the saviour of her family no matter what.
2. While reading the script, I was drawn to Inaya's character right away. Observing old married Muslim women and talking to my mother about her relationship with my father helped me improve my body language and mannerisms. I also studied characters in movies. When I was trying to figure out how to communicate my sorrow, I looked at a scene from a Korean drama. At home, I can be myself and pretend to be Inaya to my daughters' amusement and they'd give me constructive criticism as well. I consider the cast I'm working with a second family. There are times, we'd brainstorm ideas on how we may better embody the character we're trying to portray. For the most part, Aslam has left room for creativity in how we approach each character. He's also been open to providing input and making adjustments as we go along.
3. My inability to stop chuckling during key scenes to which everyone would respond with a sense of humour. Anaz Haniffa would take it upon himself to be the spouse he is to Inaya and tell her, "Inaya, go start again". One of the most difficult aspects of the play is learning lines while still juggling other commitments. But the difficulties become opportunities for growth when you have a cast and director as supportive as this one. In Dom Toretto's jargon - We are not a cast. We are a family. (ha ha)
4. Well I think, I wouldn't want to swap characters with others. The way I see it, the performers are a wonderful fit for their characters; it's almost as if the roles were designed with them in mind. Because of this, I wouldn't want to switch places with any of the cast members' characters.
Anaz Haniffa (lead male protagonist)
1 A man with a will to win at all cost, consumed by rivalries outside, lost being hell-bent by his ideologies within the family. He tries to strike the balance between family and business.
2Input from the whole team has helped immensely with moulding the character. It is still evolving and I'm excited to see where it goes.
3 Memorising lines hasn't been a cakewalk. The most fun aspect was getting to work with such an amazing cast. A bunch of genuinely nice people having fun doing what they love.
4 David. Light-hearted character and not as many lines to learn.
Tobias Vishvabaratha (Antagonist)
1 The ideal state beaurocrat, i.e. in the Sri Lankan context, a political stooge, forever eager to take advantage of any open opportunity to his benefit.
2 The entire cast, led by the director carved and crafted the role and I eased into it, a collective effort.
3 Learning lines while being totally immersed in my other daily engagements was a challenge but the discussions on the WhatsApp group created for the drama were always entertaining.
4 May be the role of Com Leader, feel more comfortable in a Sinhala speaking role.
Bhagya Senadhira (eldest son)
1 I have the joy of playing two completely different characters on stage which is an opportunity any actor would salivate at especially being one of the last few additions to the cast.
2. Aslam's style allows a lot of creative freedom to get deep into character and explore those depths, with focused direction to fine-tune the tinier details. That combined with intensive discussions with my fellow actors helped to bring the scenes to life.
3 The most challenging aspect would be fitting into a cast that had already been together for months developing chemistry and figuring out how I could optimize my role within the show to contribute as much to its success and bring the best out of all my fellow actors.
4 Maybe the role of Warna, being 25, the idea of transforming into a much older male character is an intriguing challenge.
Ashfaq Thowfeek (accountant)
1 Playing the character of Ibrahim is very interesting in itself. This family accountant is not a family member yet is a strong and an essential part of the family. Always there to help the family unconditionally as he calls them family and vice versa. Many twists in his connection to the family.
2. Since I'm an amateur at theatre drama, the crew helped me through a lot. They always helped me identify and develop where it's necessary. Aslam's style of direction was to let me explore and freestyle in the practice sessions. He wanted me to understand the depth of every situation to get the right expression needed. He always made sure either he or another team member stepped in to help me when I hit dead ends.
3 The most challenging part is to understand theatre drama in itself entirely in this short span of time. And the most fun part is that I actually come from an accounting background and my dialogues easily resonated with my daily work. It is something that gave me a push to this role.
4 Warnakulasooriya. Although the character has a lot of screen time which scares me, I always like an extraordinary evil character. He also has lines in both English and Sinhala which I think is very interesting.
Tiara Beneragama (daughter)
1 I play Sarah, the only daughter of the Suleiman family. Having been brought up with two other brothers that use their prestigious family name to live 'larger than life', Sarah has been made a strong independent lady, who would not remain silent but fight for what she believes in. Though she adores and loves her family, her feisty character doesn't allow her to easily forgive them if they do wrong.
2. I think that I tried to really relate to the character of Sarah to prepare for it. How she wants to escape that stereotypical role of a woman at a conservative time, but she has such a strong need to take care of and protect the family as well. It was a really enjoyable process because the play is set several decades earlier, and observing the dynamics of this family along with the societal issues they faced was just really interesting!
3 I think the biggest challenge was for me to break away from characters I've played before, which were more extravagant and fantastical. Since Sarah or the play, in general, is much more realistic and apt with real-life issues, the other actors and Aslam helped me play the character in a more natural, grounded way. What was really fun was honestly acting with everyone else! There would always be a sense of lightheartedness and encouragement; it is a great environment to be in!
4 I would love to play one of the coms actually! Though the number of Sinhala lines would drown me, I always loved the fact that they show sarcasm, anger, and confidence all together within such a short burst of the scene!
Once Upon a Family will go on boards at the Trinity College Hall at 7 pm on the 15th and 16th of July. Tickets priced Rs 2000, Rs 1000, and Rs 500 can be reserved and purchased at the entrance on show day. Interested theatre goers can also message the cast on their socials.
Pic courtesy Sri Theatre Company