On Wednesday night (12th) the Symphony Orchestra of Sri Lanka presented a classical music concert featuring internationally renowned piano virtuoso Shani Diluka, performing with two of Sri Lanka's outstanding musicians, Dushyanthi Perera and Nilupul Silva.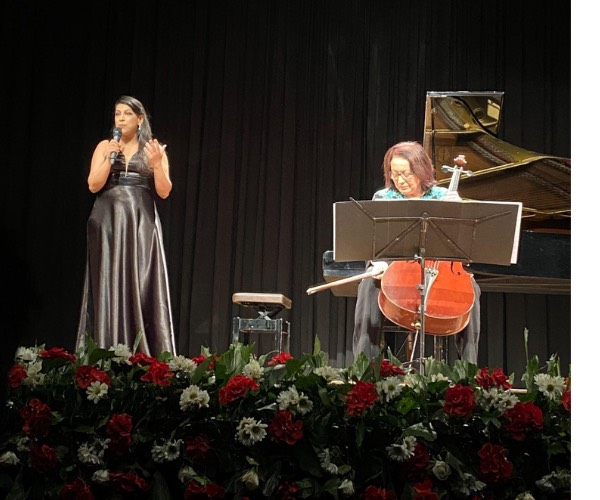 Hailed by Piano Magazine as "one of the greatest of her generation," Shani is no stranger to Sri Lankan audiences performing concerts both nationally and internationally throughout her career. She is also the recipient of Knighthoods from France and Monaco for her contributions to the Arts.
The concert which took place at the Lionel Wendt Theatre opened up with Shani's solo piano tribute for French composer Claude Debussy with one of his best known piano pieces, Clair de lune. Written in 1890,'Clair de lune' meaning 'moonlight' takes its title from an atmospheric poem by the French poet Paul Verlaine which depicts the soul as somewhere full of music 'in a minor key' where birds are inspired to sing by the 'sad and beautiful' light of the moon.
Shani followed up her performance with a similar tribute to Norwegian composer Edward Greig with 5 volumes of his solo piano collection titled Lyric Pieces, Op. 12. Her first show ended with Debussy's L'isle Joyeuse, L. 106 (The Joyful Island).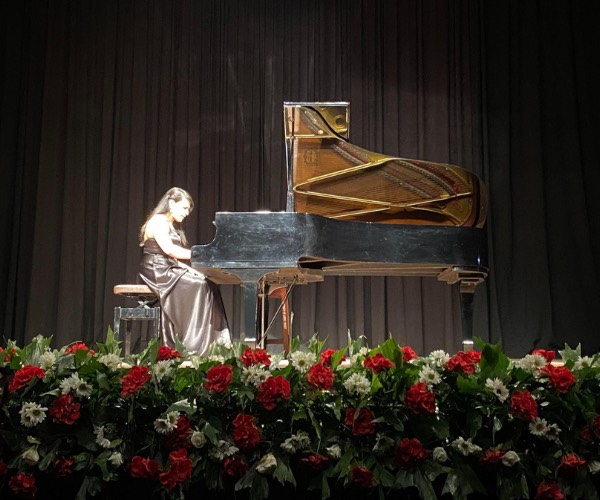 Joining Shani at the stage for the next performance was Dushyanthi Perera together with her mastery at the Cello. The duo performed 3 fantasy pieces of Robert Schumann's Fantasiestücke, Op. 73 and a single movement piece titled Land Le Grand Tango, composed by Argentine composer Astor Piazzolla.
The three individual pieces chumann's Fantasiestücke, Op. 73 were: Zart und mit Ausdruck (Tender and with expression), Lebhaft, leicht (Lively, light) and Rasch und mit Feuer (Quick and with fire).
The poetic title of the fantasy pieces promotes the fundamental Romantic notion that creative expression is the product of the artiste's unrestricted imagination. Each piece conveys a different mood, while the instruments form a harmonically unified whole. Bringing full justice for the masterpiece were Shani and Dushyanthi with their perfect cohesion and dexterity.
After a brief intermission, Shani reuniting with Dushyanthi (cello) and Nilupul Siva (violin) returned to the stage to perform one of the best works of Czech composer Antonín Leopold Dvorák titled The Piano Trio No. 4 in E minor, Op. 90 (also called Dumky trio from the subtitle Dumky). Enchanting the audience with their coherence and mastery were the performing trio, receiving a roaring applause upon the conclusion of the show. Shani expressed her gratitude to the Chamber Music Society, Shalini, Dushyanthi, Silva and the organisers with an additional mind-blowing performance of 'Mad Rush' composed by American composer Philip Glass.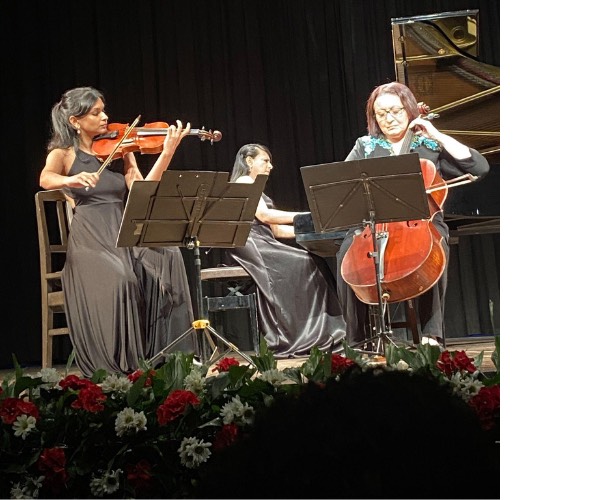 Tiani Sahabandu (SOSL member): An absolutely brilliant and majestic performance. Enjoyed the entire show thoroughly.
Mithrani Smith (music teacher): Shani's performance was every bit enriching, with her beautiful expression, her accompaniment of fellow musicians and her powerful presentation of universal music.
Dr. Paikiasothy Saravanamuttu: An absolutely brilliant and majestic performance. Enjoyed the entire show thoroughly.
Sanduni: Frankly This was a very great first experience. Was truly enamored by Shani's passion towards her craft and performance. Hoping to watch many more of her performances.
By Nuzla Rizkiya