Making her mark on the Australian MasterChef series 13, contestant Minoli De Silva won the hearts of the audience when she showcased her flair for Sri Lankan cuisine. She kept the flag flying for Sri Lanka but sadly, in the fourth episode, she was voted out.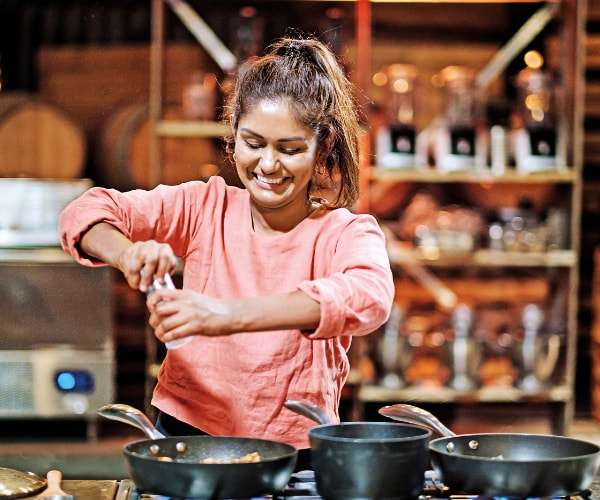 In an exclusive interview with DM Life via Zoom, Minoli said that cooking had been a passion for her since she was a little girl. Born in Peradeniya, Minoli left Sri Lanka as a young child of six years with memories of her grandmother's cooking remaining indelible in her memory.
Recounting her earliest memories of food, Minoli explains how as a young child she would often go to the neighbouring Kade to get various items of food from Maalu Paan to little sweets. These errant visits used to get her into trouble with her parents but the lure of trying food from the kade could not keep her away.
Explaining her foray into cooking Minoli says "I started cooking with amma in her kitchen when I was 8 years old. I was really curious about Australian and Sri Lankan food at that time and that is what prompted me to want to learn more about cooking."
"I cook to feed myself and nourish myself. In addition to that, I consider it a creative outlet for me. I cook to de-stress also" she says as she explains her relationship with cooking.
Tragedy struck when Minoli, a Chemical Engineer was diagnosed with stage 3 breast cancer in 2017. For approximately one year she lost her sense of taste and for one who loves cooking with a passion, it was a blow which she dealt with great aplomb. "I had to be quite pragmatic as there was nothing much I could do about what was happening in my body during chemotherapy. I had to figure out how I could still enjoy food during that time and not have a bad association with it. I made changes eating fresher food and eating things I love to overcome it" she adds.
After having followed the MasterChef series for 12 years Minoli says she finds the whole experience "surreal." She adds that she wanted to use her time on the show to showcase how great Sri Lankan cuisine is.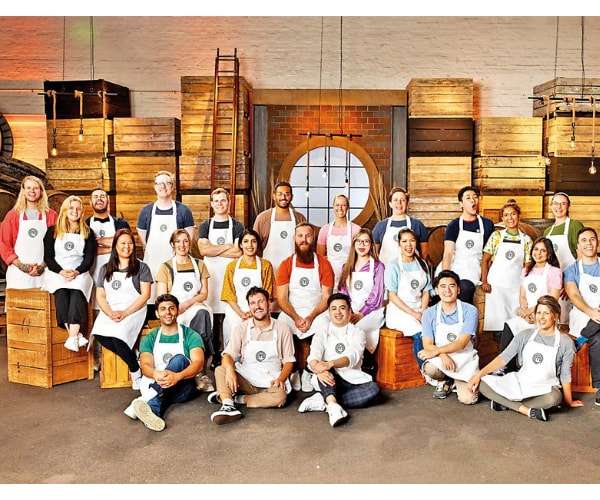 In the first episode Minoli simply wowed the judges when she cooked up a veritable smorgasbord of Sri Lankan cuisine which comprised a trio of curries which included chicken, brinjal and kiwi served alongside a pol sambol and tomato and onion salad with fluffy rice. The judges were bowled over the fusion of tastes and described her culinary creations as "perfect" "delicious" and "great depth of flavour."
MasterChef fans the world over were rooting for Minoli and many felt that she would make it to the final round. However, it was in the fourth episode when the contestants were tasked with cooking a dish that would fit on the menus of returning stars Poh, Callum and Reynold, that Minoli failed to pass with her creation. Her Callum Hann inspired menu of sesame-crusted steak with a daikon yuzu dressing and pickled radish according to the judges Melissa Leong, Andy Allen and Jock Zonfrillo and guest judge Callum Hann "had too many different flavours to get her through to the next round" and thus failed to meet the criteria required to appear on Callum's Kitchen menu.
With the benefit of hindsight, Minoli wishes she had created something else which would have wowed the judges. Minoli attributes her lack of judgement was due to feeling star-struck by the MasterChef guests and iconic contestants Callum Hann, Poh Ling Yeow, and Reynold Poer. "Instead of focusing on the main components of the cooking, I made the mistake of getting lost in the excitement" she added.
After her appearance on MasterChef, many doors have opened for Minoli one being an opportunity to cook alongside Chef Jimmy Shu. For Minoli who is now based in Darwin to cook with fellow Darwinian Jimmy at one of his restaurants is a great opportunity. Jimmy is also of Sri Lankan origin and is a well respected and famous chef in Australia who owned over ten restaurants in Australia.
In response to my question of what next? Minoli says that she would also consider the options of creating her own cookbook with "simple recipes" as that is an idea she has been toying with for a while or perhaps even launching a YouTube channel so that she can impart her knowledge of cooking.