Hailing from Dickoya, a small town upcountry, Krish Manoj grew up with big dreams. Today, he's a musician who has collaborated with local and international artistes, was part of the official song of Jaffna Kings for the LPL and, more recently, ventured into the field of acting. Fuelled by passion and talent, Krish Manoj's career is on an upward trajectory, and he shows no signs of slowing down. The Daily Mirror Life recently caught up with the talented youngster to talk about music, the many projects lined up, his acting career and more.
Q How did your journey in music begin?
My passion for music started when my dad bought me a cassette walkman player and my sister and I used it to listen to and record random songs. My sister used to sing and record more so I was under the impression that it would be a shame if I don't sing and record too. Ever since that, I started singing randomly. Little did I know back then that my sister was not serious about it and she wasn't good at singing (jokes) but I took it very seriously.
Q What are some of the most memorable songs that have special significance to you?
I would say the song 'Apple Penne Nee Yaaro', a Tamil song that's very close to my heart for a very special reason. I was 11 and unexpectedly had to sing a song during an event. I sang with my eyes closed and was expecting laughs and humiliation after the performance. But the entire crowd appreciated and encouraged me. That's when I decided I want to become an artiste one day.
Q The music industry in the country is very saturated. How do you make sure you stand out?
This is one of the major reasons why I wanted to break a few barriers and sing/rap in Sinhala as well. I see every opportunity from a different perspective and try to benefit from it not just for myself but for my band and fellow musicians as well in the Tamil industry. Collaborating with different musicians is a way to reach out to different markets. I also work on different genres and try not to stick with one particular style of music or singing. If you see me rap in my latest release, the next song will be totally different.
Q As an artiste, what were the biggest challenges you faced in the field?
I would say being a Tamil singer not just myself but many Tamil artistes face this issue where we have very little scope for Tamil music in Sri Lanka. This has always been a massive challenge as the Tamil audience listens to South Indian songs and that industry has a very long history as well. Having said that, there are a good number of changes that have happened in the Tamil Sri Lankan Independent industry after the progression of social media around the world. Personally for me as an artiste I like to try out recording in different languages. To memorize and mime/perform the Sinhala lyrics was a bit challenging and I am trying to overcome that hurdle too.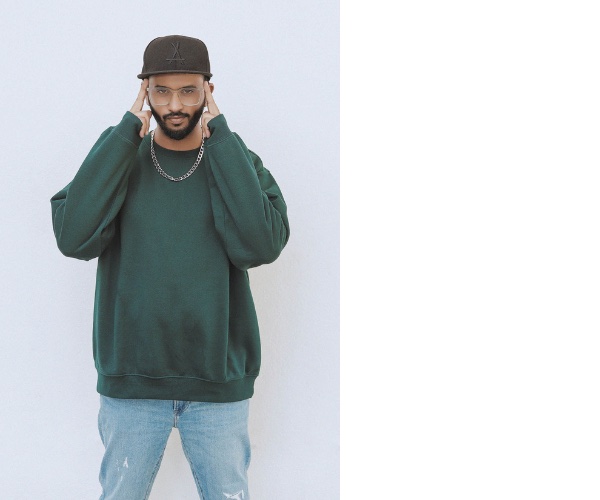 Q You're a part of the band Tea Kada Pasanga formed by ADK.
ADK and I had a discussion to form a band and it was his idea. We wanted to form a band with a couple of singers, rappers and songwriters. We don't have many independent Tamil bands in our country that produce original music and content. It has always been a dream for me to work with a strong set of individuals to bring out the best. That's how Tea Kada Pasanga was created and we have released over 13 songs.
Q You were a part of the official song of Jaffna Kings in the LPL.
This was one amazing project and it had singers from both Sinhala and Tamil industries. Cricket has a very special place in my heart and it has taught me so many things. To be a part of an official song of the country's leading Cricket league felt really good. Thanks to my friend Chamath Sangeeth. We hardly had a couple of days to finish both the audio and video production of the song and yet we managed to complete the entire project on time.
Q You have collaborated with many local and Indian artistes. How was that experience?
The collaborations with ADK, and Iraj were a dream coming true moment. I recorded and performed 4 songs for Iraj and the song 'Aaraadhanaa' ranked as the Best Tamil Independent song of 2018 on a leading radio station. I have also collaborated with Indian playback singer Shweta Mohan. Recently I did a couple more songs with ADK.
Q You also had the opportunity to submit a demo to renowned Indian music director Yuvan Shankar Raja. How did that opportunity come about?
I never saw this coming to be honest. I have been trying to reach out to him for more than 6 years but we know it's not easy to reach out to him. He was on a private visit to Sri Lanka with his family. My friend and our band member Nirosh Vijay's wife knew a person who was close to Yuvan Sir. We contacted him and fortunately got an appointment to meet him. Yuvan Sir is a man of few words. Very humble and down to earth. He was even kind enough to let us submit our demos to his personal number. We are more than excited and hoping for something positive to happen in the future.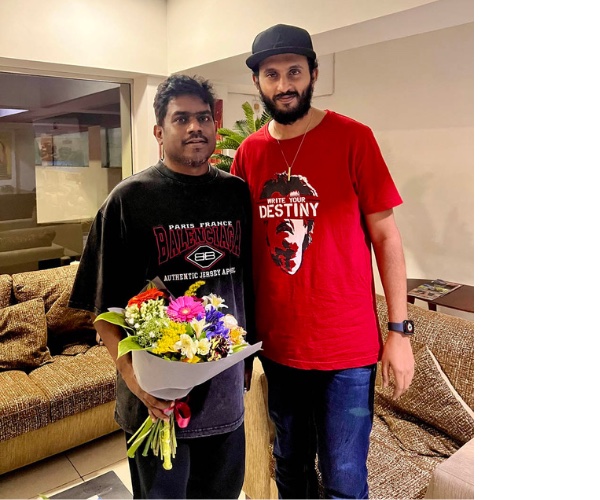 Q You recently started your acting career. What made you take that on?
I always believe acting is a very tough job yet that's something I have always wanted to try out. I am a big fan of Tamil movies in particular and was more than willing to try something out if it came my way.
Q Tell us about your acting role in the recent project with ADK which is a dark comedy.
ADK had an amazing script for a story that he wrote. We shot one particular dark comedy scene and released it online. It was received very well by the audience. My character goes as 'Speaker' who is the right hand (Like they say in Tamil movies) of Kutty (ADK). My role in the movie was extremely challenging as I had to munch Betel and also stammer while I talk as that was required from my character. The betel even ended up burning my mouth and throat and I even had difficulty drinking water for nearly a month. It was tough but I really enjoyed it. Now we are planning on shooting the full movie in the near future. Apart from that I also acted in a recent hit music video 'Thuppuran'.
Q Who influenced you the most?
I am a huge fan of Ilaiyaraja Sir. His music has given me so much to enjoy and learn from. Apart from that I even learned from many other musicians and singers around the world. Even as a newcomer if I see something, that inspires me.
Q What's next for you?
I have one of my favourite projects called 'Pona Pongadi' lined up for an upcoming release. It falls into the folk genre and this project is very close to my heart. Apart from that I also have a few more collaborations and solos to be released this year. I work very closely with my friend Lucky Lakmina who is also a musician and we have a couple of projects coming up as well. Along with that our band has plans to release songs back to back this year.
Spotify: https://spoti.fi/3YO164Bv
YouTube: https://www.youtube.com/@TeaKadaPasanga
YouTube: https://www.youtube.com/@krishmanoj (New Channel)
Facebook: https://www.facebook.com/krishmanojofficial
Instagram: https://www.instagram.com/krishmanoj