'Intricate Expressions' an exhibition by Ilham Sanoon is set to take place at Gallery Four Life, No 25, Botheju Road, Colombo 5 on the 23rd and 24th of September 2023.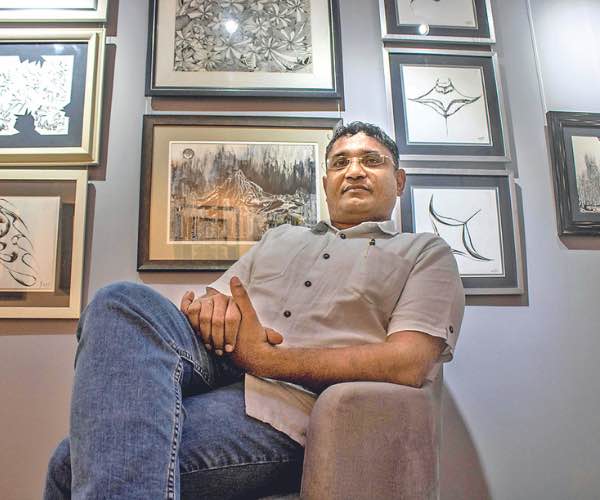 Q WHY DID YOU GIVE YOUR EXHIBITION THE NAME INTRICATE EXPRESSIONS? I possess a deep-rooted affinity for intricacy, often immersing myself in the crafting of highly detailed and complex creations. Through this, I give life to numerous profound and exquisite artworks. The pursuit of intricacy has been a guiding force, nurturing my capacity for unwavering focus and patience.
Q BRIEFLY DESCRIBE THE EXHIBITION. This exhibition is extremely significant to me, as it showcases a culmination of four years worth of dedication and hard work. Typically, I curate one solo exhibition annually. However, owing to the challenges posed by circumstances like the COVID-19 pandemic and other adversities that impacted Sri Lanka from late 2019 to 2022, I am now preparing to showcase an extensive array of paintings, encompassing a selection of truly exceptional masterpieces.
Q YOUR TAKING UP ART WAS SOMETHING THAT WAS NOT PLANNED BUT RATHER HAPPENED BY CHANCE. CAN YOU TELL US ABOUT IT? Indeed, I refer to myself as an 'Accidental Artist.' My journey, previously guided by a stream of knowledge and exposure to Science and Information Technology, saw me pursuing science both in college and at the university level. Hence, I can confidently state that I am not an academic in the realm of Art. The inception of my artistic voyage dates back to 2016, a beautiful day when I impulsively seized a crumpled piece of paper and commenced scribbling my thoughts. Unknown to me, this simple act led to the creation of art.
This marked my inaugural creation, with strokes, lines, and dots harmoniously crafting an image reminiscent of a deer's spotted skin. The exhilaration of this discovery prompted me to dive into doodling, creating intricate patterns and designs. Someone profoundly special in my life observed one of my drawings and pointed out that I held a concealed treasury of impressions within my mind, urging me to unveil them.
In the midst of this journey, I crossed paths with my mentor, the late Mr. Laksiri Fonseka, who was the Managing Director of The Plâté Loft Gallery. Through his guidance, I came to understand the radiant facet of being an artist. Today, I attribute much of my success to the wisdom imparted by this exceptional individual. Consequently, I find myself at crossroads, prepared to alter the trajectory of my lifelong profession in favour of the realm of art, where I've recognized my true calling.
Q TELL US ABOUT THE ESTABLISHING OF YOUR ART GALLERY WHICH WAS PERHAPS ONE OF THE HIGHLIGHTS OF YOUR INVOLVEMENT IN ART. Upon completing each of my artistic endeavours, a rush of anticipation compels me to have it meticulously framed using the finest materials. The value I place on my work is profound, which is why I make substantial and thoughtful investments to ensure my creations receive the optimal presentation they deserve. Over time, this practice led me to construct a dedicated wall at home, yet as my collection grew, this space was soon exhausted.
Consequently, I took the entire collection to a generously proportioned room within my office premises. Within this room, four elongated and towering walls awaited, affording me ample room to display my pieces. This room evolved into a private gallery for my friends, colleagues, and clients. Their encouragement, coupled with the support of my family and closest friends, fuelled my determination to progress further. Bolstered by these affirmations, I orchestrated a shift of my company's operations to a significantly more spacious setting. Here, I dedicated a much larger space for my art gallery with all amenities. Today 'Blacklit Galleria' has earned its name and fame within a circle of truly inspiring clientele for black and white art.
Q WHAT DOES ART MEAN TO YOU? As previously discussed, this remarkably fulfilling life characterized by contentment and serenity is ushering in a shift in my priorities, propelling me to centre my attention more on the realm of art, a departure from the lifelong role I've held as an entrepreneur. When I translate the vibrant tapestry of my imagination onto paper, it's akin to a sensation of free fall. However, upon a closer inspection, I recognize that I am treading a path that mirrors a complex amalgamation of emotions, memories, circumstances, experiences, and exposures. These elements are artfully intertwined, manifesting in distinct and meaningful ways. In numerous paintings, the artistry captures the essence of nature, humanity, history, and stories, among other themes.
Furthermore, every painting, with the exception of mandalas, designs, and patterns, harbours its own concealed narratives. To facilitate the unravelling of these narratives, each artwork is accompanied by an introductory line, inviting viewers to engage with and recognize the fragments of the story carefully and deliberately embedded within these art pieces.
Q WHAT INSPIRES YOU TO PAINT AND WHO ARE THE ARTISTS YOU ADMIRE? My motivation to paint is fuelled by a diverse range of inspirations that stem from various origins. On a local level, I am particularly influenced by artists such as Karunasiri Wijesinghe and Kavan Balasooriya. Their unique perspectives and creative approaches have left a lasting impact on my artistic sensibilities. Similarly, on the global stage, the intricate and thought-provoking creations of M.C. Escher have a profound resonance with me. His ability to manipulate perspective and challenge visual conventions has shaped the way I perceive and engage with art. These artists collectively contribute to shaping my artistic journey and the direction of my own creative expression.
Q TELL US BRIEFLY ABOUT YOUR PREVIOUS EXHIBITIONS AND THE RESPONSE YOU GOT. In continuation with the aforementioned, this marks my fifth exhibition held in collaboration with renowned local art organizations. I've been honoured to secure a position as a featured artist at the Taipei Art Exhibition. Additionally, I've hosted four solo exhibitions at BLACKLIT GALLERIA, a creative space established in 2015. I've also had four exhibitions held in partnership with various entities such as World of Black & White at The Plâté Loft Gallery. As a significant milestone, my first international accomplishment was being selected for the Taipei Art Exhibition in Taiwan.
Q WHAT MEDIUM DO YOU USE TO PAINT? My primary medium is pen on paper, employing pigment ink and Isograph pens, as well as graphite and water-based graphite on high-quality sketch paper. Regardless of the initial medium, I always ensure that the result is imbued with the allure of meticulous dots and lines, a hallmark of my work. More recently, I've begun to experiment with the addition of white cement and occasionally spray paint. Furthermore, I've ventured into the realm of pen on canvas, often pushing the boundaries by using numerous pens in the process.
Q HOW DO BEING A SUCCESSFUL ENTREPRENEUR AND ARTIST GO HAND-IN-HAND? Managing a company founded in 1991 within the IT industry, and serving as the representative for a leading Asian-American organization holding the world's largest market share in IT hardware components and products for over two decades, marks a significant achievement. As I step into the third decade of my journey, I continue to uphold the principles and dedication that have propelled me through this remarkable trajectory.
TEXT Kshalini Nonis
PIX COURTESY: Ilham Sanoon