Saskia Fernando Gallery is pleased to present Impetus, an exhibition of early works by Jagath Weerasinghe. The exhibition presents a selection of works created from 1989 to the first half of the 1990s, created in the years preceding his 1992 Anxiety (Kansawa) show, that locate the themes and ideas that dominate the artist's three-decade-long career.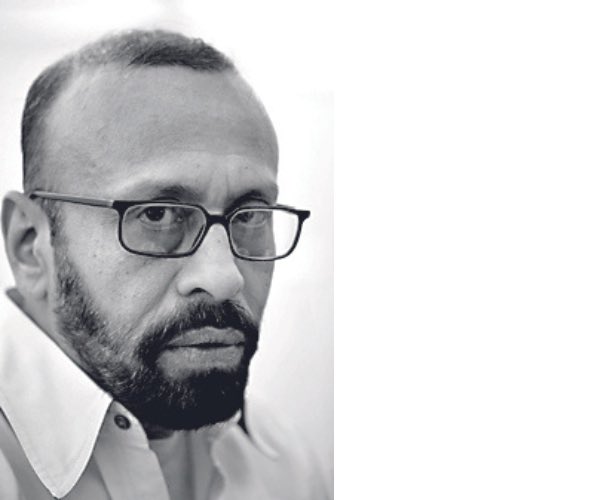 Impetus presents the artist's spontaneous and sporadic response to the brutal violence and tumultuous social and political events in Sri Lanka between 1983 and 1989. This reactionary outburst of intense emotions, particularly through the medium of the woodcut print, foreshadows the recurrent themes and streams of philosophical rumination that have defined his oeuvre in the last thirty-odd years.
The themes of decapitated heads, broken stupas and beastly human figures with contorted and elongated features become the visual devices that guide his intellectual inquiries and were first conceptualized in his years as a postgraduate student at the American University. These early works of the artist lay the ground for his subsequent contemplations and critique of Sri Lankan society and the breakdown of ethical and moral order in works such as Who Are You Soldier? and Shiva.
For this exhibition, Jagath Weerasinghe has revisited his work Shrine of the Innocents through a collaborative process with mothers of the disappeared from Kilinochchi.
The installation includes impressions of clenched fists on clay, decidedly left unburnt, to memorialize the missing children of these women who had willingly joined the Sri Lankan army. The first impressions were created as a part of the now demolished public monument Shrine of the Innocents built at Battaramulla in 1999, and also as a part of a nationally televised programme to commemorate the Embilipitiya Massacre.
Jagath Weerasinghe is pivotal to Sri Lankan contemporary art for his role in driving its development since the early 1990s, along with his contemporaries. His work has continuously examined and critiqued Sri Lankan anxieties, responding to collective attitudes—as he has identified them—taking themes such as nationhood, religion, identity, and confrontation for commentary. It has been marked by a frenzied, passionate expressiveness and a pervasive sense of horror and tragedy that displays an urgent concern for the human condition.
Impetus moves back and forth between the artist's thirty years of art production to trace the history and trajectories of his cathartic imagination presenting the starting point of many of the themes that Weerasinghe addresses in his work.
The exhibition is curated by Mariyam Begum and will be held at Saskia Fernando Gallery from 31 August to 30 September 2023.