Walking into Fabienne Francotte's workshop, our eyes immediately zoom in on a confusing arrangement of produce laid out on the table – a few dirty ginger roots, a handful of limes, a couple of garlic bulbs, and a hand of bananas. "We are drawing still life today!" informs Fabienne, the artist behind 'The Lookbook' workshop for Colomboscope 2022: Language is Migrant.
Belgium-born artist Fabienne Francotte's practice began over 17 years ago with a course in calligraphy, the learned technique of carefully intentional lines drawn with fluidity still very much evident in her work. Having exhibited her works extensively in Europe, she moved to Sri Lanka in 2016 and currently calls Colombo her home; engaging with communities across different social strata through art workshops and art therapy while showcasing her own bodies of work at local galleries. With a background in the teaching of over 20 years back in Belgium, Fabienne is a natural instructor and her workshops are often in high demand – evidenced even at Colomboscope where The Lookbook workshop was well received by festival participants, some returning back on multiple days over the course of the festival to learn from her.
Our workshop begins with a tutorial on still life drawing. It's something she herself is still learning, Fabienne confesses while setting up to teach us the technique of this style of art. She opts for a branched and knotted ginger root as her model and firmly traces its outline on a white sheet of paper before observing it from afar to fill in the details. "The beauty of still-life drawing is that you can draw whatever you see when you look at it; the shades, the shapes, the colours" she says as she firmly presses the flat tip of her pencil to shade a part of her drawing before smudging it away with her thumb.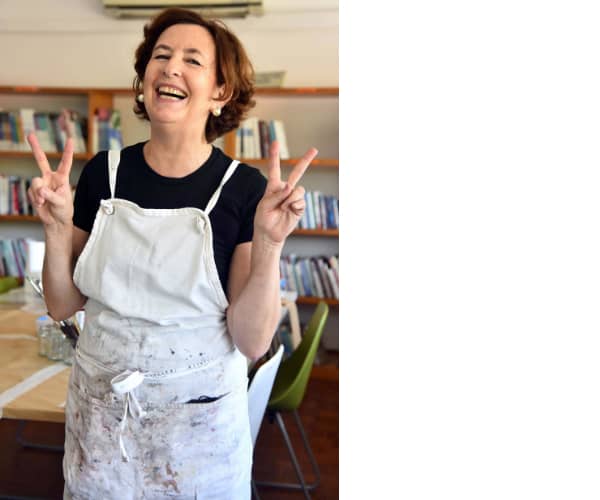 On her personalized instructions, we follow suit, pick our product of choice and get creative. For an hour, we trace outlines, shade dark corners, and colour boldly with oil pastels and paints. Fabienne flitters from person to person, gently instructing and guiding us on ways our work could be better. When the hour is up and Fabienne calls our slightly skewed drawing of a ginger root (that looks nothing like a ginger root), "organic" - we decide to take the compliment; she is the artist and expert after all.
During the next hour, we spend time doing something completely different. If still life was all about drawing whatever you saw, then her next style was to teach the opposite - abstract line drawing replicating a printed image. The goal, she says, is to try and draw exactly what you see. "It's interesting because no matter how much you will try to copy the exact image; it will never look exactly the same, it will carry your own individual mark on it." Despite our best efforts to copy every line and colour, every blank space in the copy of the original, on a side-by-side comparison of the two, we can only concede that Fabienne is correct - they are not the same.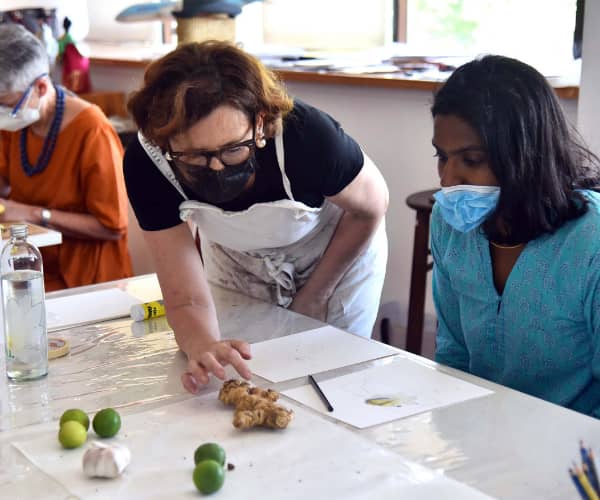 When we concluded the workshop, it was easy to say that it was one of our favourite events at Colomboscope 2022 - after all, what better place to create art than at an arts festival? Fabienne's practice concentrates on the encouragement of free self-expression through drawing, painting, and sculpture. She calls to drawing as thinking, building on portraiture and identity, and explores drawing as a method to articulate our collective experiences and emotions.
For Fabienne, drawing is thinking. It is the language she speaks. It is the language she taught us to speak.
pix by Kithsiri De Mel