The seventh edition of the interdisciplinary art festival Colomboscope returns in 2022 following its previous edition in 2019 under the theme 'Language is Migrant'. Colomboscope is a contemporary arts festival and creative platform that has progressively grown within the arts and cultural landscape of Colombo ever since its inception in 2013 and is now a much-awaited festival in the arts and creatives calendar of Sri Lanka known for its inclusivity of the many different forms of artistic expression.
This year's Colomboscope is curated by Anushka Rajendran, a Delhi based independent curator and writer whose other curatorial projects include the Kochi Muziris Biennale 2018 (India) and the Asian Art Biennale 2021 (Taiwan), together with Artistic Director Natasha Ginwala, associate curator at Gropius Bau, Berlin and the Co-Artistic Director of the 13th Gwangju Biennale in 2021.
In conversation with the Daily Mirror, Anushka and Natasha talk to us about the makings of Colomboscope 2022.
Q The 7th edition of Colomboscope has been in the works for a long time. How did it all come about?
Natasha: This edition of Colomboscope has been in the works for 2 years actually. We had this preliminary idea of what it would mean to bring together the subjects of 'language', 'belonging' and 'migration' for the 7th edition and that's when we invited Anushka Rajendran as the Festival Curator to join us. As we are currently one of the few platforms for arts engaging with broader contemporary practitioners across all artistic disciplines in South Asia, it was important for us to have a perspective beyond Sri Lanka. When we sent out our concept for this edition, we saw a lot of international interest from artistes across Europe and this year's line-up includes participating artistes from New Zealand and Australia as well. The 2 years of work we put into this edition helped us to have more dialogues with the artistes and commission a very wide range of work for Colomboscope 2022.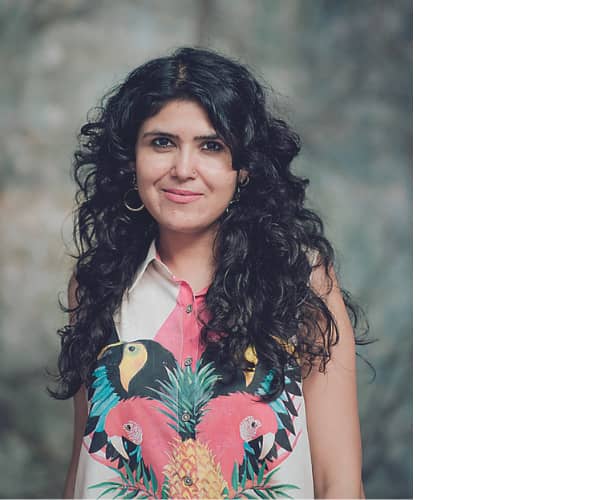 Pictured: Natasha
Q The theme for this edition of Colomboscope is 'Language is Migrant'. How is that explored through the festival?
The very words 'Language is migrant' is from poet-artiste Cecilia Vicuña whose work is noted for themes of language and memory. We shared this poem with the artistes and asked them to send their own interpretation of it – what does it say to you, how does it make you feel? Even though we started the edition with the poem as our concept, through our conversations with the artistes who eventually shared their personal stories and long-term research with us, we were able to expand and build on the idea of language being migrant. Ultimately, this edition explores how language relations form our selfhood and affinities that outweigh the bind of nationhood and citizenship. It explores how artistes compose, decipher and perform as vital travellers and storytellers of our times.
Q As Festival Curator and Artistic Director, what were your roles in putting together Colomboscope 2022?
Natasha: Both our roles intersected so it has all been about the dialogue. The art community in Sri Lanka is very small in the sense that we have a lot of artistes but very few organisers so it was interesting to have someone like Anushka engage with the festival, who not only knows the island but is from a younger generation as ultimately, Colomboscope is a platform for the younger generation of artistes to speak freely.
Anushka: The invitation to be the Festival Curator for the 7th Edition of Colomboscope was really special. I have spent time in Sri Lanka before and I have been working with Sri Lankan artistes consistently for a very long time. Working remotely for two years; conversation really became the anchoring point for everything as we were all in different places and yet, still working together. In a way, the transmissions, the conversations, and our dialogues with the artistes, only lent themselves to our theme - that language is an intergenerational carrier.
Pictured: Anushka
Q Interestingly, the pandemic has heightened the appreciation for the arts and artistic forms; where do you think Colomboscope 2022 stands in this shift?
Anushka: Art has always been important just in the way it creates dialogue and connects all of us. If you look at Colomboscope and other self-organised initiatives across the region; no one stopped working during the pandemic even when they didn't have access to physical spaces such as studios and exhibition spaces. We all continued, invented and found new ways to work and communicate together to sustain cultural conversation and that, as I see it, is an educator of how much the arts are needed now more than ever.
Q This year's edition boasts an incredible line-up of events and exhibitions. What are you excited for?
Natasha : This edition of Colomboscope is spread over 6 venues across Colombo and we are very, very excited for the line-up. We are opening with The Tamilisation of Ahilan Ratnamohan, which is a performative script he has written with his mother in the process of learning Tamil for the first time and that is something to look out for.