Today I speak to the queen of the runway - Rozanne - who has walked and graced many shows locally and internationally. She has always been working on creating many new faces to take the main stage when it comes to fashion, and today, she has created many like Amanda Silva, Visna Fernando, Jayamali Erangika, Piumi Hansamali, Chulakshi Ranatunaga, Oshadhi Kavindi, Chalani Weeraratne, Dineth De Silva, Pathum Rukshan, and Rumali Keshida just to name a few.
Rozanne Diasz recently presented one of Sri Lanka's premier fashion shows to create a platform for new entrants to the industry and titled it "Discover the model in you". The show comprised several segments done by the new models, fully choreographed and conceptualised by themselves. Themes included Bollywood, Arabic, Evening wear, Mini's, the 70s and 80s, Sports, Gothic and Color Block. I sat down with Rozanne to speak about the show "DISCOVER THE MODEL IN YOU".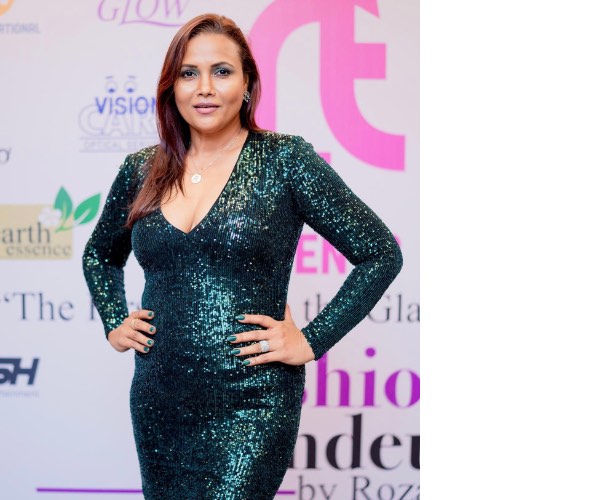 What made you put up a show after many years?
I started training after a huge break, so each year I have done a show themed "the first step to the Glamour World" for my students. This is just an introduction for them to the industry. The graduation concept was done by me many many years ago.
Your modelling academy was one of the 1st of its kind...
I started with two models and taught on the balcony at my office in Colpetty 16 years ago. I then moved to birds park and now teach at the IAB Academy. It's not only about Catwalk modelling and becoming a model. It's building confidence and shaping personality. Most of them excel in their own fields of work.
How has this world of beauty and pageants changed in the past years?
There is definitely more quantity than quality. It's nice to see a lot of participants, but I think training has to happen before you enter a pageant. Because of time and budget restrictions, pageants have gone low on quality.
Now diversity is the main thing on the ramp, how can we show that in a county that's fussy even about dark skin still?
With brand competition, we speak a lot about diversity now. Where reach is the key, brands expand with new and relatable concepts. Which is good. Not only dark skin, plus sizes and no hair have also become a craze worldwide. I think we are also catching up closely.
What would you tell someone who is looking to join an academy? What should they look out for?
They all come in thinking it's an easy way to become famous and earn a quick buck. Some have it in them. Then it's easy. But some go through a lot of training and then make it big. It's all about our individual style and dedication. It's not an easy job so look out for a lot of hard work.
This show was very special and different, tell me about the show.
I had the students split into 4 groups and each group had to come out with 2 concepts. The theme, music, choreography, clothing and hair and makeup looks were done by them. I give them an environment to work with people of different calibres and ideas. They need to balance it all and agree to one thing in order to put on a show. Through this, they learn to do their own productions as well. A model should be compatible and should know every aspect of production.
Would this show be an annual show, and how can one enrol to learn from you and the others?
It will be an annual show definitely. New entrants take the industry forward. They can reach me on my social media platforms and get details.
When we think of models, we think what you teach can only be used on the ramp, is it true? Or where else can one use this knowledge?
More than ramp I think some of my students have benefited from my teachings in their respective workplaces. Some have made it big in the industry itself. If you can get heads to turn when you walk into a room, that's grabbing attention. Most of these kids come from backgrounds that don't give them that opportunity. I am glad that I can give them a platform to grow.
Finding sponsors can be a tough task, how was it to make this show possible?
Yes. That's the toughest part about the show. But thankfully my dear friend Rajitha Thennakoon with her company RT Events handled that headache for me. D Hash Entertainment and Suminda from Second Chance also gave me a lot of support to make this show successful.
There are so many model schools today. What are your thoughts on this?
It's good to see healthy competition. Kids get to choose and select the best which keeps us on our feet to do new things and bring out the best in them. It's pointless to teach what you see on the internet we need to cater to the local fashion industry's needs.