HSBC Colombo Fashion Week drew to a close on the 4th and final day which was held at the poolside of the Colombo Hilton in a specially constructed marquee. The show started with an explosion of colour by the uber talented Sonali Dharmawardene who yet again unleashed her artistic genius by way of her batik creations. Following closely were Charini Suriyage and Indi Yapa Abeywardene who showcased sleek collections which had great commercial appeal. For the men, Fouzul Hameed lead the way with his collection of sharp suits while Lovi Ceylon presented clothing for both men and women. The finale was provided by Indian designer Rajesh Pratap Singh who presented a collection of ethnic outfits which aptly demonstrated his design genius and confirmed his position as one of India's most sought after designers.
Lovi Ceylon
With an aptly named collection called Rise, designer Asanka de Mel has risen to the challenge to elevate the sarong to the next level in the fashion stratosphere. He has taken the humble sarong and made this a high fashion garment. Rise, sees the introduction of smart jackets in luxe velvet fabrics which are paired with handloom and silk sarongs. Rise also sees the launch of a special collection of Lovi footwear. A total makeover for the sarong which now has an international appeal.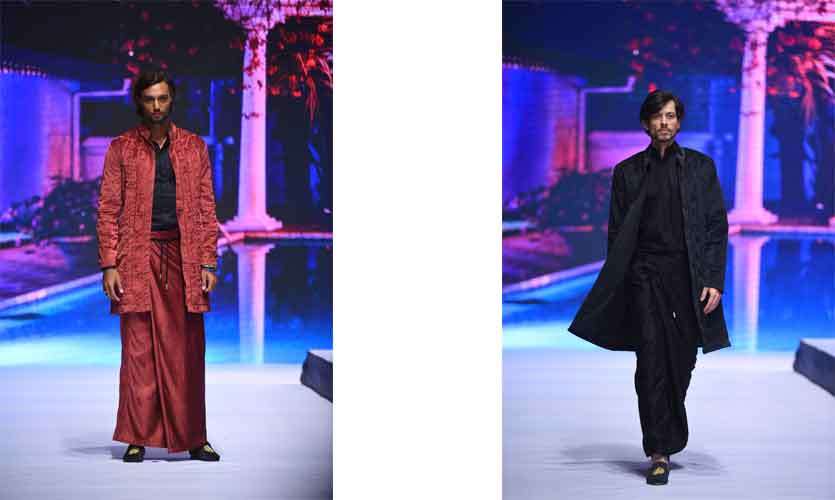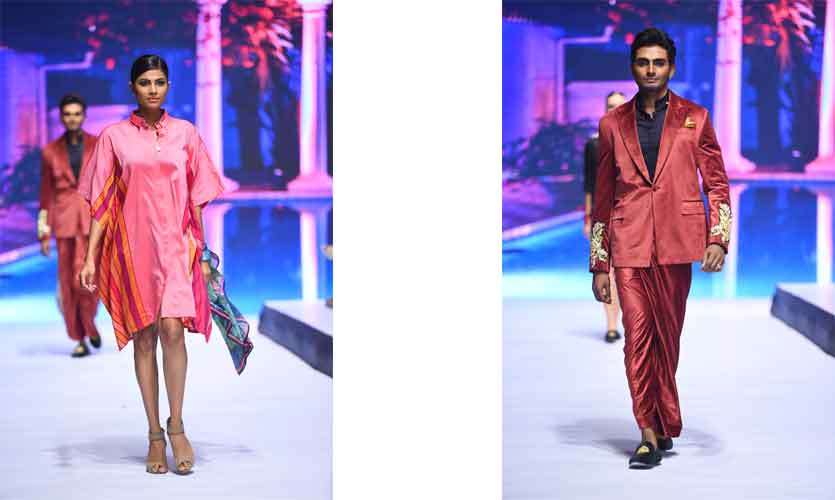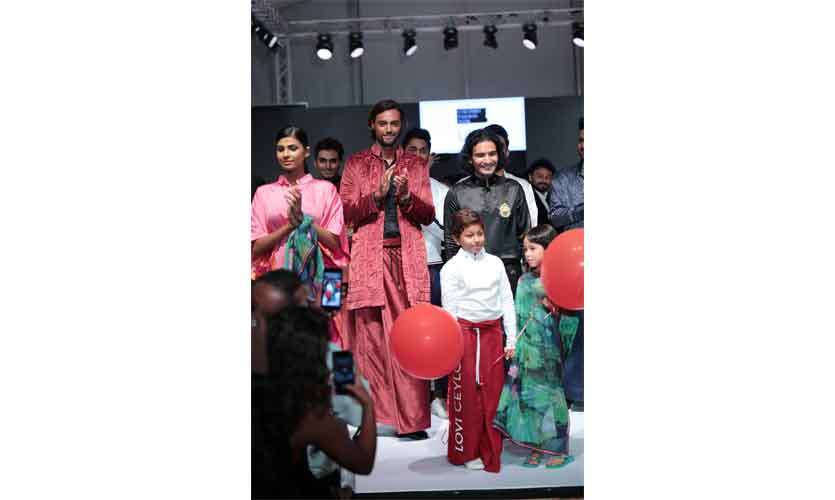 Fouzul Hameed
Enjoying his prime position as Sri Lanka's sharpest tailor, Hameed continues to dazzle with his sheer workmanship. Inspired largely by his global travels Hameed hankers after the suave sophistication of the Italian man which he attempts to translate into his creations. While concentrating on black, his colour of choice for the season, Hameed shows his adventurous streak with the use of printed fabric in a few pieces which is a departure from his norm. His ceremonial suits were sharp and stylish and it is no wonder why the city's contingent of fashionable men turn to Fouzul Hameed.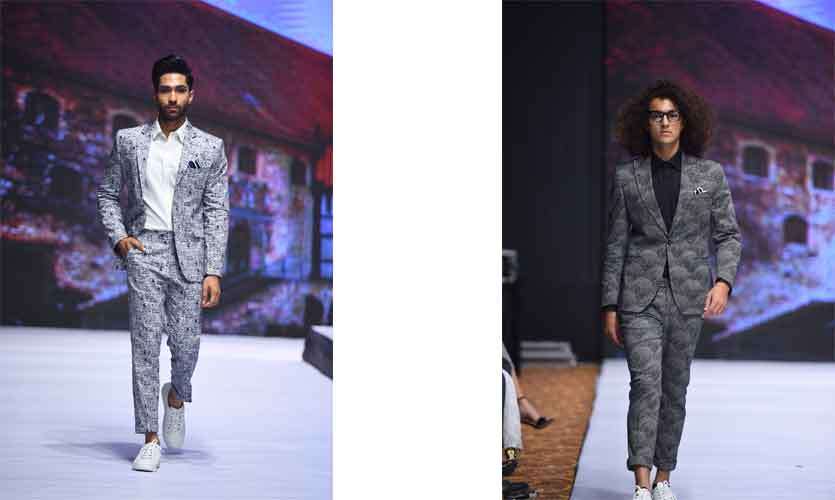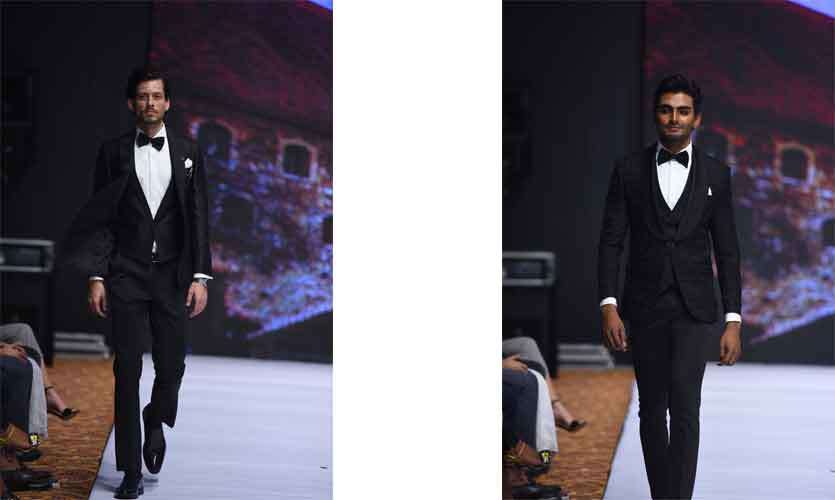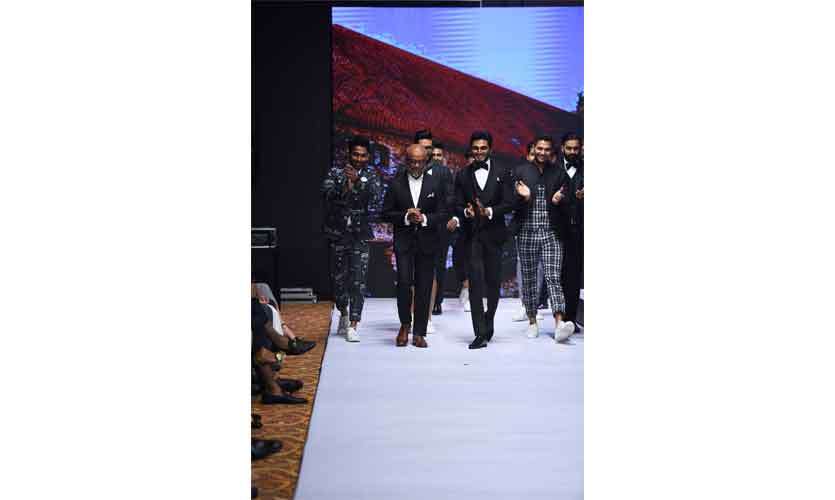 Sonali Dharmawardena
An inspiring union of colour, prints and silhouettes gave birth to a fabulous collection by Sonali. The runway had a feminine vibe from start to finish. Her clothes conveyed an elegance with details helping to boost the 'Sonali' style identity. The artist within her comes to the fore each time she shows at fashion week and this time it was no exception. From saris and dresses to pants and gowns, this collection ticked the boxes for creativity, originality, and scalability. Walking works of art, each piece is oh so beautiful!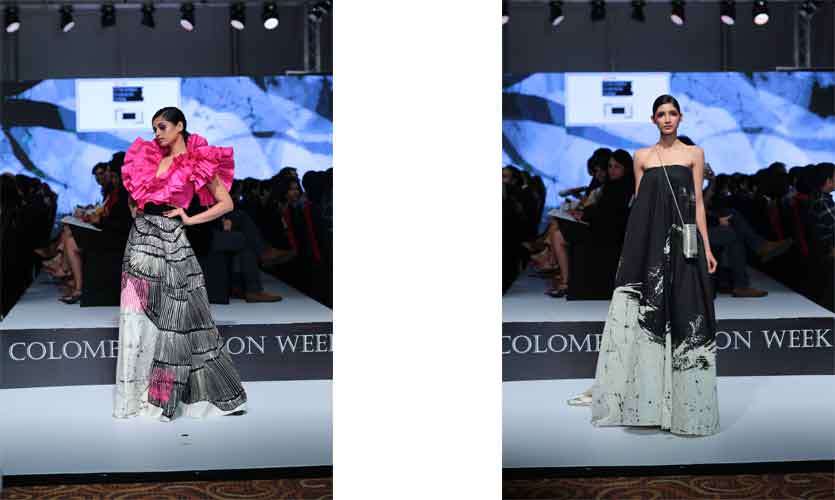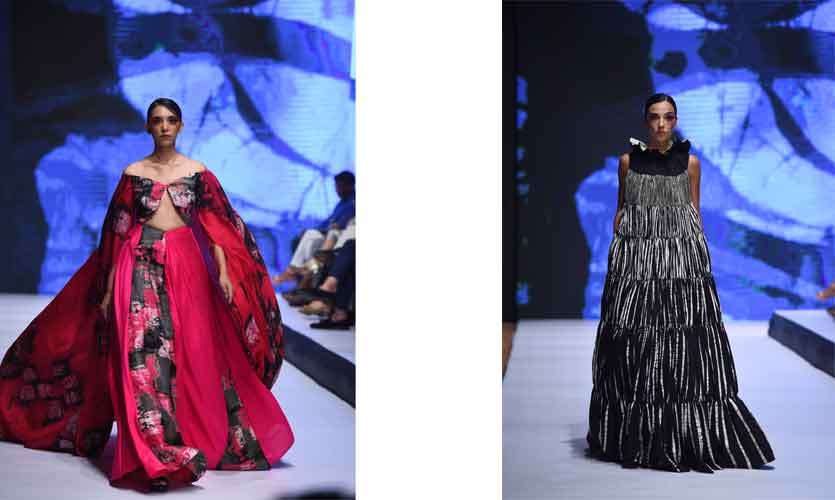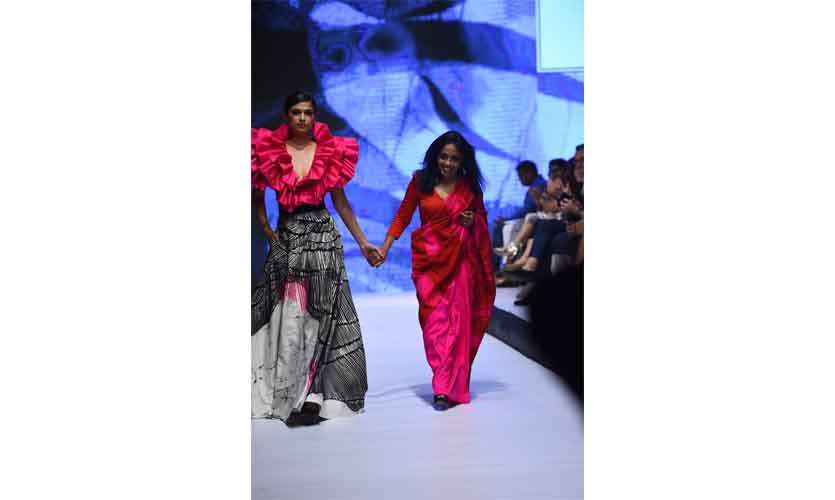 Indi Yapa Abeywardena
The show was an upbeat blend of blue, white and red with fascinating modern graphic prints of motifs complemented by a sophisticated blend of dresses, pants and saris. Her clever juxtaposition of prints and colour added an interesting dimension to her collection. Intricate beadwork on some of the clothes reflected Indi's love for bling in the most subtle form. Her collection had a great commercial appeal as the colours and silhouettes worked well together.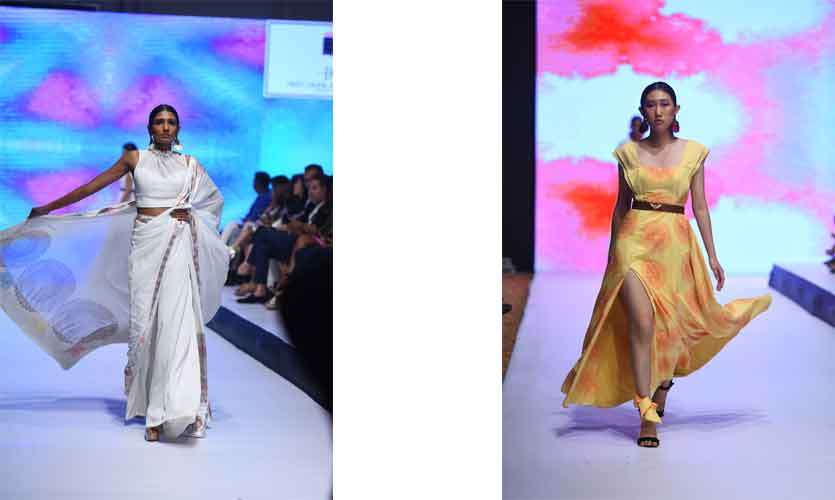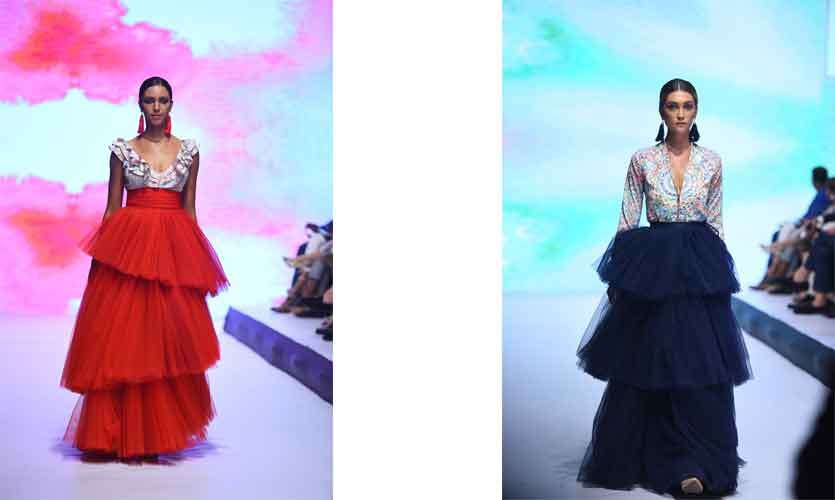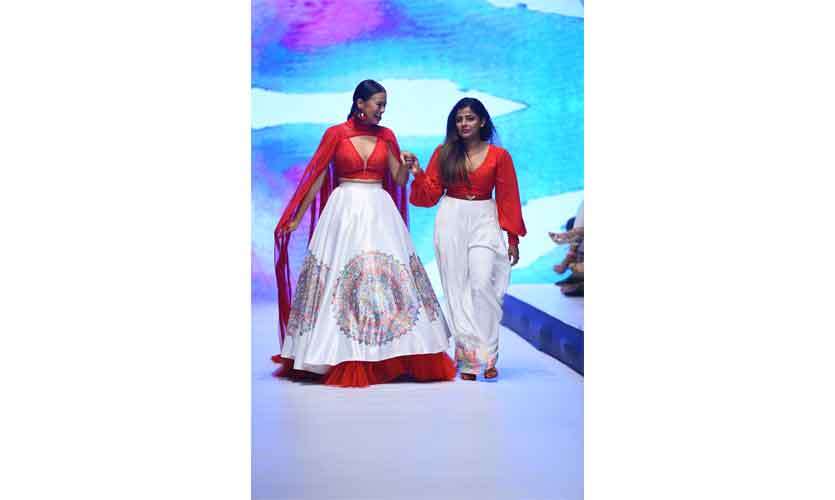 Charini Suriyage
Drawing inspiration from the wildlife in Sri Lanka we saw several reptilian prints and abstract floral prints dominate this collection. Continually experimenting with new silhouettes, this collection saw Charini pushing the boundaries further by creating form-fitting dresses. Dresses slit to the thigh along with necklines to reveal décolletage in the most tasteful way added an element of dare to the collection. Ruffles and frills were also a notable feature in her collection.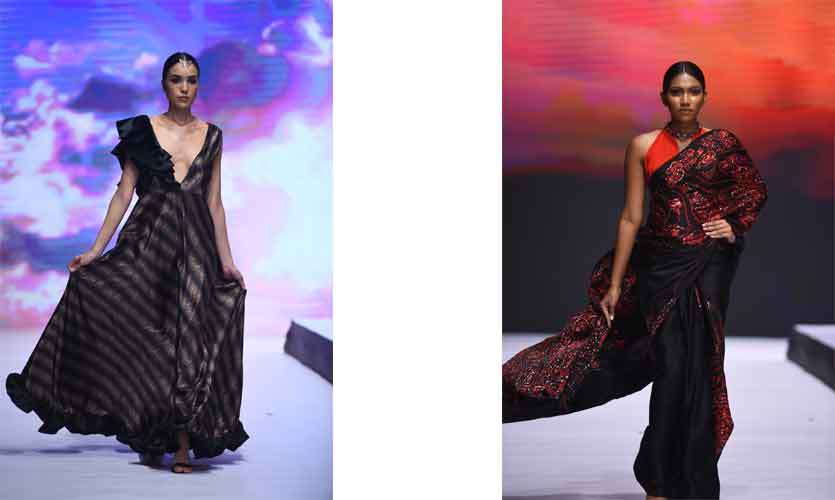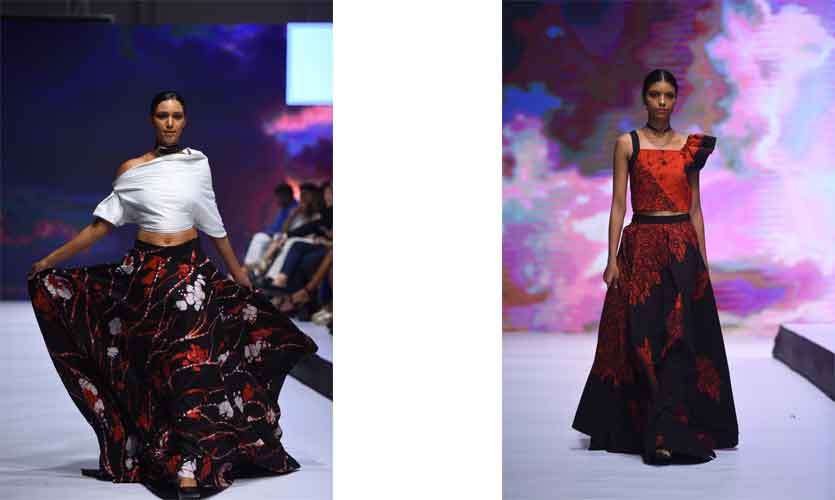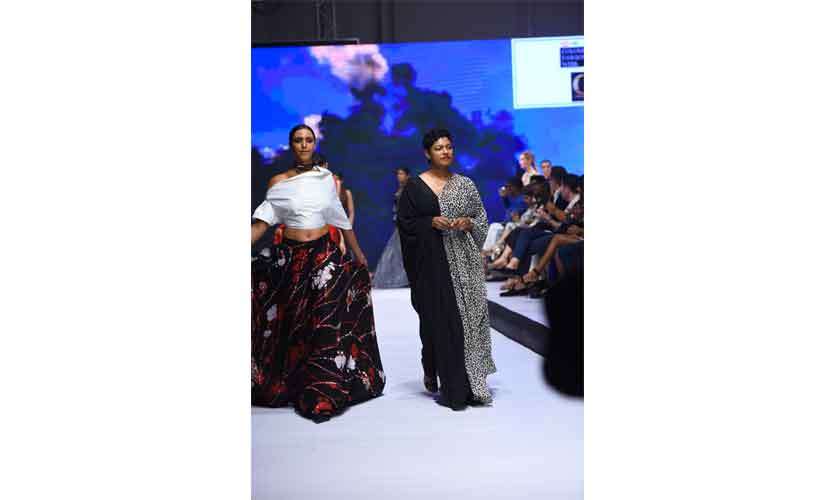 Rajesh Pratap Singh
An apt finale for Fashion Week, Rajesh Pratap Singh presented a swoonworthy collection of ethnic outfits. Singh opened the show with soft shades of white and off white and then created a momentum by adding richer colours of dull gold until the finale which ended in a crescendo of red and glimmering gold. Some of his fabrics were reminiscent of William Morris's prints, with delicate motifs skilfully woven into the fabric to create a luxurious look especially with the gold and red colour combinations. Jackets, tunics, coats, dhotis and dresses were created exquisite and clearly demonstrated why Singh is considered a fashion genius in his home country.