Colour and glamour dominated the runway last evening on day 3 of HSBC Colombo Fashion Week. Held in the ballroom of the Shangri-La, Colombo, the opulent setting provided a perfect backdrop to showcase an array of elegant designs which commanded attention as they made their debut on the runway. Aslam Hussein, Sharmilla Ruberu, Annika Fernando, Kamil Hewavitharana, Vathsala Gunasekara, and SuketDhir presented exquisite collections with an unforgettable wow factor!
Here is what Ajai Vir Singh (Founder and President) and Fazeena Rajabdeen (Shared CEO and Director) had to say.
Day 3 advanced a step further from Galle Face when we moved to Shangri-La with the designers showing great design character from the start to the finale. It's getting better and better.
Day 3 showcased to a packed house at Shangri-La. Designers showcased strong silhouettes with structure and form. Contemporary favourites like Meraki, Maus and Vathsala presented strong collections along with Aslam, Kamil and SukethDhir.
Aslam Hussein
Sticking religiously to his style oeuvre of creating couture clothes, in this collection Aslam interspersed prints in a pastel pink with sparkling silver, and glittering gold fabrics to create designs in his signature style. Titled Heavenly Rhapsody this collection featured heavily embellished fabric which was used to create a mix of beautifully ornamental gowns and separates. The combination of rich fabric and structured silhouettes conveyed his expression of impression via his creations. As the name of his collection suggests it was indeed heavenly.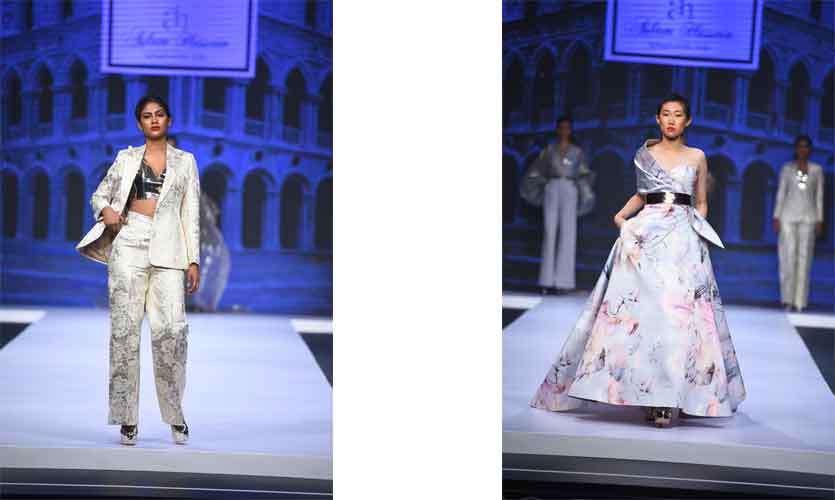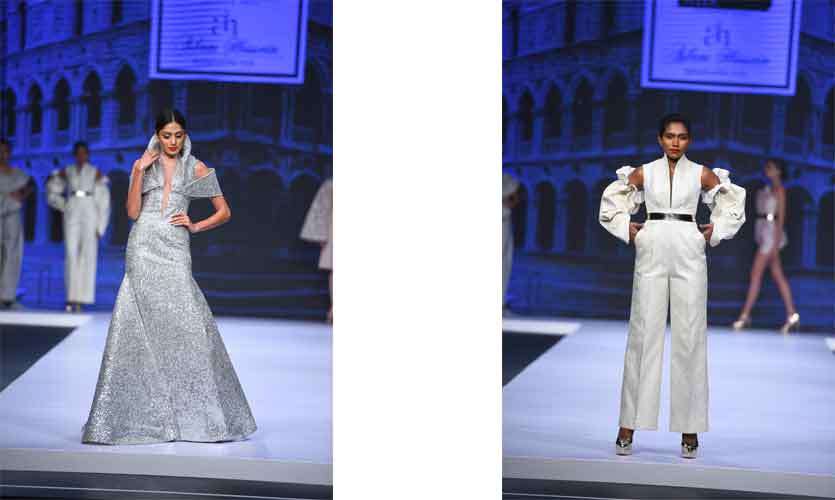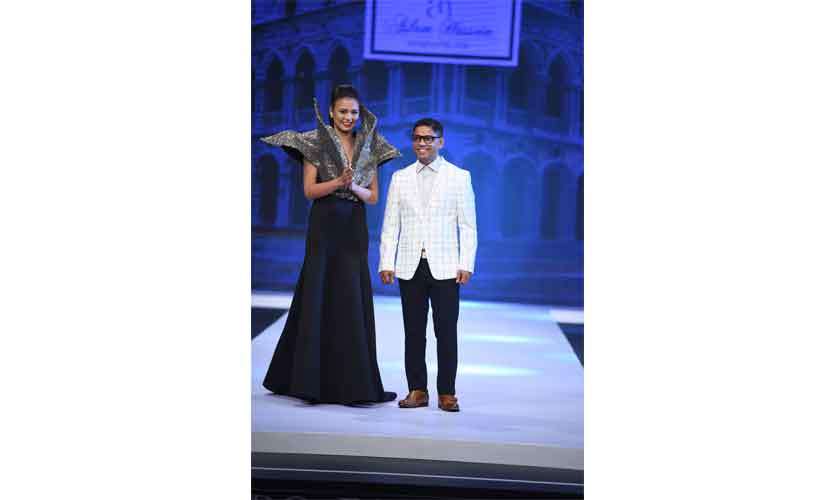 Sharmila Ruberu
This collection was undeniably all about sleeves. From trumpet and dolman sleeves to bishop and choirboy sleeves, designer Sharmilla unleashed the full gamut of statement sleeves in this collection. Inspired by Picasso, Sharmilla had picked elements from the great artist and presented her own take on it. Her colour palette was dark in the main but clever use of mustard and russet along with pops of colourful stripes added nuances of sleekness. Her silhouettes were simple but her sleeves added just the right amount of drama to each piece. Full marks to her for taking the plunge and embarking on a fashionable adventure which put sleeves very firmly in the fashion spotlight.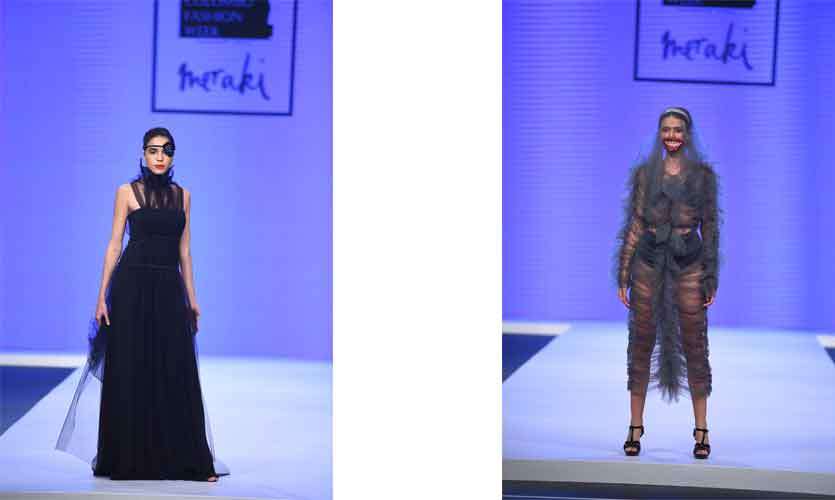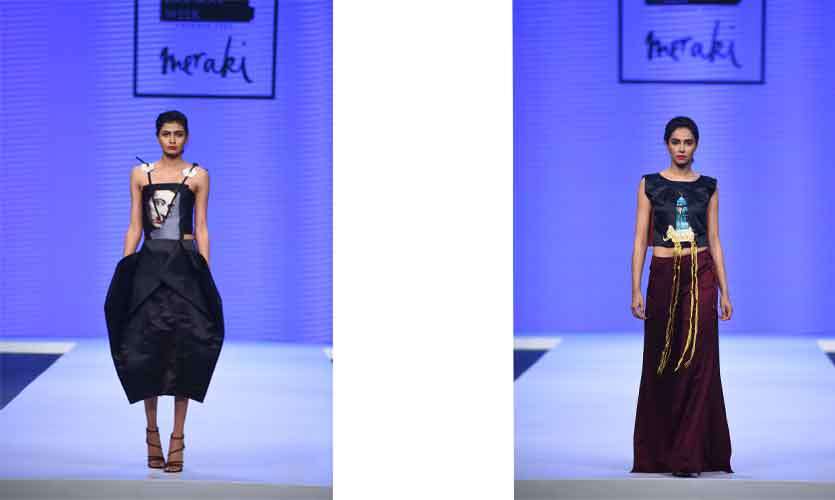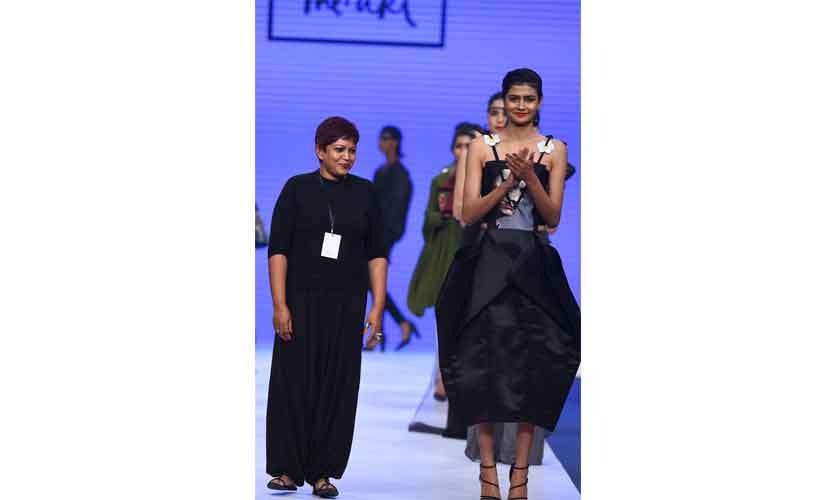 Annika Fernando
Living up to her reputation of the Miss Cool of Sri Lankan fashion, Annika Fernando presented a collection that contained notes of her signature style - simplistic sophistication. Her brand Maus is revered for its clean cuts with nuances of chic. Using the colours of chambray, black and white, her silhouettes were conservative in the main with hints of dare in the form of cold-shouldered tops. Sleek looks ensured her collection looked effortlessly chic. We liked her pie crust collars too. Her accessories of bags and sandals complemented the collection just so perfectly.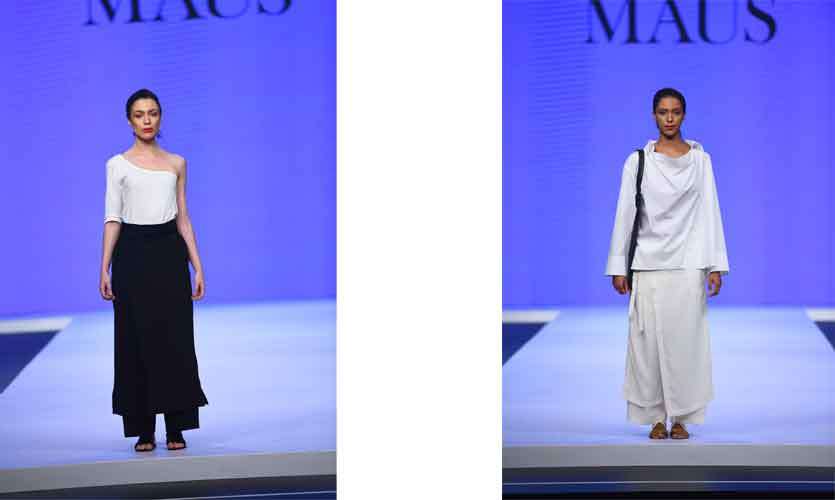 Kamil Hewavitharana
Adding drama to the runway Kamil unleashed his creativity with an entire collection of outfits that made a fashionable statement. Sticking to the sophisticated fashion colour of black with subtle tones of ochre and orange, he accentuated it with two dimensional geometric shapes and stained glass patterns which he created on the fabric. The fashion dramatist that he is, Kamil presented form fitting outfits with voluminous sleeves and necklines slashed to the waist which added a frisson of excitement to his collection.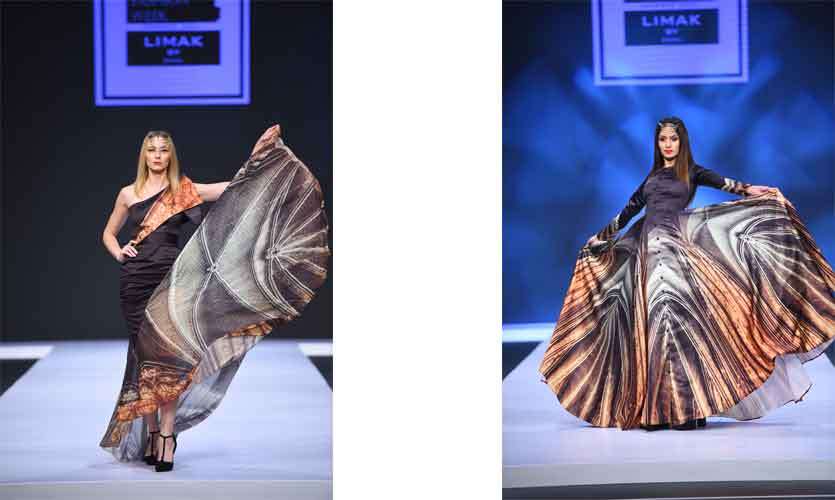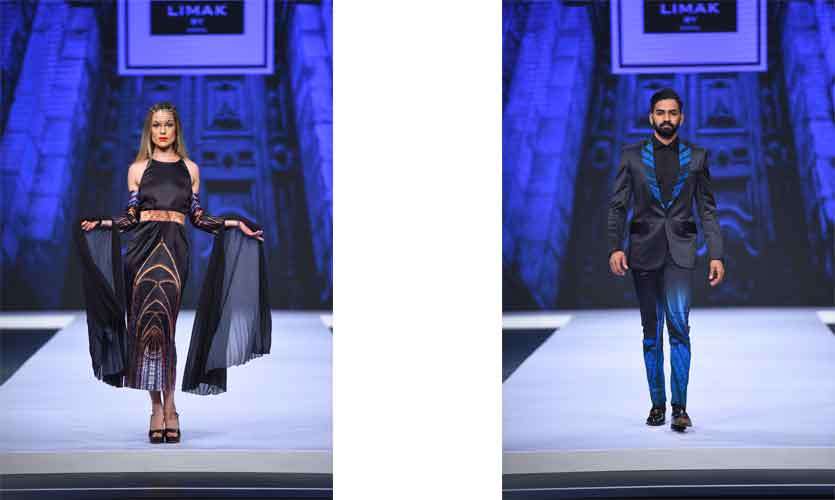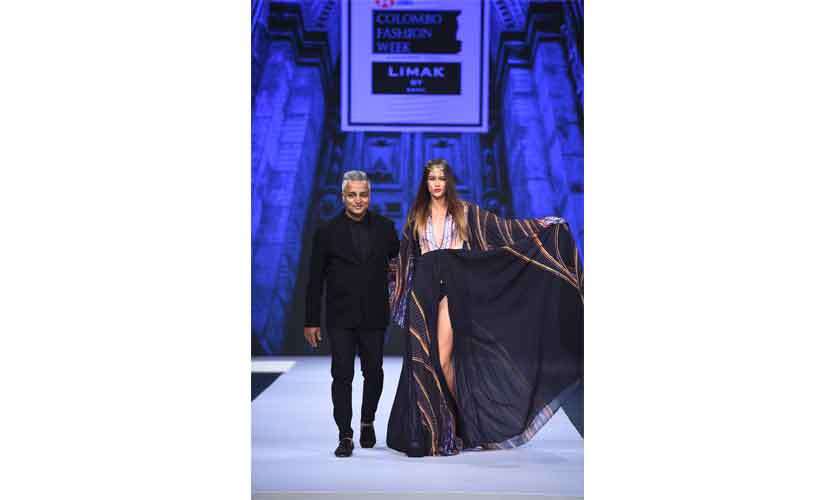 Vathsala Gunasekera
Floral blooms hit the runway when Vathsala sent model after model clad in big floral prints. Having designed her own fabric for this collection her silhouettes featured drop crotch pants, prairie skirts, dresses and kimono style tops which all featured statement sleeves which are very much in trend. Vathsala has a knack for creating youthful silhouettes. She has managed to create an impactful sense of balance, mixing modern and quirky which will appease the younger fashion savvy dresser.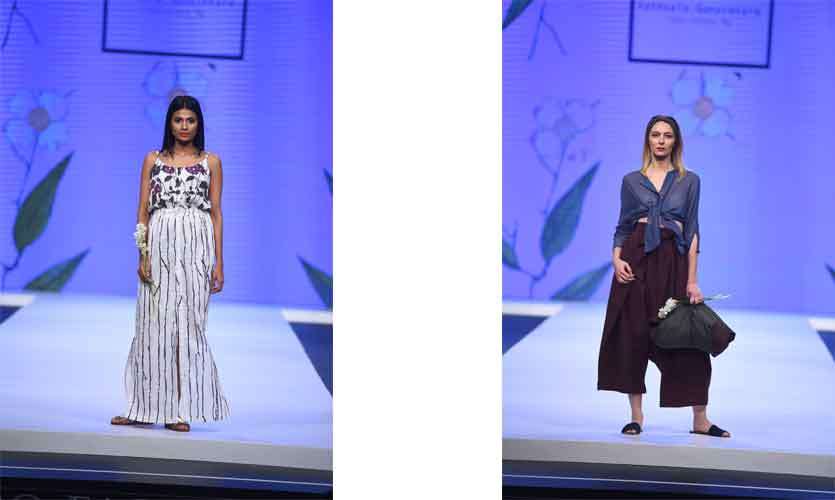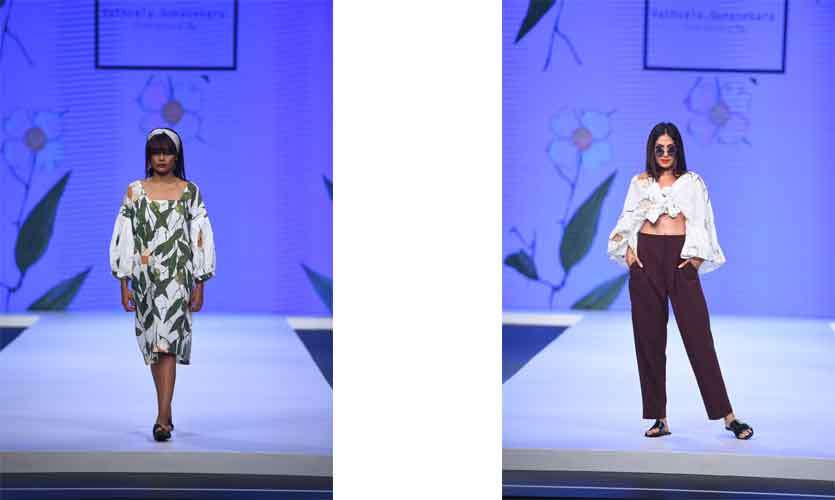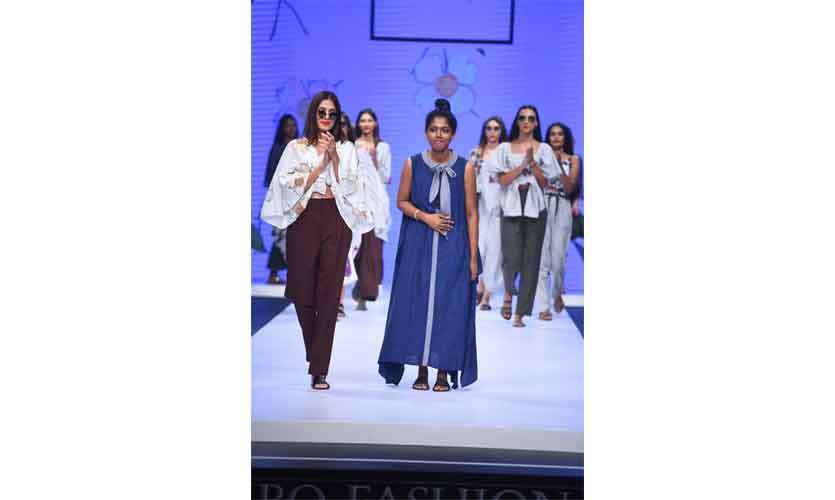 SuketDhir
An indo-centric brand, that combines artisanal techniques with luxe fabrics, SuketDhir was the recipient of the International Woolmark Prize in 2016. A proponent of old school tailoring this collection showcased his master craftsmanship to full effect. Khadi fabrics with dainty prints graduated to a conservative colour palette for the men in stylish designs while his womenswear collection saw greater use of colour. Japanese inspired prints in tasteful colours were used to create a range of separates and dresses which looked very sleek and chic.