Today on the Buzz, I have Prasad Pereira. He was a pig and I was a sheep back in 2002 in the play Animal Farm, which was my first introduction to him. His love for art has created some amazing work in Sri Lanka. He has brought many international links to our country. He speaks about his life and passion on the Buzz today.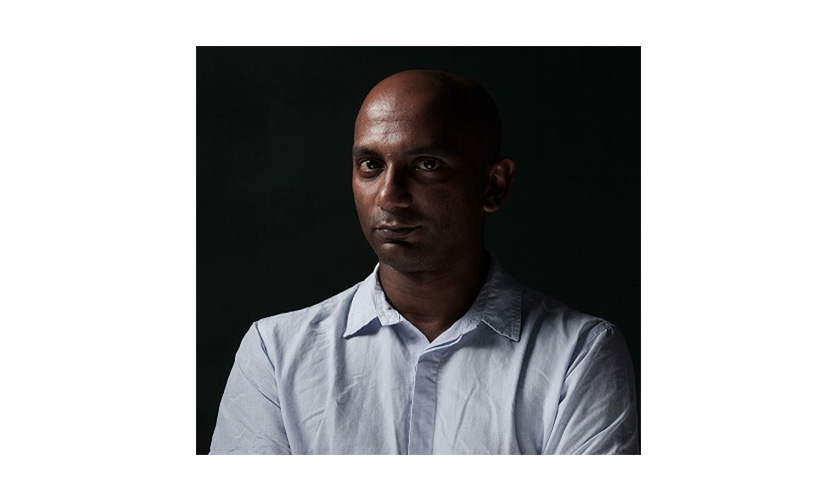 Full Name – Prasad John Pereira
Hometown - Kandy
Status - Married
Birthday - 21 February 1975
Passions - Cinema, stories, music and now, a little travel (thanks to my wife!)
Favourite Colours - Black and red

Describe what it is that you do?
The short answer is – I work in the film business. To divulge a little more – I'm a film industry professional, working mainly as an Assistant Director on TV and movies. I've worked in many TV commercials, some feature length films and TV shows. My work mainly consists of foreign projects that shoot in Sri Lanka, and I have worked with some Oscar-nominated filmmakers such as Deepa Mehta (Midnight's Children), Uberto Pasolini (Machan) and cinematographer Bradford Young (Vara: A Blessing). I also moonlight as an actor, writer and producer, and have written and directed a short film, "The Cemetery Men".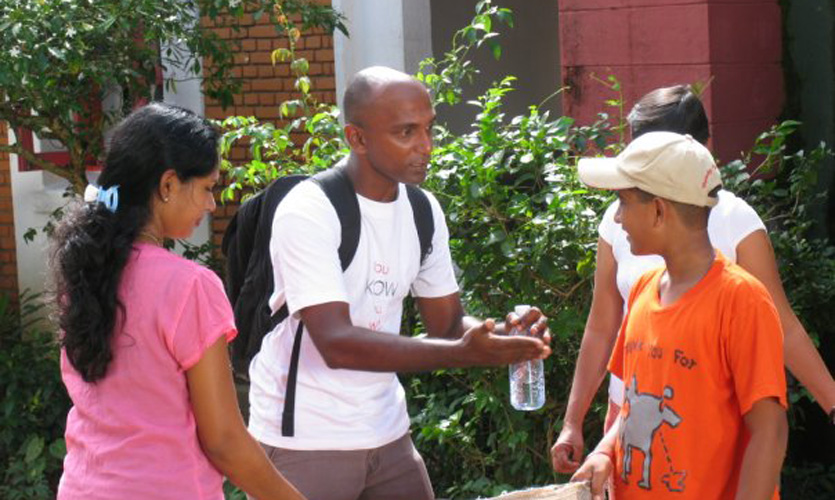 How would describe your passion for arts?
Great – although I'm not very 'precious' about it. I love filmmaking and film in general, but I do realise that it can be a luxury of sorts and that I'm blessed to be working in such a field. I also love the theatre and music.
Who has been your biggest support in making this a reality?
I've had great support from family and friends, but one name stands out here: Suren De Silva of Video Image - he saw my potential even before I realised it. He put me on the right track and I would not be where I am now if not for him.
Tell me your style of work?
I'm a very chilled out person in real life, and l love relaxing and doing my thing. When it comes to work, I tend to be quite focused and laid back at the same time.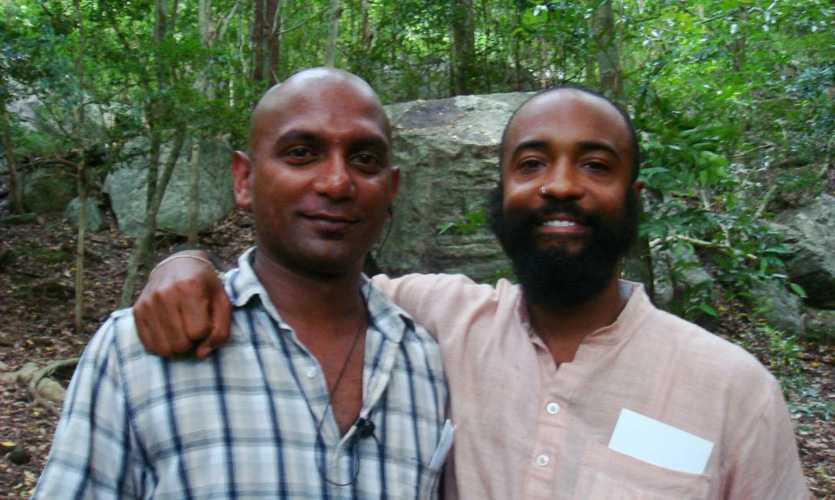 With Brad Young
Tell me about the work you have done for this year?
This year was quite a busy one for me. I was working on editing four short documentaries, worked as the Sri Lankan producer for a New York ad agency doing a corporate documentary and right now I'm working as a Casting Director – Sri Lanka and an Assistant Director on Series 2 of the hit British TV series The Good Karma Hospital, which will start shooting in Unawatuna in August.
What would you say is the biggest challenge creative people face in this country?
I personally think each person faces challenges in different ways and there is no fixed answer to your question. In my experience, the biggest challenge facing our industry today is the lack of great writers for the screen – both TV and film.
What are some of your most defining moments in life?
There are a number of these – getting married, working with Oscar-nominated filmmakers and chilling out with family.
What does a 'day of work' look like?
A day of work on set is quite hectic. As an AD (assistant director), we first have to make sure all the actors are put through costume and make up, and see that the crew is prepping for the day's shoot. Then it is time to shoot the scenes planned for the day, while figuring out any issues that come up. We usually do 12 hour days, with an hour's break for lunch.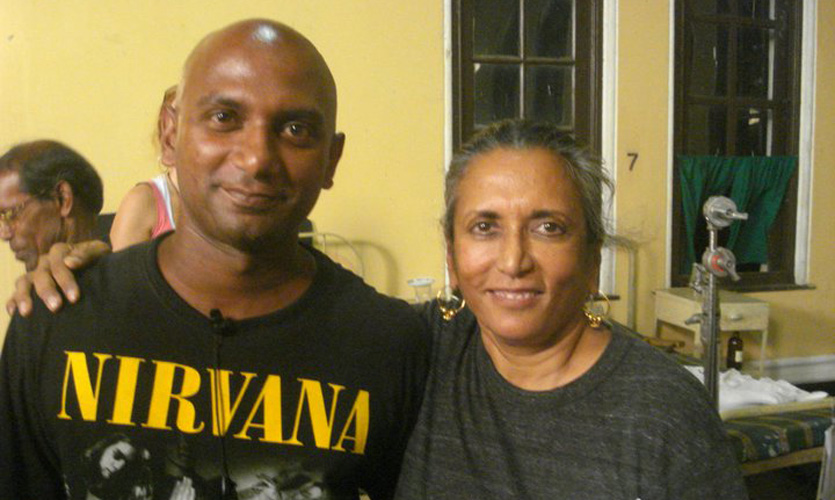 With Deepa Mehta
Tell me about your short film?
It is called 'The Cemetery Men' and I wrote, directed and co-produced it. It is a black comedy about three idiots who act with total impunity over a trivial matter. Gehan Blok, Pasan Ranaweera, Anoop Kapukotuwa and Ryan Holsinger star in it. It is funny – but not in the way you would think.
Tell me about the international films you have worked on?
Quite proud to say that I've worked in a range of international productions. 'Midnight's Children', based on the Salman Rushdie novel was one where I worked as an AD. It was directed by Deepa Mehta, who was nominated for an Oscar for 'Water'. 'Vara: A Blessing' was another film I really enjoyed working in, directed by the Bhutanese monk turned director Khyentse Norbu. This was the film I worked with Bradford Young on. Brad was nominated for an Oscar this year for his work on 'Arrival'. I also worked on a German film called 'Die Manner der Emden' and a few Ceylon-based scenes in the ITV series Jekyll & Hyde. Also did casting for the first series of The Good Karma Hospital.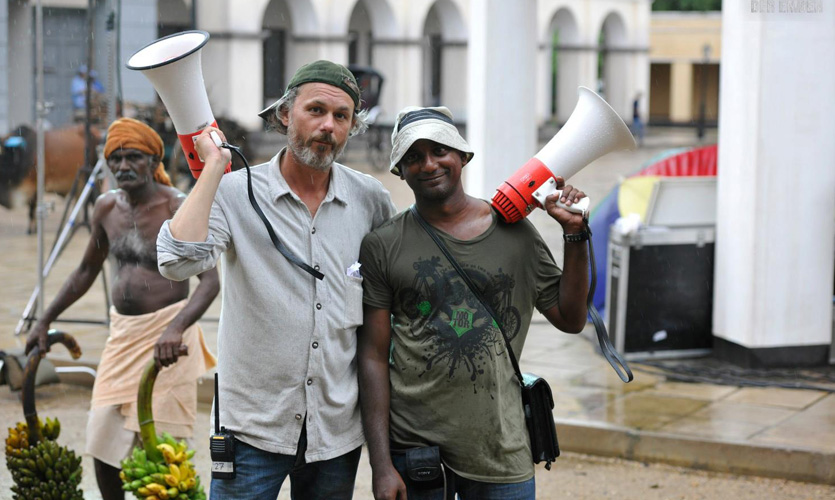 If
If you didn't have to worry about money or a job, where would you live in the world?
Somewhere in Africa.
If you only get 3 words to describe yourself – what are they?
Strange, Chilled, Passionate about film (I think I cheated)
If you were a waiter and a customer was a jerk, would you spit in their food?
No. I'm too nice for that. I would wait for karma to spit in his/her food!
If you had the power to read someone's mind, whose would it be in Sri Lanka?
No one. My thoughts are crowded as it is.
If you can give me a movie title, what would it be?
That is a tough one. The Naked Civil Servant.
In the Spot
What are your thoughts on Yahapalanaya?
Looks a bit messy right now.
What is your opinion on the medical students' demands?
I think it is unreasonable.
What are your thoughts on PRIDE Week in Sri Lanka?
No worries.
Your thoughts on the Sri Lankan film industry? What would you say is the biggest challenge?
We have great talent and a spirit of innovation. I think we need to find more compelling stories to tell.
Fun
Would you rather be a dog with a cat's personality or a cat with a dog's personality?
Neither. I want to be a dinosaur roaming the earth.
Would you rather be extremely underweight or extremely overweight?
Under.
Would you rather experience the beginning of planet earth or the end of planet earth?
Beginning sounds cooler… I think.
Would you rather have three kids and no money, or no kids with thirteen million?
Er… two kids with five million?
Would you rather be the funniest person in the room or the most intelligent?
My politics have always been moderate, so I'd like a judicious mix of both.
Would you rather run at 100 mph or fly at ten mph?
Run at 100mph
Would you rather continue with your life or restart it?
Continue.