Today on the buzz I speak to a fabulous duo who are just honest and real, and speaking to them is as bright as their fashion brand Karma Collection. Meet the two creators who have taken the Lankan colours and fashion to the world - founded in Galle and UK in 2017 by Tivon Prasad and Seema Moceri, it's a brand that's been making waves for some time now. Tivon has been in the fashion industry since he was 13, and has been involved with developing some of the most successful retail fashion and lifestyle brands in Galle.
Seema is an accomplished interior designer and splits her time between London and Sri Lanka. She's used her creative design skills to renovate homes in London, made the transition into fashion with ease. I'm so happy to know a super exciting new collection is to hit resort week for CFW this year and Karma is hitting the ramp with a collection you need to look out for. Today I speak to the two about their brand, life and everything in between.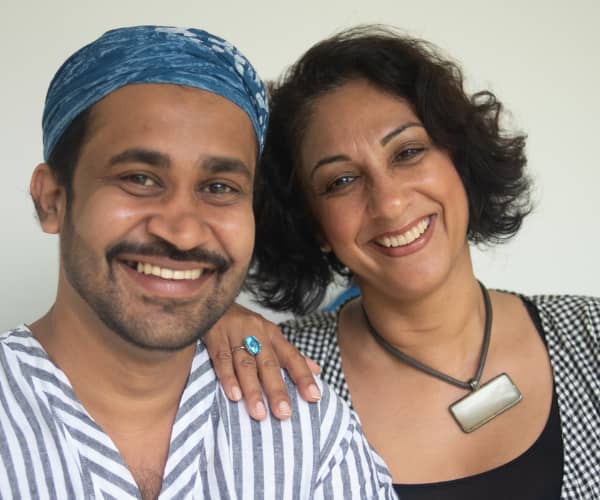 What made you name this brand Karma? The name was an easy choice as we both have the philosophy of 'what goes around, comes around'. With Tivon from a Buddhist background, and myself from a Hindu background, this mantra resonated with us both.
Tell me about the birth of karma collection? It was a very quick birth!! I had known Tivon for a couple of years as I had my restaurant, Crepe-ology, in the Fort and he was managing one of the high-end fashion stores. I was constantly in the store eyeing up my next purchase and when we spoke about his long-term goals and aspirations to be a successful fashion designer and have his own stores, I suggested a collaboration. It wasn't a difficult choice for me with our friendship, my interior design background and my business head, Karma was born. I always refer to Tivon as my 'second' husband!
How did the two of you meet and what was it that made this brand so bright and colourful? Again, we were in total agreement about wanting a store full of colour and vibrancy. In my interior design, that has always been my USP. I don't design white or beige homes, so why would I want to in fashion? Thank goodness we both LOVE colour and print! I think many designers want to play it safe, trying to appeal to a broader audience, but we were very much on the same page of wanting to stand out from the crowd, take a few risks and create 'head turning' designs, which I believe, judging by our customer feedback, we have achieved. There is nothing more flattering to a woman to be complimented on what they are wearing.
As a brand that has reached international market this year, I am told that you will be showcasing at Columbo Fashion week, tell us what we need to expect? Well, definitely not white or beige!! We are creating a resort range featuring apparel for both men and woman, and you can certainly expect colour and print and BIG designs. Our inspiration has come from the strength, determination and freedom of the Sri Lankan Tea Pluckers. Based on the attributes of these incredibly strong women, we have created our own fabrics based on 2 iconic powerful women, Frida Kahlo and Iris Afrel. These prints will feature heavily in our collection and our aim is to empower woman through their clothes for the longest time the brand has been in Galle and in London but only recently the brand physically moved to Colombo how has it been and what made you guys take this decision? It was really derived from our Colombo customers, who wanted us to be represented in Colombo. When a mutual friend introduced Tivon to Indi, the creator of WH, it seemed the perfect time to introduce Karma to Colombo. The store has been a great success, and has certainly created a buzz.
For someone who wants to try your brand for the first time how would you describe it? Fun, Fun and more fun!!
Tell me about the partnership how do you guys work out on designs Prints and make that final decision is it hard or is it super easy? It's a partnership that works on every level. Tivon is more of the visionary of the overall designs, and I am pedantic about the detail. Born and brought up in the UK, an understanding the European market, has definitely attributed to our success internationally.
What does Fashion mean to you? We don't want to be followers; we want to be creators of fashion. To us fashion is not about creating and wearing the latest trends, it's about creating pieces that allow our clientele to feel confident, strong and beautiful, regardless of age, size or background.
In Europe they get to see your brand and understand a little bit about Sri Lanka, tell me about some of the feedback that they have given you?
The feedback is extremely positive. They love the fact that we are supporting the local people of Sri Lanka and empowering them to support themselves and their families. So many of our customers have visited this beautiful country and have nothing but wonderful memories. They also feel very special that they are wearing something that is unique and unlike anything else in their wardrobe.
Many famous people have reached out do you and your brand has been worn by some amazing personalities across the world but tell me one single person who has been one of your favourites? Oh, that is a hard one. Our clients have included both local and international celebrities including royalty, diplomates, politicians, sports personalities, as well as numerous actors. I think two of our most recent favourites (that we can actually name) is Amrita Acharia, who is a British, Indian actress who has been here on location several times. She is so sweet and unassuming. She has been a real pleasure to work with. Neil Morrissey, a very famous British actor was also a real darling.
I think another reason why the brand really works is because not only can you buy off the rack, but we can make bespoke pieces according to your requirements. This has been extremely successful part of the business.