Today on the Buzz, I have an entrepreneur, leader and a true Sri Lankan - Araliya Thevapalan - who has always amazed me with the love she has for the country and also the ways she finds time to contribute to developing it into a better place. She's always been in public service but at the same time so well put together. Even with her current job, she travels to some of the most rural sectors yet looks absolutely stunning doing it, which only means she loves what she does. Her love for business started with her love for 6 yards of cloth. I always say the saree is one of the most delightful garments to be dressed in. Her brand Araliya focuses on simplicity and elegance and lets the women dressed in them shine. I always knew she was sweet but she took it to another level with "Sugar Fairy" - you should try it - it's the best Bombai Muttai you will ever try. Read about her inspiration and so much more on the Buzz today.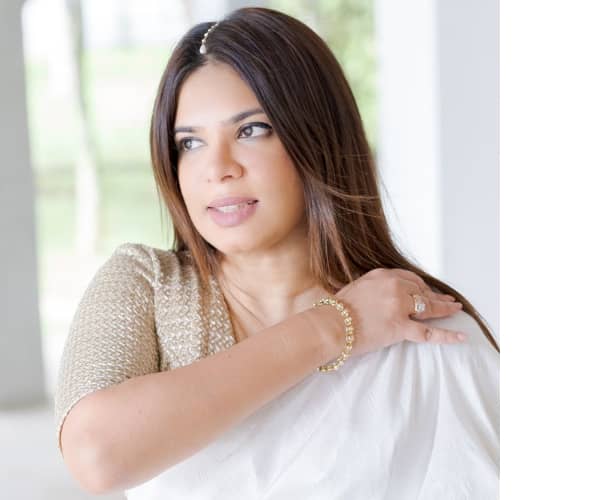 1. What made you take up work in the NGO sector? My current role in the Development Sector is to work directly with the most vulnerable and marginalised communities across the island; empowering them to find sustainable solutions which would transform their lives and ensure the wellbeing of children. I also get to engage with different entities from the GOSL towards this same goal. I think this is what we need to be looking at if we want to develop our country – working together to bring long-term sustainable solutions. I never thought I'd work outside of Government but I decided to take up the opportunity and it has only further opened my eyes to the needs of people and the areas in which we need to work on to improve the system.
2. You have always believed in giving back to Sri Lanka, what are your thoughts on the brain drain we are facing today? I think it is unfortunate that many educated people who could have significantly contributed to the development of our country have left but I can also understand why and empathise with that. We want all our Sri Lankan people to do well and have a stable life that they are content with, irrespective of where they are. This current crisis has revealed the existing vacuum for educated people at different levels. We need more intellects and professionals to engage with the system which will also help lure more. I encourage those who are willing to engage to do so, as the time has come that our country needs us. Many are quick to criticise the Government sector, but the reality is that they aren't willing to serve there. It is a justifiable reason when there isn't much to attract an educated individual where they are compelled to endure many sacrifices and challenges on top of that, but this is our country and if we want it to do well, we must do something ourselves. It must however be with conviction. It was, for this reason, that I chose to return from England after my degree and join the Government service. Not everyone has the luxury to leave Sri Lanka, we can't forget about them. My ultimate goal in life is to do something that will make an impact on our nation, leaving a place for the future generation to thrive in and be proud of.
3. You have created a fashion brand too, want to know what made you start it, and where do you see it going? Yes, my love for saree is what inspired me to launch my own clothing brand, 'Araliya'. At the time I used to wear it to work every day, but I couldn't find any that were to my taste. Hence I started creating my own, which soon became a hobby that I really enjoyed and got positive feedback on. As my main profession is a serious one which can sometimes be draining, the clothing brand gave me an outlet for my creative capacity, to do something I really loved but also in a meaningful way which could empower women and local communities. I am currently exploring different types of clothing and hope to take the brand internationally someday. I aspire to portray a positive image of Sri Lanka by showcasing our local talent, and strong values and most importantly contribute to our economy.
4. What inspires you day in and day out? My people, our Sri Lankan people; especially those I closely work with in the field. They endure so much hardship, I return home filled with emotion which consistently stirs my thoughts. Every day that I open my eyes, I am reminded that I have been blessed with a golden opportunity to make a difference in a person's life and that is enough to reignite my fire.
5. You have been learning self-defence, how important is it for an individual? Yes, currently I am under training in Krav Maga which is a technique that was designed for the Israeli Defence and Security Forces. The training entails unarmed combat and self-defence. I believe it is very important for everyone to learn some form of self-defence, especially in this day and age. Krav Maga has empowered me in so many different ways. The skill and discipline you gain from this martial art enable you to protect yourself stripping any insecurities for safety, teach you restraint and be focused and strategic in your manoeuvring. It has made me so much more resilient today in the face of adversity. Civilians don't have weapons but can face many threats. Krav Maga teaches you to protect yourself by disarming the threat without actually harming another person, as well as how to avoid it.
6. You love pink, please tell me why? It makes everything really PRETTY, emanates so much happiness and can instantly uplift a person's mood. How can anyone NOT love pink?
7. How do you balance your love for fashion, and life, and yet do your very serious, on-the-ground work? I am a very disciplined and focused person. Since I have such a busy schedule which is mainly spent on the ground, I have prioritised accordingly. Everything is pre-planned and organised sometimes even weeks in advance. This is what helps me to balance many different aspects of my life. During the weekdays when I'm in the city, I have set a routine after work to include my various activities. Over the weekends I develop my small businesses and catch up with friends and family. I do really love fashion and engaging in other pastimes, but my work in public service always takes precedence over personal pleasure, as that is a commitment I have made to the people.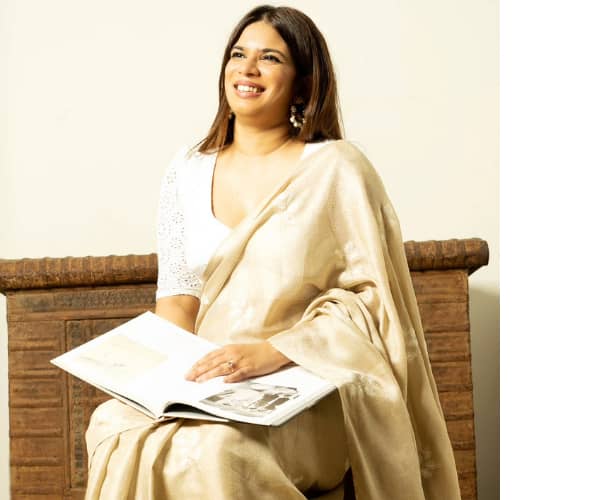 8. You have started a new venture called Sugar Fairy, what was the inspiration? I found a way to combine my love for ballet and sweets as the name Sugar Fairy was inspired by the main character of a famous ballet. She is the fairy of all sweets. Bombai Muttai (or Fairy Floss as I call it keeping with its whimsical theme), is something everyone loves but rarely has access to. Hence I found a way to cater to that demand. Many ideas instantly dawned on me when the concept was born in the latter of 2020 but it took me some time to launch the operation with the immense challenges the country has been facing. However, after much deliberation, I made a bold decision to start this venture even if it is an unfavourable time, proceeding with the minimal resources and escalating costs as these small businesses are contributing to the economy, supporting livelihoods and putting smiles on consumers' faces! I hope to do a soft launch via social media on my late grandmother's birthday which falls at the end of the month, in tribute to her.

9. What are your thoughts on GGG? And do you feel the New PM has what it takes to bring us back on track? The concept of GGG was initiated as a citizen-driven movement to bring about change in the country, uniting persons from various strata of society. My fervent hope is that those who are on the frontlines advocating change will continue to voice on behalf of those who are voiceless. GGG has given a platform to the youth to amplify their voice and exercise their democratic right. Whilst it doesn't portray the conventional method of protesting, the youth have found creative ways of doing it in a peaceful manner and are inspiring many around the globe. We must give the younger generation the liberty to express themselves creatively and exercise their rights the way they desire, as long as it doesn't incite hate or violence. The incumbent Premier is a capable individual but we cannot expect him to resolve this unprecedented crisis on his own. Sri Lanka really needs capable political leaders to come to the frontline and unite in the national interest to take diligent policy decisions; the state officials to mobilise and be proactive, and the republic to consistently hold the state accountable. This is a team effort. We need to rally all support and work towards mending this economic crisis rapidly whilst not taking away from the issues that affect children and youth. We need to prioritise them and ensure the most vulnerable don't get further affected. If not, we are just going to have amended economy with no one left to take the country forward.
10. What would you tell the youth of Sri Lanka? As many are feeling down and helpless, what would be your words to them? Let me quote one of my favourites and say to the youth, "even the darkest night will end and the sun will rise". I know it is difficult to have a positive outlook right now but we must focus on the things we can do to improve the future. Yes, the country is in shambles; yes, the future seems bleak; but this time of historic change has presented the youth with so much opportunity. This is your time to rise up to the challenge and take the lead. All stakeholders must work towards exploring new avenues and seeking sustainable solutions to address the concerns of the youth. Unity, peace, empathy and love above all else. This is my message to you.