In life, we come across many who are fighting a battle with cancer. If you are reading this and you have a way to help, here is a chance to be a part of the "Walk for Cancer" where all proceeds from the walk will go towards nursing and care, medication, rehabilitation and welfare of the Cancer patients in the Sri Lanka Cancer Society. I sat down with the team that is making this possible, to ask a few questions.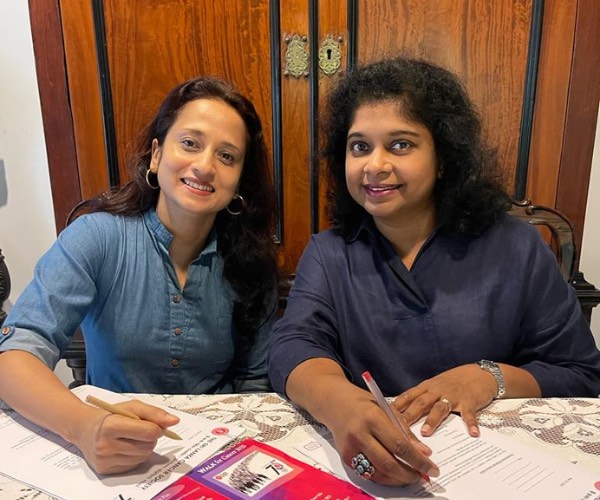 Pictured: Amila Attygalle & Anushka Abhayaratne
1. 75 years is not an easy task, what has been the biggest challenge? The Sri Lanka Cancer Society is a non-profit organisation and we are totally dependent on public funding which has always been our biggest challenge. We take great pride in always providing the best care for our patients and maintaining our funding has been quite a challenge, especially with the recent pandemic and economic downturn...
2. Tell me about the work done by The Sri Lanka Cancer Society? The Sri Lanka Cancer Society is a member of the Union of International Cancer Control (UICC), Geneva. We maintain a Hospice for terminally ill patients which includes palliative care. This is one of the first major private palliative care facilities in the country. We also maintain the Bandaranaike Cancer Home for patients who are receiving treatment at the Apeksha Hospital. We have a relief and rehabilitation programme for cancer survivors. We also have one of the best public education programmes with a dedicated Public Awareness Officer who carries out training and awareness throughout the country.
3. How can one reach out to you for assistance and help? You can reach out to us at our head office at 37/25 Bullers Lane Colombo 07. Tel:0112585879, 0112581700
4. How is the walk supporting the work done by The Sri Lanka Cancer Society? In the last few years with the covid restrictions, we could not have any major fundraiser. There are two objectives of this walk. One is to commemorate the 75 years of the Sri Lanka Cancer Society and the other is to raise funds to carry out our objectives of caring for Cancer patients.
5. In the past 75 years, how much have we grown in supporting cancer patients, or making their time at the hospital easy? We can only speak for the work of the Society. The Sri Lanka Cancer Society has grown in 75 years into an 83-bed facility at the Home and a 32-bed facility at the Hospice. We make it easy for the patients by supporting them and taking care of them in our facility whilst they undergo treatment at the Apeksha Hospital. This is a great service mainly for underprivileged cancer patients who cannot travel up and down to the hospital for treatment.
6. What would you say is the biggest issue in Sri Lanka when it comes to handling cancer? The biggest issue in Sri Lanka is the lack of awareness and stigma which go hand in hand and unfortunately, this leads to not detecting cancers early enough. That is why we focus resources on public education to mitigate this stigma and create greater awareness and understanding of cancers.
7. How can one help, and assist The Sri Lanka Cancer Society? We have a permanent staff of nurses, caregivers and office staff but the committees that manage the Society are all volunteers. We do need more volunteers to help out and of course donations!
8. What is the service provided by the Bandaranaike Memorial Cancer Home? The Bandaranaike Memorial Cancer Homes serve as a transit home and care facility for underprivileged cancer patients receiving radiotherapy, chemotherapy, or haematology treatment at the Apeksha Hospital in Maharagama.
9. Details about the walk? The walk will be on the 29th of July at 4 pm commencing from the Womens International Club. Tickets are priced at Rs. 500 and donations are greatly appreciated. There is also an all-day Food and Fun Fair at the Womens International Club from 11- 7. We have also created a sponsorship package for all who wish to sponsor the walk.
10. Please give me an outline of your Relief and Rehabilitation Programme. Our Relief and Rehabilitation Committee assists patients who lack the basic necessities and motivation to continue their daily lives after being discharged from the hospital. Once the patients complete their treatment and go back home we assist them with financial support and motivate them to continue with their daily lives. We have a drug fund from which we provide these patients with home visits, essential drugs, a monthly stipend and those in the Colombo district also receive essential food provisions.