In this, the first in a series, we will be taking you on an exploratory journey as we visit the favourite rooms of many of our readers. Today we feature the house of Helga De Silva Blow Perera who lives at Helga's Folly in the mountains of Kandy. Her house, designed by her mother in 1933 doubles up as a hotel and has welcomed guests ranging from Gandhi and Dame Zandra Rhodes to the Vivian Leigh and the Stereophonics who penned a song in her honour. Her house-hotel is a farrago: a pastiche of various styles of art created by visiting guests and at times Helga herself.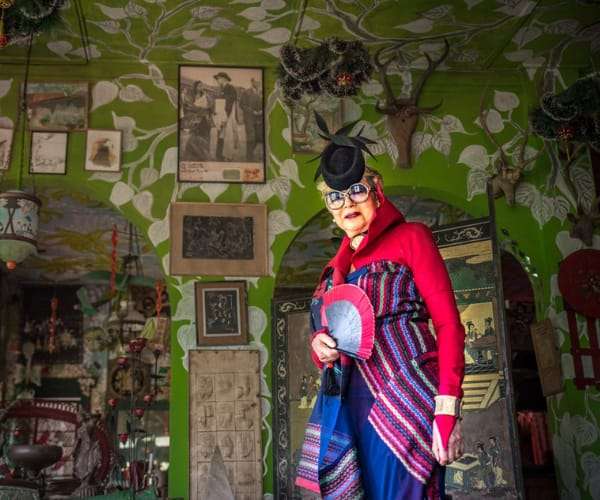 Candelabras with stalactites of wax sit comfortably next to plastic skeletons while the ceilings are festooned all year round with Christmas baubles while the walls creak under the weight of ornately framed photos of Helga's illustrious family members. Each room in her house is different, nothing is alike. A veritable mélange of art, memorabilia, history and memories, Helga's Folly is nothing short of enchanting.
Q

What is the favourite room in your house?
There are two, the first is the small room we call the Green Room where my parents sat and entertained close family and friends and where I learnt my kavi! The walls of the room are lined with family photographs. A feeling of belonging and peace and safeness pervades and of course wonderful good guileless memories.
The second is the spectacular Jane Lillian Vance Grotto, where her magnificent 12 by 15 ft mural of the family occupies prime position.
Q

What do you like most about it?
Both rooms gives me a sense of calmness and that is where I go to when I need a quiet moment.
Q

What is your favourite piece of furniture or accessory in that room?
My father's reclining armchair or hansi putuwa and my mother's chair. Of course, the small sofa where I sat and learnt, with my dearest father firing questions at me and my dearest brother Desmond are my most treasured pieces of furniture.
Q

Why is that particular piece a favourite?
They evoke a sense of nostalgia and bring back many fond memories.
Q

When creating this room what inspired you?
The room was already created but I did paint the walls and ceiling with whimsical murals. I was going through a dark time and as my father advised me "just paint it out".. Everybody here, bar the very old retainer, "paints out", including the guests.
Q

If there is anything you could change in your favourite room what would it be?
I would not change a thing, it just evolves!
Q

Does this favourite room have a theme if so what is it?
Life has no theme, so I prefer to juxtapose and mix the pedigrees.
Q

What is the colour scheme of this favourite room?
Green while the Grotto is a riot of colour largely due to the murals.
Q

How much time do you spend in your favourite room?
When there are no guests, I spend a great deal of time in either of the two rooms. I charge my batteries there.
Q

When it comes to interiors are you a person who believes in minimalism or do you pack the room with stuff?
Helga's Folly would be a minimalist's nightmare, as it is packed with memorabilia and other nicknacks. The house is always evolving, like top-seed, it keeps growing.
Q

Any mementoes from your travels in your favourite room?
I rarely travel now, but yes anything that catches my eye down to pieces from the local market and toy shops. I rarely travel now, but yes anything that catches my eye down to pieces from the local market and toy shops.