Bringing South Asia's vivacious culture to the palette, Sri Lankan born Vithya Visvendra has carved a name for herself, mastering the art of creating the picture-perfect blushing bride. This beauty aficionado has over a decade's worth of experience under her belt and has worked with celebrity icons including South Indian movie stars including the likes of Nayanthara, Meena, star couple Sneha and Prasanna, Amy Jackson along with TV host DD, Big Boss star Raiza Wilson and music idol Anirudh among other superstars. She is also said to be the first Tamil makeup artist to host successful Masterclasses in major cities such as London, Sydney, Kuala Lumpur, Toronto, Melbourne with reputed brands such as Bobbi Brown and Nars Cosmetics. Vithya's work embraces her rich Tamil heritage and draws colours and inspiration from tropical Sri Lanka to create the perfect Asian Bride. Today, she joins us in conversation about her artistry and the industry.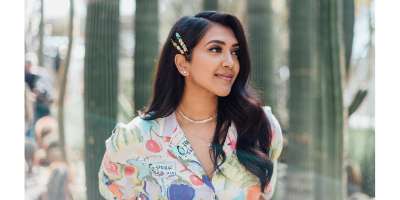 How did you get into Hair and Makeup?
From a young age, I was interested in Art and anything relating to makeup and fashion. I think my parents were quite worried about me. I was quite eccentric, loud, very social, and quite the little diva. At the age of 12, I had already started trying looks on my sister or family members and found absolute joy in experimenting. I think it was always my calling.
Q But you completed a degree in science and worked in Marketing before you actually followed your career as a makeup artist?
Yes. Being the oldest daughter and granddaughter, my family had very high expectations of me. They wanted me to become a doctor, a lawyer, or an accountant, but since I had no interest in any of these subjects, my parents were very disappointed that I ended up doing a Degree in Biology and Psychology. Little did they know, that I only did that to please them and keep my extended family members at bay. However, after my degree, and landing a job at a top Marketing company in central London, I was still unhappy. This kind of career was just not for me, so I eventually managed to convince my parents to let me go to London College of Fashion, one of the top institutes in the world, and pursue a career in hair and makeup. It wasn't easy to convince them, but they could see how unhappy I was, and they grudgingly accepted. A year later, I was qualified and started working for MAC Cosmetics part-time.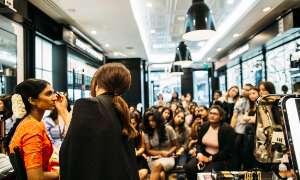 Q You've quite successfully made a name for yourself in the makeup industry and today, you are a sought after artist – especially among Asian brides and celebrities. Was it a difficult process?
When I started over a decade ago, there weren't many makeup artists around, certainly not from the Sri Lankan community. And the few who were around were much older than me, who had completed their beauty courses in Sri Lanka or India and opened salons or worked freelance in Europe. So, to be this twenty-something-year-old girl, completely inexperienced in Asian bridal hair and saree draping, it was not easy for me to get bookings. And being freelance was very difficult for me, as besides Facebook there were no other platforms to get yourself exposed. But slowly I managed to get my clients, and slowly more people began to notice me.
The girls my age, who were getting married wanted something western, subtle, and natural-looking. And since I was the only one who seemed to relate to what they wanted, I became increasingly popular. Back then, no one was willing to teach me how to do traditional bridal hair or how to drape a saree, so it was all predominantly self-taught, but since I was so determined and so passionate, I managed to learn it pretty fast, and slowly started making a name for myself.
Q You are the first Tamil makeup artist to teach Masterclasses internationally and you've always been very vocal about the South Asian community, their rich culture, and issues. How important was it for you to bring the spotlight into your culture – especially in predominant western countries?
I guess having a degree and the comfort of living with my parents at the time, gave me the luxury to travel a lot, expose myself more, and also to collaborate a lot without worrying about finances nor career prospects, so I took a lot of risks. Following a lot of makeup artists from the US gave me the idea of hosting Masterclasses. I actually never expected them to be a success, but 19 classes later, I am proud that I took that step and also opened up the platform for other artists to start doing these one-day demonstrations too. I am very proud of my heritage, and it has always been important to me to bring in my culture and traditions in everything that I do. It set me apart, and it also helped me stay rooted since I was raised in a western country all my life. Being a bridal artist was my way of feeling connected to Sri Lanka.
Q You are very candid about mental health issues and your blog talks a lot about dealing with depression, learning to accept, forgiving, and moving on. Behind all the glamour, there's a lot of hard work and bad days! What were some of the toughest challenges you've faced and how did you overcome it?
I was depressed for most of my teenage years. My depression got much worse after university and I was taking medication to deal with my mental health. Becoming a makeup artist was the single most important thing in my life that healed me, made me productive, and working hard kept me distracted, and kept me alive. Finding one thing that you love the most, being a makeup artist, was what helped me get through depression. The more popular I became, the more I started using my platform to raise awareness for mental health and the importance of it.
People think that being a makeup artist is a glamorous life, but little do they know that at the beginning I used to take a train or bus and lug my kit around for minimal pay. You then get insulted by the client or their family members because they do not respect your profession. I once had a bride who I worked for almost 15 hours, who fed all the guests but did not feed me. I had no car to drive anywhere to get food, and halfway through the day I almost fainted because I had not had a drop of water either. I managed to beg the photographer to take me to a grocery store, where I picked up some food. And when I arrived at the wedding hall, the bride's sister pulled me to a side and had a go at me for insulting them by buying food from outside. I was actually traumatized from that experience. It did make me think twice about my career choice. However, it also made me learn a lot, and I was able to draw up contracts and protect myself in so many ways. I am lucky and blessed today that I get the most amazing brides around the world, but I would like to believe that I had to work very hard to earn that respect.
Q What would you say is your signature style?
I focus on emphasizing a client's natural features. I make them look as much like themselves as possible. No lightening their skin tones, no abnormal coloured contacts, and I'm not too fond of too many bright colours. I want them to look like them, but even more beautiful.
Q If you can point to the single most aspect you love about your job – what would it be?
Being able to get up every morning for something that you love and get paid for it is such a blessing. What I love most about my job is the rewarding feeling of getting someone ready and seeing your work walk down the aisle or printed in a magazine. It is art, and it makes me proud.
Q What's your best skincare advice for our dark skin tone?
Coming from a tropical country, a lot of us tend to suffer from pigmentation and dark acne scars. Vitamin C is a great product to deal with that. A lot of people don't realise the importance of sunscreen either. Even if we live in a tropical country and have a tanned skin complexion, we have to protect our skin. A healthy diet also contributes majorly to good skin. Having lived in Europe all my life, a lot of Europeans would admire my skin tone. It made me appreciate my skin tone more. In fact, I always believe the darker, the more beautiful. It makes me sad that even today a lot of people associate beautiful with a fairer skin complexion. Are you saying to me that you could be super fair, have a number of visible skin issues, but be prettier than someone with a flawless dark skin complexion? I would prefer the latter because good healthy skin is always more important than the colour of it.
Q What are your makeup do's and don'ts?
I love a bold liner, but I also love a bold lip look. If you want to wear a bold lip, try and not go too bold on the eyes, it will just look too heavy. Another concept I still do not get is when people do pink eyeshadows and pink lips. Or red eyeshadows and red lips. The whole matchy-matchy is a big no for me. A classic look is timeless.
Q When you are not working, what's your favourite way to unwind?
If I have worked long hours or just got off an international flight, I like to watch Netflix, it is my way of shutting my mind off for a while. Days off are a treat so when I feel rested and energetic, I like to go out, sit in a cafe and read, or play board games. I love music, museums, walks, and getting myself pampered.