Velvet expands its range, strengthening its position in the Sri Lankan marketplace
Sri Lanka's leading personal wash brand Velvet has yet again proved its superiority with its extension into an exciting range of body washes! Reputed for its quality, care and understanding of the Sri Lankan consumer, Velvet has introduced three sensational fragrances of Rose and Milk Cream, Milk and Almond and Lotus and Lavender that you can indulge in for a truly enriching bathing experience.
Velvet's superior formula is perfectly suitable for all Sri Lankan skin types as it comes with Hydrosoft Technology. New Hydrosoft Technology works to keep your skin moisturized and gives your skin a hydrated, radiant look.
Pamper yourself today with Velvet's body washes which suit your unique personality, giving you the radiance you deserve!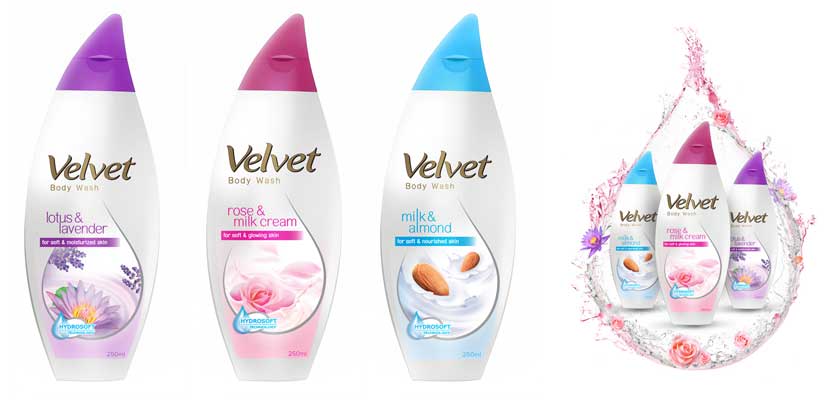 What can new Velvet body wash give you?

1. Soft and Supple Skin
Maintaining velvety soft, silky skin with a beautiful youthful glow is often a challenge for many of us. Mounting tasks coupled with a lack of time cause us to abandon our daily skincare routines, thereby neglecting our skin. Velvet's latest range of body washes can easily rinse away your problems with one simple wash! The rich, creamy formula and fragrances have been designed to nourish your skin, leaving your body feeling entirely refreshed.

2. Skincare ingredients that are ideal for Sri Lankan skin
Velvet's body washes are formulated using high quality ingredients which specifically cater to all your skincare needs. All the body washes contain natural ingredients, making skincare their number one priority.

3. Value for Money
Don't throw away your money on outrageously expensive products that continually disappoint and fail to deliver results. Choose from Velvet's endless range of exquisite body washes at reasonable prices. Get the best deal in the market without compromising on quality to suit your purse.
---
*This is a paid post
---