TONI&GUY is a world renowned Salon chain that has marked its name in the hair business since 1963. The business that was cultivated meticulously by two immigrant italian brothers, Toni and Guy Mascolo, is now a family of 7000 and growing. Bill Watson, International Artistic Director and Educational Director for Japan and the Southern Hemisphere and Stuart Matsuka, Artistic Director of the TONI&GUY Academy were at Colombo for the training of the TONI&GUY Sri Lanka team. They also attended the launch and showcased a few mane makeovers on models.

"TONI&GUY was born out of keeping a family together,"
explained Bill Watson.
He stressed on the importance of educating and investing in people. This was the key that guided them to their extensive success and the key that led them to investing in Sri Lanka.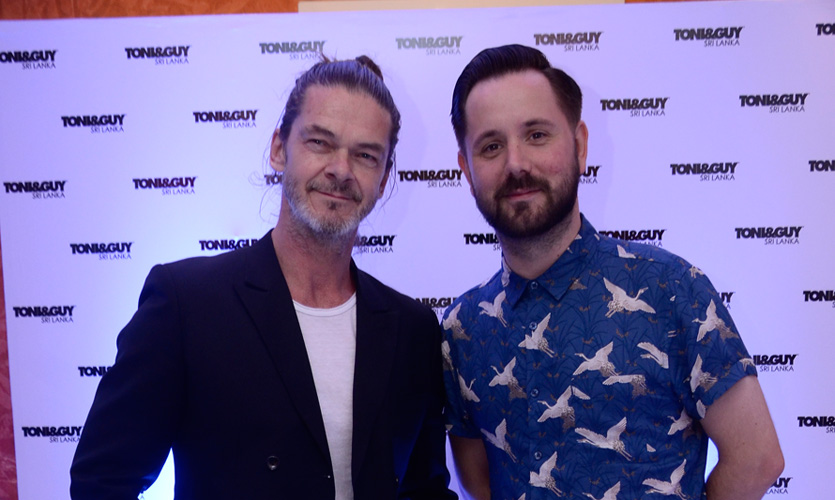 On their training tour of the Colombo TONI&GUY team, Bill Watson and Stuart Matsuka proudly affirmed their confidence in the Colombo team. The artistic directors ensured that they instilled their knowledge on cutting and colouring to the Colombo team. Their aim was to pass not only skill, but also passion. Bill explained,
"Hairdressing is an energy based skill."
The duo stressed on the importance of incorporating Sri Lankan style as they want to incorporate diversity into their TONI&GUY team as a whole.
"We want to have a mix of Russian, french, Indian, Sri Lankan and many other cultures in our TONI&GUY team,"
said Stuart.
"The opening ceremony was a gala occasion and it was an honour to have Bill Watson and Stuart Matuska with us to celebrate the occasion,"
commented Gaya Weerabahu, Director TONI&GUY Sri Lanka.
TONI&GUY Colombo staff comprise internationally experienced and qualified Style Directors, Senior Stylists and Colour Technicians. Sri Lankan stylists at TONI&GUY Colombo are trained at the TONI&GUY Academies overseas including the main Academy in London. The extensive training or "vadering" is of two months or more to ensure uncompromising quality of services. The brand's philosophy is education through innovation and the team members receive constant training on latest trends and techniques regardless of their prior experience. The Senior Stylists at TONI&GUY Colombo are experts with over 15 years of experience, fully trained and certified on all TONI&GUY standards on cutting and colouring (technical).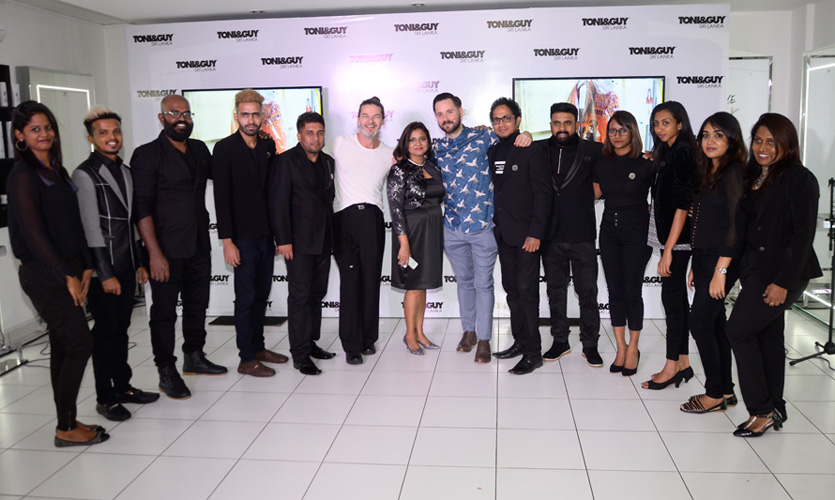 With the opening of this international award-winning brand in Colombo, Sri Lankan clients can now be a part of this international brand experience. The pricing points of services and products are very competitive and on par with the industry prices thereby making TONI&GUY affordable fashion to any discerning fashionista.
TONI&GUY Sri Lanka differentiates itself from the crowd by adhering to the same high values TONI&GUY is known for internationally. The legacy and the quality of service is the key differentiator and the entire experience, which sets the brand apart from competition.
"TONI&GUY opening in Colombo means a higher level of standard for the local hairdressing and fashion industry along with exposure to modern international hairdressing techniques, international level education and a chance to become a part of a global team,"
commented Bill Watson.