Sunsilk Hedakari Hair Fair 2017 introduces a revolutionary range of shampoos and conditioners
Sunsilk the leading hair care brand in the country hosted their 'Hedakari Hair Fair' at Ja-ela, K-Zone last Sunday 5 February with the participation of renowned celebrities, the hair experts from the Ramani Fernando Sunsilk Hair and Beauty Academy and beauticians from the area.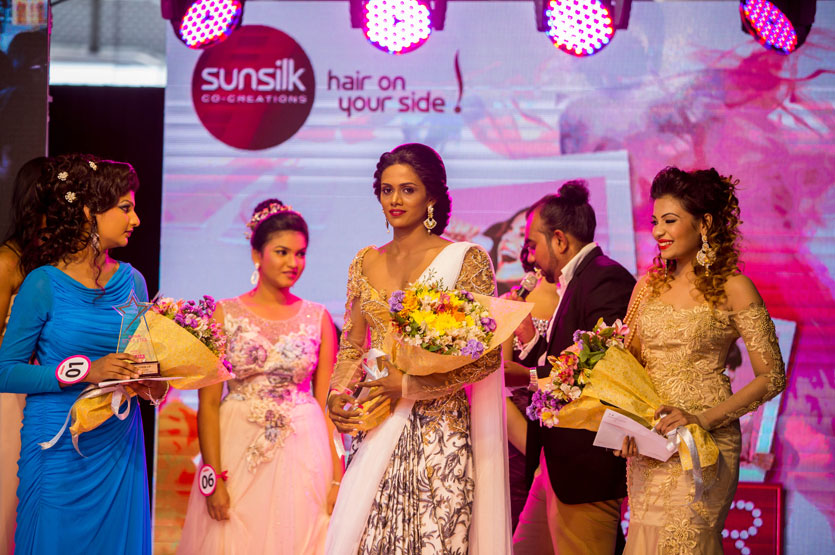 Sunsilk Style Star Evening Wear winner On Edge Style Salon model (centre) flanked by the runners up Salon Beauty Line and Salon Kalavi
The revolutionary shampoo and conditioner range was introduced to the market in September 2016 which includes biotin, keratin, yoghurt protein, silk protein and natural oil in its formulations. Parallel to launch Sunsilk invited its loyal customers from Ja-ela and suburbs to indulge in an unforgettable experience at the Sunsilk Hedakari Hair Fair.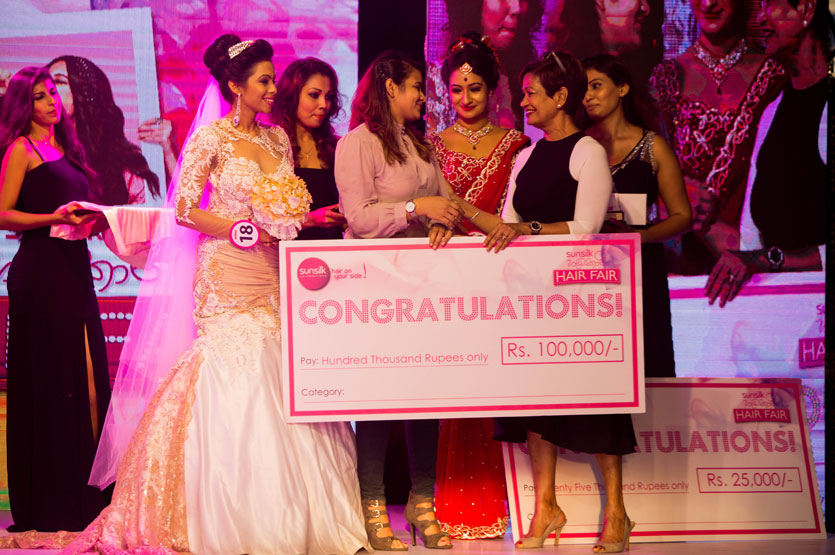 Sunsilk Style Star Bridal Wear winner On Edge Style Salon receives her prize from Ramani Fernando
Based on their styling requirements and hair types shoppers received expert advice on which Shampoo and Conditioner variants are best suited for them. Interested individuals were also able to get their hair washed and style at the event. Dedicate hair zones were ear marked to further educate shoppers providing hair tips and tricks to style thick hair, to achieve long hair, to nourish dry and damaged hair and to maintain straight hair. Further enhancing the styling experience, the accessories station offered hair styling appliances and products to match various hair types. Special discounts were also made available for Salon owners during the event to purchase their much needed hair care products and accessories.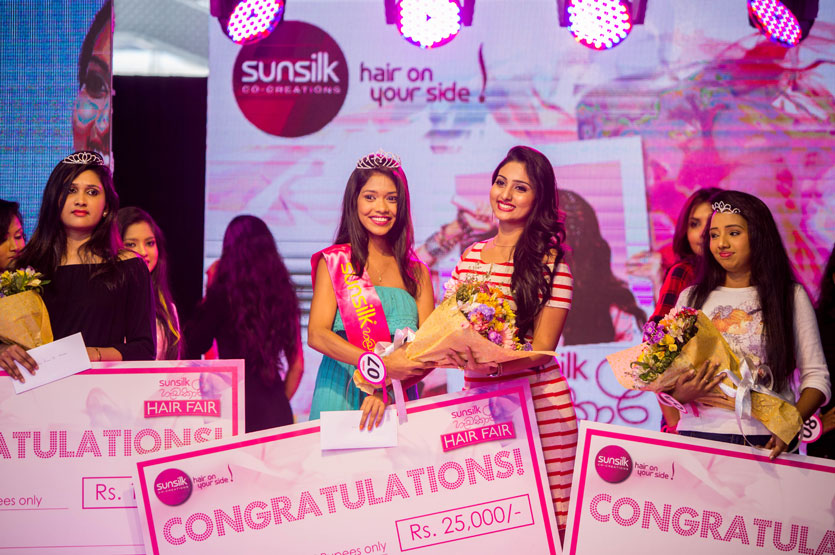 Sunsilk Hedakari winner (centre) receives her prize from Vinu Siriwardena flanked by the runners up
The Sunsilk Hedakari Hair Fair also opened the platform for upcoming beauticians in the area to showcase their talent through 'Sunsilk Style Star' in which two segments from bridal and evening wear were facilitated.
The winning title for Bridal and Evening wear was awarded to On Edge Style Salon. While 1st runner-up Evening Wear was awarded to Salon Beauty Line and 2nd runner-up was awarded to Salon Kalavi. 1st runner-up Bridal Wear was awarded to Salon Managla Diné and 2nd runner-up was awarded to Salon Senadi.
Sunsilk the pioneering hair care brand strives to frequently bring exciting and revolutionary experiences to its loyal customers. Await the next hair journey in a city closer to you!